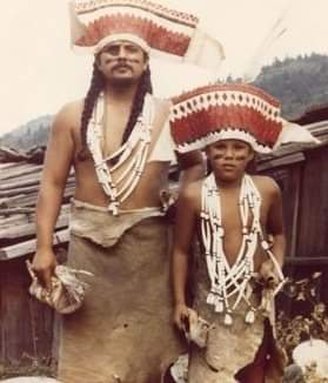 Notchko Paul McCovey Sr.
April 2, 1971 - Feb. 5, 2020
Notchko Paul McCovey Sr. entered this world on April 2nd, 1971, in Eureka. He went to be with his Creator on the morning of February 5th, 2020 at the age of 48.
He was preceded in death by his paternal Grandfather George Washington McCovey Sr., paternal Grandmother Mary Anne McCovey, maternal Grandfather Calvin Sisk, and father Pliny McCovey Sr.
He is survived by his maternal Grandmother Nonie Smith and mother Diana "Dee-Dee" McKinnon. His Siblings include Supaha and husband Chance Carpenter, Pliny McCovey Jr., Amber and husband Floyd "Cowboy" Billings, George McCovey, as well as Karmen and husband Andy Benson. He is also survived by the mothers of his children Taihvoochi Ferris, Tami Fletcher and Jessica Mosier. He was blessed with many children that were the "best part of him", beginning with Diane James, Fletcher McCovey, Michael McCovey, Notchko "Tek" McCovey Jr. and wife Taushona McCovey, Victor McCovey, Maisey McCovey, Steven Ray McCovey, Dakota Mosier, Zane Mosier, Neveah Mosier. His grandchildren included Genesis, Aria, Akira, Dwayne, Miliani, Ruby, Jessie, Joshua, Odell, and his favorite grand dog, Maya. Nieces and nephews include Grant, Micah, Kinsi, Sonny, Blake, Taylor, Jada, Tsisna, Thomas, Trystan, Torin, Turner, Wayne, Avery, Olivia, Kayla, Natalie, Chance "Bum Bum", Winnie, and Eddie.
A man who seemed to have more lives than a cat went to be with his Lord and Savior Jesus Christ after living a full life. Notchko was first and foremost a spiritual man who never wavered in his faith in God, and despite the ebb and flow of his life, continued to spread his faith and recite his exhaustive memory bank of bible scriptures to those who needed to hear them.
In his youth Notchko was an incredible natural athlete and began the family tradition of donning the #34 in honor of his favorite athlete Bo Jackson. His children took up the tradition of carrying on his legacy with #34 on their back. He took much pride and joy supporting his children in their athletic careers. He never missed a home game, and was the biggest fan of the back to back section title football team that his sons, Victor and Notchko Jr were a part of. He dubbed the duo as "thunder and lightning" because of the combined speed and power they displayed on the field. Football was his first love, and with that he was a die hard Raiders fan who claimed to bleed silver and black. His love of racing began early on with Motocross, and later extended into racing Hydroplanes, continuing a family tradition of river racers back to his grandpa George McCovey.
Notchko was a special individual who "actually had" the mind and ability to accomplish anything he set his mind to. Some of those talents included cooking, where he was known to destroy an entire kitchen dirtying every dish, while concocting a meal you would never forget. He was an accomplished writer and poet who had some poetry and articles published in the local newspaper, where his unique sense of humor and mastery of the written word left readers laughing if not a little more knowledgeable. Not by accident, Notchko excelled in these areas not only to establish himself as a local legend, but also with the unspoken purpose of being a proficient ladies man, but only very few truly had his heart.
The "Honorary Mayor of Hoopa" seemed to leave an indelible mark on every person he met, and anyone who spent time with him can attest to his infectious sense of humor and bigger than life personality. One thing is certain in that Notchko lived life according to his terms, and either you understood that and accepted him for who he was, or you found yourself continually frustrated with his choices in life. There will never be another with a life story quite as eclectic as his, and there will only ever be one "Ko", as his friends affectionately called him.
Pall Bearers are Pliny McCovey Jr., George McCovey, Fletcher McCovey, Michael McCovey, Notchko "Tek" McCovey Jr, Victor McCovey, Steven Ray McCovey, Grant Hamilton, Micah McCovey, Dakota Mosier, Zane Mosier. Honorary Pall Bearers are Wes Crawford, Lonnyx Landry, Victor Mattz, Cliff Houston, Dumah Schaaf, Satila Tuivanu, Jason McCorman, Mike Masten, Geno Masten, Arden McCovey, Jesse McCovey, Ikey McCovey, Ch'Mook McCovey, Whi'kil McCovey, Isaac McCovey Jr., Julian McCovey, Robert "Kash" McCovey, Howie McCovey, Jim Hatter, James Hatter, Marc Riggins, Bubba Riggins, Pat Jackson, Chance Carpenter, Rusty Hurley, Cliff Hurley, Harry O Campbell, Harold "O's" Campbell, Sam Campbell, Jed Morris, Sam Jones, Cowboy Billings, Andy Benson, Thomas Billings, Torin Billings, Trystan Billings, Joe Hutt, Badger Horne, Doug Brown, Freddy Brown, Pete Tonkin, Richard Carpenter, Frank Lara, Kevin Brown, Damon Brown, Greg Barry, Dwayne "Hawk" Lane, Erroll Rhoades, Shy Rhoades, Jaime Melendy, Derek McCartey, Dave Villanueva, Tobias Burrows, Tim Bussell Jr., Adrian Wandt, Mike Hostler, Rod Johnson, Steve Paine, Troy Paine, Palavi Vainuku, Marion "Inker" McCovey, Buck McCovey, Romeo McCovey, Gordon McCovey, Charlie McCovey Sr., Chipper McCovey, Wayne McCovey, Harwood Starritt, Les Starritt, Albert Tsatoke, David Chisolm, Rodney McKinnon Sr., Dean Powell, Dakota Green, Andrew Green, Murphy Green, Derrick Ely, Blake Hostler, Robert Calvosa, Roger Sanderson, Mike Richardson, Beaver Lonewolf, Andrew Salinas, James Hernandez, Ronnie Sanderson, Michael Gabriel, Nathan Brickell, Ehan Pole, Aaron Pole, Amos Pole, Marty Quant, Joe Whitten, Alme Allen, Richard Blake, Harold Meyers, Dewey Meyers, Louie Meyers, William Bunner, Boyd Ferris, Barry McCovey Jr., Kogi McCovey, Gabe McCovey. The Family sends its heartfelt apologies out to those of who loved and were close to Notchko, who we may have forgotten to include in this extensive list. The sheer number of lives Notchko impacted throughout his life is extensive and even more impressive is that they comprised all walks of life.
A wake will be held Tuesday, February 11, 2020 at the Neighborhood Facilities starting at 7 p.m. The memorial service will be held at the Neighborhood Facilities Building in Hoopa, California, on Wednesday, February 12, 2020 at 11 a.m. Internment will be held at the Jackson Family Cemetery in Hoopa, California. Please bring your best stories about Notchko and join the family for a potluck to be held at the Hoopa Wildland Firehouse in order to celebrate his life.
"One Love. Forever and a day."- Notchko McCovey Sr.
###
The obituary above was submitted on behalf of Notchko McCovey's loved ones. The Lost Coast Outpost runs obituaries of Humboldt County residents at no charge. See guidelines here.