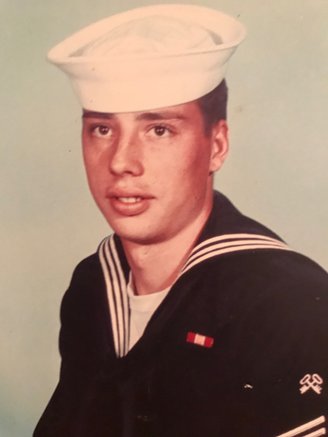 Our beloved brother and uncle left this earth for his heavenly home on December 16, 2019 after a brief battle with pancreatic cancer. He was 71 years old.

Martin was born in southern California, moved with his family to Kansas for five years and then to Eureka, in 1956 where he spent the rest of his life. Many hours were spent with his brothers and sisters and neighborhood children on Sequoia Avenue in the woods building forts, riding bikes and finding mischief wherever they could.
After graduating from St. Bernard's High School, he enlisted in the Navy on November 1, 1967. After boot camp in San Diego and subsequent storekeeper school, he served two tours in Vietnam and then transferred for duty aboard the USS Cormorant (MSC 122), a coastal mine sweeper, until his Honorable Discharge in December 1970. He received a National Defense Service Medal, Vietnam Service Medal and Navy Achievement Medal for Meritorious Service from August 1968 to August 1969. He also received a Citation from the Secretary of the Navy for his "professional achievement while serving with friendly foreign forces engaged in armed conflict and directly contributed to the increased efficiency of operations and supply support for military units" and "responded superbly to the challenge of supervising people of different nationalities".
Martin was a quiet man with a quick wit. He loved his family, sports especially the 49ers and SF Giants, sailing, beer, working on his summer home and dogs having owned three chows at one time. When he was no longer able to sail he donated his boat to the Sea Scouts. His professional life included employment with Rendezvous and the United States Post Office where he retired in 2011.
Martin was preceded in death by his parents, Orville and Janet, baby brother Richard, brother Tom and sister Jean Stoller. He is survived by sisters Carolyn Miller, Joan Rinne (Merv), Colleen Carter (Robert), Christine Micheli (Jeff) and brothers Mark Cote' and Tracy Cote', 19 nieces and nephews and 24 great-nieces and nephews.
A celebration of life will be held on Saturday, February 15, 2020 with a mass at 1 p.m. at Sacred Heart Church, 2085 Myrtle Ave., Eureka and a reception immediately following in the Sacred Heart Parish Hall. Per Martin's wishes, the Coast Guard will scatter his ashes at sea on Sunday, February 16, 2020. We will meet at the Coast Guard Station in Samoa for a small ceremony with the Mad River Community Veterans Honor Guard at 11 a.m.. In lieu of flowers memorial contributions may be made to Hospice of Humboldt 3327 Timber Fall Court, Eureka, CA 95503 or a charity of your choice.
We love and miss you, Martin, but know that you are resting with the angels.