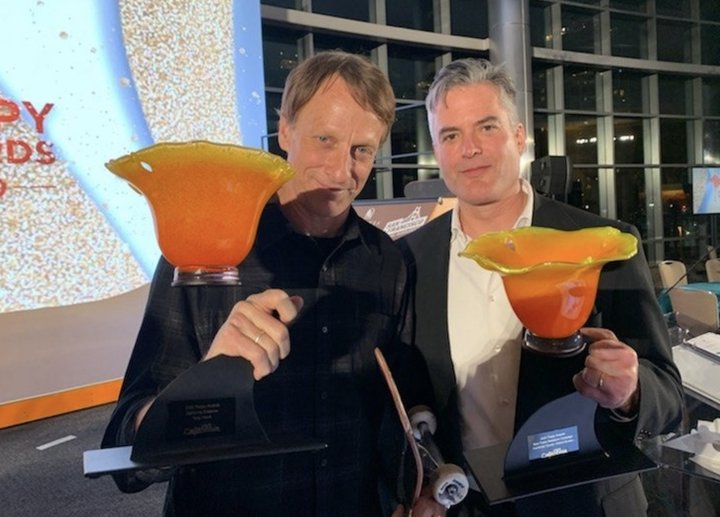 Please enjoy this Humboldt Convention & Visitors Bureau release:
Visit California honored tourism destinations and attractions across California for excellence in tourism marketing at the organization's biennial Poppy Awards, held Feb. 11 in San Diego.

The Humboldt County Visitors Bureau is proud to announce that it was selected as the winner in the category for Best Destinations Public Relations Campaign for its Operation Bigfoot, which splashed Humboldt's favorite hominid across major media outlets and social media platforms, reaching an audience of about 11 million and generating about $1 million of earned media.

"We are proud of the staff for their hard work in making this happen," said Marc Rowley, president of the HCVB board and owner of Coho Cottages and China Creek Cottages in Willow Creek. "And that includes Bigfoot, who attended the ceremony."

"The Poppy Awards celebrate the best and brightest in California tourism promotion and inspire the industry to continue on a path of innovation and creativity," said Caroline Beteta, president and CEO of Visit California. "This year's finalists inspired travelers from around the world to live their biggest dreams in California."

Beteta, alongside Visit California's board officers, presented the 2020 Poppy Awards during the 12th annual Visit California Outlook Forum, held Feb. 10-11 at the Marriott Marquis San Diego Marina and attended by nearly 800 tourism industry leaders.

Representing the CVB at the awards were Interim Executive Director Julie Benbow and consulting media specialist Richard Stenger, who crafted the campaign. And Bigfoot, who made an appearance on the stage but somehow managed to avoid the cameras.

A panel of travel marketing experts selected the winners of the Poppy Awards in 11 categories.

"Bigfoot placement in the popular Face Swap Live app is brilliant," said one of the judges.

Winners included:

Best Overall Brand Identity – less than $1 million: Bishop Area Chamber of Commerce & Visitors Bureau
Best Overall Brand Identity - $1 million to $8 million: Visit Laguna Beach
Best Overall Brand Identity - $8 million and up: Greater Palm Springs Convention & Visitors Bureau Best Content Marketing Initiative (tie): North Lake Tahoe Visitor Bureaus, San Francisco Travel Association
Best Cooperative Marketing (tie): San Diego Tourism Authority and San Francisco Travel Association; Mono County Tourism, Mammoth Lakes Tourism, Explore Inyo County and Bishop Area Chamber of Commerce & Visitors Bureau
Best Digital Campaign: North Lake Tahoe Visitor Bureaus
Best Social Media Campaign: Los Angeles Zoo
Best Influencer Campaign: San Francisco Travel Association
Best Public Relations Campaign – Destination: Humboldt County Visitors Bureau
Best Public Relations Campaign – Business: Alisal Guest Ranch & Resort

To round out the evening, Beteta awarded the California Dreamer Award, which recognizes an individual who embodies California's pioneering spirit, to skateboarding legend Tony Hawk.

More about the Poppy Awards: Made by California artisan Nicholson Blown Glass in Auburn, Poppy Awards are given every two years to acknowledge the best of California's tourism promotion. The eligibility period for programs submitted for the 2020 Poppy Awards was Jan 1, 2018 – Oct 1, 2019. Submissions were reviewed by Visit California staff, and blind judged by industry committee leadership. The hosts for the 2020 Poppy Awards were Olympic Gold Medalist Jonny Moseley, star of the Visit California series "Jonny Moseley's Wildest Dreams," and Chase Ramsey, the face of the organization's "California Dream Eater" series, both found on YouTube and at VisitCalfornia.com/Dream365.

More about Outlook Forum: Outlook Forum is the premier travel industry conference for California, the No. 1 tourism destination in the United States. Outlook Forum brings together nearly 800 C-suite executives and industry decision-makers from California's hotels, rental cars, attractions, restaurants, retailers and other travel businesses, as well as representatives from Visit California's global network of offices. Outlook Forum 2020 was the first major event following the California tourism industry's renewal of Visit California's marketing program.

ABOUT HUMBOLDT CVB: The Humboldt County Visitors Bureau is the official destination marketing organization for Humboldt County. The non-profit association, sponsored by business members and the County of Humboldt, is dedicated to promoting travel to the county and its communities. It has helping protect and expand Humboldt's $400 million-plus annual tourism economy for more than 30 years. For more information, go to visitredwoods.com. To see Operation Bigfoot video and images, go to tiny.cc/BigfootPR.

ABOUT VISIT CALIFORNIA: Visit California is a nonprofit organization with a mission to develop and maintain marketing programs – in partnership with the state's travel industry – that keep California top-of-mind as a premier travel destination. According to Visit California, spending by travelers totaled $140.6 billion in 2018 in California, generating nearly 1.2 million jobs in the state and $11.8 billion in state and local tax revenues. For more information about Visit California and for a free California Official State Visitor's Guide, go to www.visitcalifornia.com. For story ideas, media information, downloadable images, video and more, go to media.visitcalifornia.com.