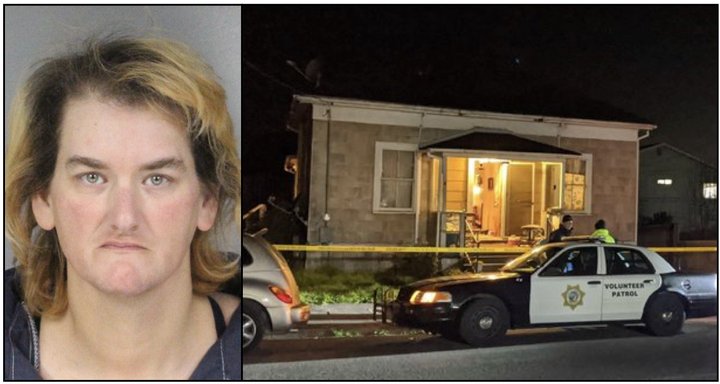 PREVIOUSLY:
# # #
Eureka Police Department press release:
On February 18, 2020, at about 7:22 p.m., officers with the Eureka Police Department were dispatched to a residence at the 2200 block of Union Street for the report of a family disturbance. While officers were responding, it was reported that a male had been shot.

Officers arrived on scene and located a 17-year-old male suffering from a gunshot wound. Officers performed lifesaving efforts until Humboldt Bay Fire and City Ambulance arrived. The male was transported by ambulance to the hospital where he ultimately succumbed to his injury.

Based on the investigation, Detectives with the Eureka Police Department have arrested the victim's mother Pamela Faye Millsap (38 of Eureka) for involuntary manslaughter. Millsap was transported and booked into the Humboldt County Correctional Facility.

An autopsy is scheduled for later this week. The juvenile victim's name is being withheld at this time. This is an active investigation and additional details will be released as appropriate.

Anyone with information is asked to contact Detective Corrie Watson at (707) 441-4032.

*On February 19, 2020, at about 6:40 a.m., Humboldt Bay Fire responded to a structure fire at the same residence on the 2200 block of Union Street. Based on the initial investigation it appears the fire was accidental and unrelated to the manslaughter.
###
From Humboldt Bay Fire:
On 2/19/2020 at 6:39 A.M. Humboldt Bay Fire was dispatched to a reported structure fire at 2200 Union Street. The first arriving units found light smoke coming from the attic and eaves of a single-family residence. Fire crews made entry in to the residence and found a fire in the living room area with heavy smoke throughout rest the structure. Crews simultaneously attacked the fire, ventilated the structure and performed a search to locate any possible victims.

Fire crews were slowed by hoarding conditions and a second alarm was requested for additional manpower. Fire crews had the fire under control within about ten minutes. Nobody was home at the time of the fire, although a family cat and pet mice perished in the incident.

Damage to the residence is estimated to be $30,000. Humboldt Bay Fire contacted the Eureka Police Department to advise them of the fire as it had been the scene of a law enforcement incident the previous night. The Eureka Police Department had released the scene earlier in the evening and the fire was unrelated to those events. Humboldt Bay Fire investigators determined the fire to be accidental. It was caused by combustibles too close to a floor furnace.

Humboldt Bay Fire would like to remind people to keep combustibles away from operating heating appliances. There were no injuries to firefighters at the incident.