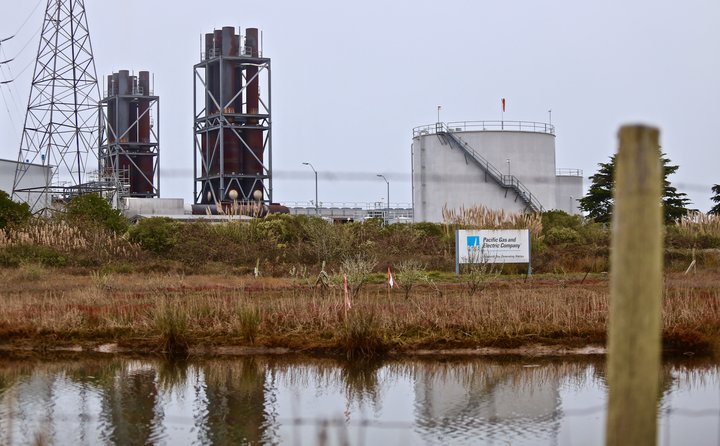 # # #
Executives with the bankrupt Pacific Gas & Electric Company today told Humboldt County Supervisor Rex Bohn that the vast majority of local residents likely won't have to endure any more of the multi-day public safety power shutoffs (PSPS) we experienced last year.
In a closed-door meeting with Bohn, company executives, including Senior Vice President James M. Welsch, released a list of updates to the utility's ongoing efforts to "island" portions of the local grid. The term "islanding" refers to the ability to supply electricity to a specific region without being connected to the statewide grid.
In the wake of last year's disruptive power shutdowns, prompted by fires in the Central Valley, Bohn and Humboldt County Sheriff Billy Honsal sent PG&E a letter demanding that the utility develop a plan to keep the lights on during future PSPS events. Andrew Vesey, the company's president and CEO, later traveled to Humboldt County to meet with local officials.
An Outpost investigation found documents suggesting that the Humboldt Bay Generating Station was actually designed to operate in island mode when necessary, though company spokespeople insisted it wasn't possible.
Bohn told the Outpost this afternoon that Welsch told him islanding likely will almost certainly be possible before fire season descends upon us again. "He said, 'I'm all but guaranteeing you it's going to happen,'" Bohn said.
A flier from PG&E that Bohn posted to his Facebook page says the company "is diligently working to add the capability to provide power to an 'islanded' portion of PG&E's grid in Humboldt County using the Humboldt Bay Generating Station (HBGS) during times of emergency and Public Safety Power Shutoff (PSPS) events, with the goal of having this capability this summer."
The company has defined an area that can be energized through such islanding, which includes "most of populated Humboldt County," according to the flier. Bohn said the area extends all the way south to Garberville, east to Bridgeville and Willow Creek and north past Trinidad, encompassing more than 90 percent of county residents.
One key to making islanding possible, the company says, is getting permit variances from the North Coast Unified Air Quality Management District. The dual-fuel engines at the local generating station must occasionally run below 50 percent power to make islanding possible. The problem with that is that running the engines at low power creates more emissions, causing PG&E to run afoul of their air quality permits.
The flier notes that with help from the county, PG&E was successful in obtaining the necessary variances to perform testing, and the tests themselves will inform future permitting.
"[T]he process of preparing permit requests is underway," the flier says.
Additionally, new programming and controls are being implemented at the generating station. PG&E says tests of island mode will begin in early summer.
Bohn was excited. "That's friggin' huge," he said. "A huge win."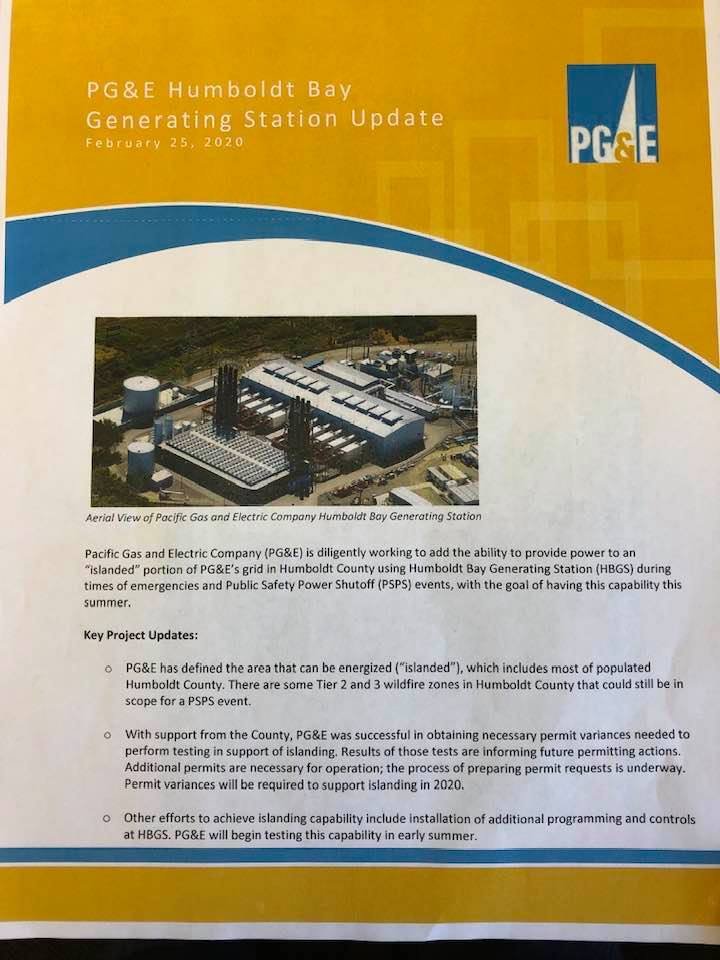 # # #
PREVIOUSLY: