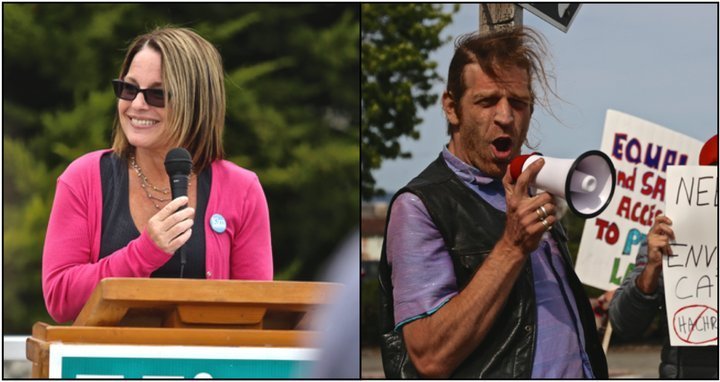 PREVIOUSLY:
A temporary truce was declared today in the battle between Eureka City Councilwoman Kim Walford Bergel and her longtime antagonizer Cornelius Loewenstein.

Bergel and Loewenstein, after speaking in a closed courtroom with Judge Kelly Neel, agreed to try settling their differences out of court. Bergel has been seeking a restraining order against Loewenstein, and the hearing was expected to resume this afternoon.
"The parties have agreed to continue the hearing until March 19 so they can see if this is a matter they can resolve privately," Neel announced when the courtroom reopened.
For two years Loewenstein, enraged over Bergel's support of a needle-exchange program for addicts, has been sending her angry Facebook messages daily, sometimes multiple times a day. He has called her obscene names and threatened she was "going to get hers one way or another."
Loewenstein's attorney, Arlie Capps, responded that all of Loewenstein's messages were political, not personal. And Loewenstein has argued, in Facebook posts, that he has the right to free speech.
Outside of court, Bergel said she's willing to work with Loewenstein but "the harassment has got to stop."
"No one should have to deal with the magnitude of what I've been walking through the last two years," Bergel said. She also said she has no intention of sitting down with Loewenstein himself.
"I'm willing to meet with his attorney," Bergel said, "but he cannot be in the room. I'm not interested in meeting with him at all."
Loewenstein referred reporters to his attorney, who said his policy is to refrain from commenting on ongoing cases.
"I'll hold those comments until after we're done," Capps said.
The next Eureka City Council meeting is Tuesday night. Loewenstein usually attends.