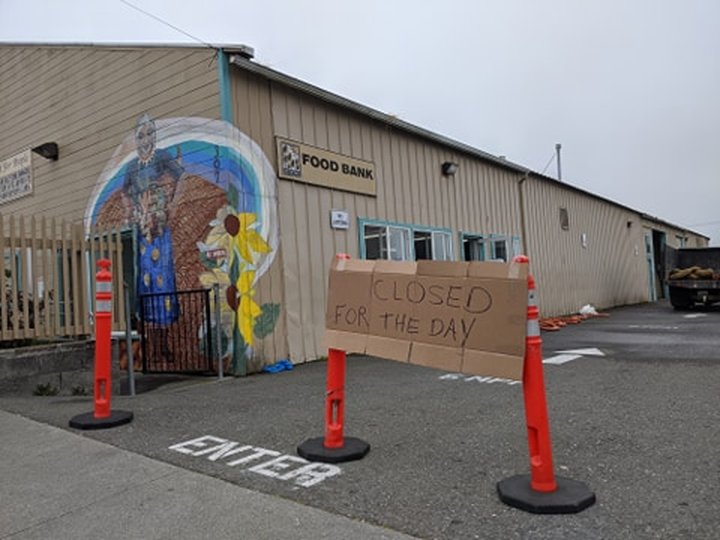 UPDATE, 1:15 p.m.: Food for People executive director Anne Holcomb tells the Outpost that the damage to the building and the food bank's inventory was very extensive. They're still tallying up everything that was lost, and the work that will have to be done to get the building on Eureka's 14th Street ship-shape again.
Their understanding at the moment is that the sewage got up into the interior walls of the structure, and that those things will have to be remediated or replaced somehow. Hardest hit of all was the choice pantry, which directly feeds people in need in Eureka. All the inventory in that part of the building has been destroyed.
In addition to its own walk-in services, Food for People provides stock for food pantries throughout the region. In addition to dealing with the emergency at their headquarters, they're currently scrambling to make sure they can fill the usual need.
"We're going to do everything we can to make sure people don't go without services," Holcomb said.
Food for People is definitely closed today, and almost certainly well into next week, at least. They still don't know what it's going — or how long — to take to get their headquarters back up and running. If it's going to be longer than a few days, they'll have to start looking at contingency plans.
"We're 3,000 percent committed to making sure everything is safe," Holcomb said.
This is an unasked-for editorial aside, but: It's super-easy to donate to Food for People, and they and your food-insecure neighbors could probably use that assistance now even more than they could in normal times. Just follow this link and give what you can.
— Hank Sims
# # #
Original Post: Food for People, Humboldt County's nonprofit food bank, was forced to close its Eureka headquarters early this morning after maintenance workers arrived to find sewage flowing from the building's floor drains.
Eureka Public Works Director Brian Gerving told the Outpost that city staff was called to the scene relatively early Friday morning. "By the time our staff got there, which was in a relatively short time, as I understand it, the problem had resolved itself," Gerving said.
In other words, the spill is no longer active, and Gerving said there's no public health threat.
A Food for People employee at the scene told the Outpost's Hank Sims that the organization may remain closed into next week and will almost certainly lose some food stock.
A sign on the front door said the facility was closed due to a "water leak," but the organization's website explains the situation:
Food for People's Eureka warehouse is closed today due to a city sewer malfunction. The food bank is working closely with the City of Eureka and the Department of Health to assess the extent of the damages and a timetable for resuming normal operations. We are following Health Department guidance for all operations. We will re-open when the Health Department deems it safe to do so.
New Life Services Co., a general contractor working for the city, has personnel on the scene. Gerving said city staff could find no evidence in the sewer main that may have caused the spill, which is in roughly the same spot as a spill that occurred almost exactly a year ago. That particular spill was one in a spate of nasty overflows that sent more than 20,000 gallons of raw sewage into Humboldt Bay and the Eel River.

Gerving reiterated that this doesn't seem to be part of an ongoing problem and said the cause of today's spill has yet to be determined.
"We'll continue to check to see if there might have been something that triggered it," he said.