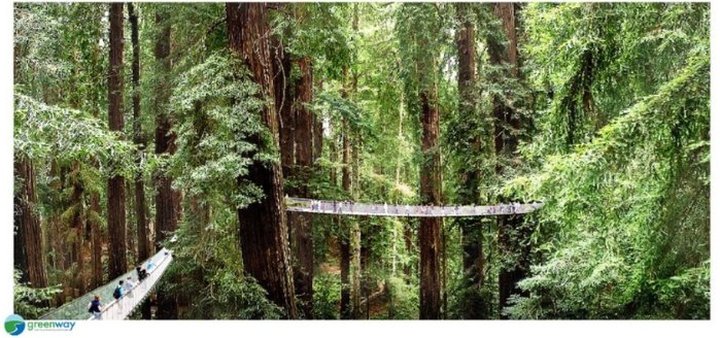 Your chance to experience Eureka's redwoods from 100 feet above the ground is right around the corner! Construction of the Sequoia Park Zoo Redwood Canopy Walk — a series of bridges and walkways winding through the Sequoia Park redwoods — is expected to begin next month.

Eureka Community Services Director Miles Slattery told the Outpost yesterday that groundbreaking will definitely be in March, though he was not sure of the exact planned date. The canopy walk should be operational by this September, he said.

Plans for the canopy walk were announced in 2018 as a part of the Zoo Master Plan — a long-term update and redesign of the zoo's facilities. The plan also includes installation of a "Natural Predators" exhibit, which will include mountain lions, bears and coyotes. A leg of the canopy walk will pass over the exhibit, allowing patrons to view the animals from above.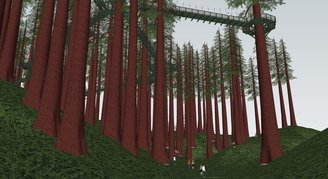 Hoping that this project will drive tourism and boost business for hotels, the Eureka, Arcata and Humboldt Lodging Alliances kicked in $1.7 $2.3 million for the project. Last year the alliances asked that the design be "more adventurous," resulting in the addition of a 100-foot high catenary style bridge — a sloping bridge suspended only from its two ends.

Slattery told the Outpost that canopy walk design is now even more exciting and will now include three catenary bridges. Unfortunately, the sloping style of these bridges renders them non ADA compliant. But not to worry! Slattery said that there will be alternative walkways, providing people with disabilities access to all the same areas.

After assessing several potential companies, Eureka city staff is recommending that Synergo — an Oregon based company which has designed many similar projects — construct the walkway. The Eureka City Council is set to approve the contractor at its meeting next week, and to authorize the city manager to negotiate a contract "not exceeding $2.3 million," for construction, the staff report states.

In addition to the $1.7 $2.3 million from the local lodging alliances, Slattery said the project has received funding from the Outdoor Environmental Education Fund, the Habitat Conservation Fund and various local businesses and individuals.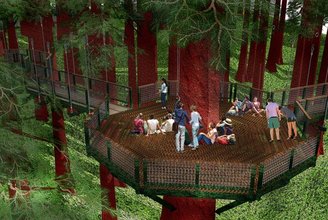 Slattery wanted to thank the donors, especially the lodging alliances, for their help in making this exciting project into a reality. "If it weren't for them, this wouldn't happen," he said.

The Eureka City Council meets on Tuesday, March 3 at 6 p.m. at Eureka City Hall — 531 K Street.

You can view the full agenda here.
###

CORRECTION: This article was changed to reflect that the Arcata, Eureka and Humboldt Lodging Alliances have donated a combined $2.3 million towards the Redwood Canopy Walk. Though the lodging alliances had initially agreed to donate $1.7 million, the funding agreement was changed before the publication of this article. The Outpost regrets the error.

###