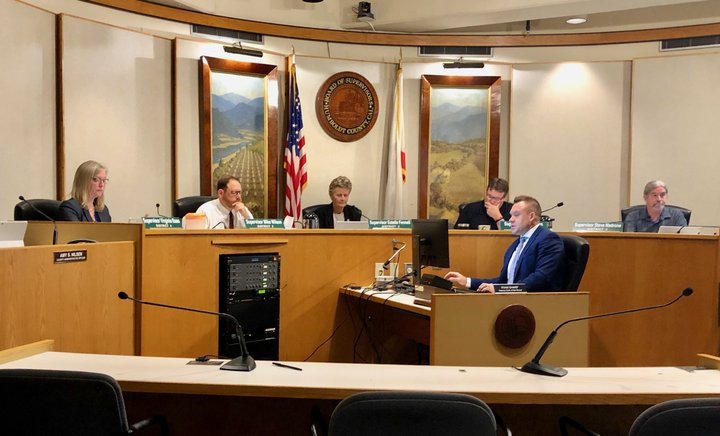 Over the past few months, Humboldt County government has racked up more than $60,000 in late fees from the California Public Employees' Retirement System (CalPERS), the state agency that manages pension and health benefits for public employees, retirees and their families.

In an email obtained by the Outpost, CalPERS Collection Analyst Alfred L. Ray IV alerts the county to its outstanding balance of $62,381.02. The vast majority of that balance stems from late fees, some of which date back to December. The email also lists overdue employer contributions under the Public Employees' Pension Reform Act (PEPRA), some of which date as far back as October.
"We have attempted to contact the County's payroll contact (Katherine Lourenzo) regarding the balances and have been unsuccessful," the email states. "[M]eanwhile, the county continues to accrue further interest and penalties."
In response to questions from the Outpost, Humboldt County Deputy Administrative Officer Sean Quincey said the fees stem from challenges ushered in with a 2018 law that required public agencies to enroll retirees into the CalPERS system.
"In Humboldt's case," Quincey said via email, "we had to give [CalPERS] timecard information from a four-year period (2014-2018) that showed whether retired annuitants worked more than 960 hours. We did our research, gathered the information CalPERS needed, and submitted our report to CalPERS in the specified time frame."
That process went smoothly, Quincey said, but a few months later CalPERS asked the county to manually enter information from roughly 7,500 records into the agency's website.
"It is because of the delay between sending them our initial report and manually entering that information that we were assessed fees," Quincey said.
While the county kept track of retired annuitant hours in-house, payroll staff members weren't aware that that they needed to report the information to CalPERS, Quincey explained, adding, "We have fixed those errors and set processes in place to make sure we do not pay fees for these issues going forward."
Reached by phone, CalPERS personnel declined to comment on the situation.
In the email from CalPERS to the county, Ray, the collection agent, strikes the stern tone of your typical bill collector. He says that generally, when interest accrues, the amount due can be negotiated down, so long as it's resolved in a timely fashion. But for the county, that grace period has lapsed.
"All listed penalties and interest are not eligible for reversal/waiver due to the continued failure to resolve the contribution balances," the email states.
Asked what impact the interest and late fees will have on the county budget, Quincey said it will be negligible.
"While the county never wants to pay for fees like this, we are not the only agency in the state that is subject to these fees," he wrote. "We have to make space in our budgets for unexpected expenses such as this, and we did that this year. We will be able to provide all of our services as normal despite these fees. We will be exploring payroll service vendors to limit these errors in the future."
Indeed, the county is hoping outsource payroll duties, which have been assigned to the Human Resources Department since November 2018 and were the purview of the Auditor-Controller's Office before that. The county that particular change following a recommendation from an outside consultant, but the Human Resources Department is having a hard time managing those responsibilities.
"The payroll system is extremely complex and has become increasingly more complex over the years due to state and federal law changes, as well as local negotiated bargaining agreements," Quincey said.
At last week's Board of Supervisors meeting, the board unanimously approved the issuance of a request for proposals (RFP), seeking firms qualified to manage the county's payroll system. But it appears the plan has changed yet again. On the consent agenda for next week's Board of Supervisors meeting there's an item requesting that the county simply award a payroll services contract to New Jersey-based firm Automatic Data Processing, Inc. (ADP).
The staff report notes that, since last week, "it has become apparent that conditions warrant an immediate transition from in-house payroll to third-party payroll services."
Those services are expected to cost the county at least $359,752 per year, according to a previous estimate from ADP, plus one-time implantation costs of $146,065. However, the staff report says hiring ADP will actually result in cost savings "due to increased efficiency in our processes."
If the supervisors want to approve a contract with ADP on Tuesday, they'll have to grant an exemption to the official county purchasing policy, which requires the issuance of an RFP in such situations.