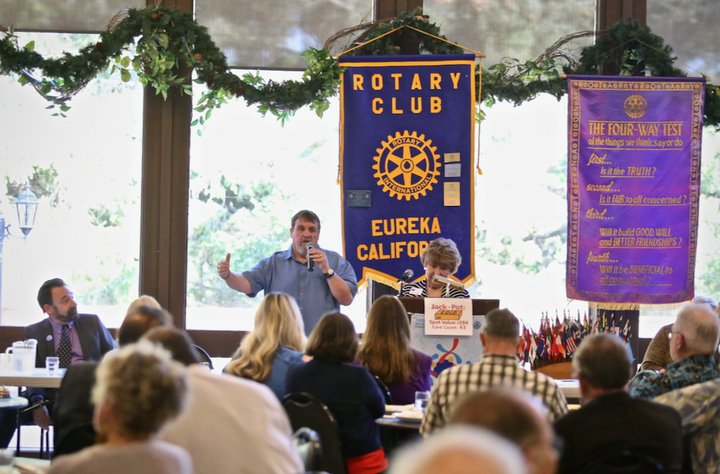 # # #
If Monday's buffet lunch at the Rotary Club of Eureka looked a bit bland — ribs, ham, potatoes, bread rolls — then the political debate helped spice things up.
Incumbent First District Humboldt County Supervisor Rex Bohn traded barbs with challenger Cliff Berkowitz during a testy lunchtime candidate forum sponsored by the Humboldt County League of Women Voters and held at the Eureka Elks Lodge (a "no hat lodge" where hats are strictly verboten).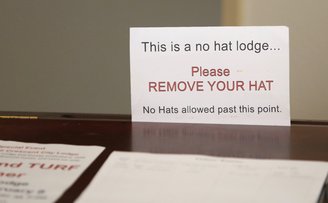 Noshing Rotarians jotted down questions on notecards, which couriers then carried to the debate moderator at the front of the room. Over the course of the nearly hour-long debate, Bohn and Berkowitz addressed such issues as economic development, homelessness, campaign financing and the recently rejected Terra-Gen Wind Energy Project.

With the election just a month away, Bohn sought to address some of the criticisms that have been lobbed by the Berkowitz campaign.
"This is the easiest job in the world to do … when you're running for it," Bohn said in his opening remarks. "When you actually get elected, that's when you figure out you have to count to three to get anything done," he added, referring to the number of votes needed to reach a majority on the five-member Board of Supervisors.
In reality, the job is tough, he said. He seemed poised to list of some accomplishments before realizing he'd been given only a minute to make his opening statement, which he wrapped up by saying he loves Humboldt and believes it has a bright future.
Berkowitz began by reading prepared remarks from a sheet of printer paper. He said that after years of community service in a career he loves, he could no longer sit on the sidelines while our community and the world are in danger. (Berkowitz was a longtime DJ at KHUM, the radio station he founded, before running for office. KHUM and the Lost Coast Outpost are both part of Lost Coast Communications, Inc.)
Berkowitz said he has a plan to make Humboldt County environmentally sound, with a thriving and diverse economy, a plan to get more people into housing, and a blueprint for green energy self-sufficiency. He would honor the local indigenous community, and he firmly believes that Humboldt's best days are ahead of us, he said.
Below we recount some of the questions and answers from today's forum.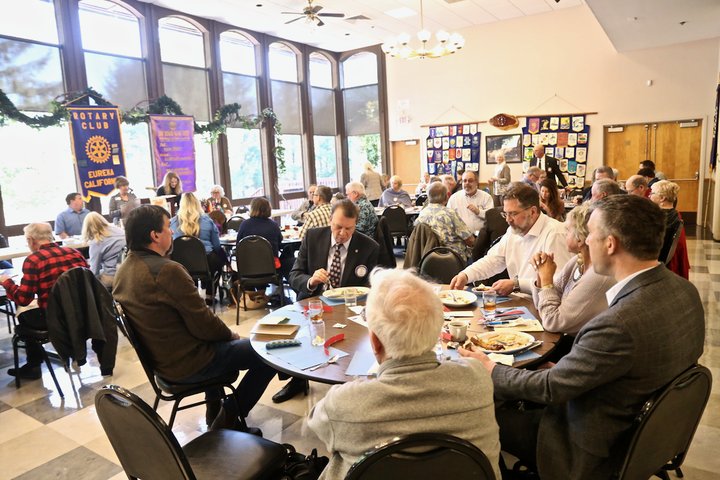 Q: What's the most pressing issue facing the county?
Berkowitz said there are several pressing issues. When out in the community he hears a lot about deferred maintenance on local roads, but the one big problem facing the community is sea level rise, he said.
"Humboldt County has been declared ground zero," he said, noting that the land around Humboldt Bay is subsiding. We need to plan 10-15 years into the future, and we should have projects "shovel-ready" for when the federal government steps in to offer funding, Berkowitz said.
Bohn said opioid addiction and homelessness are big problems, and as for climate change, the county recently hired a climate change coordinator who is putting an action plan together, plus an advisory committee in place. Bohn also highlighted the county's high rate of adverse childhood experiences (ACEs) as a key issue and said he's helped increase funding to First Five Humboldt.
Then, in a jab at his challenger, he said sarcastically, "I like the idea that the feds are gonna give us money." The federal government is four years behind in getting the county roads funds that it's owed, Bohn said. "The feds are not just going to give us money."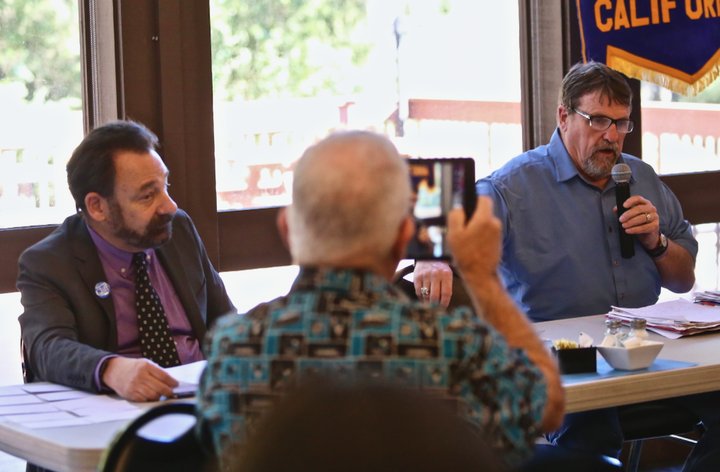 Q: What is your stance on Measure T?
This one appeared to stump both candidates. Measure T is a bond initiative that would provide infrastructure repair funds to Eureka City Schools, but judging by their answers, neither candidate was aware of this fact.
Bohn used his allotted minute to defend his practice of taking campaign donations from local businesses and to push back against a couple of recent Berkowitz allegations. "I keep hearing that I do a lot for my friends," Bohn said. "I apologize; I have a lot of friends."
A recent letter to the editor printed in the Times-Standard and then reproduced on Berkowitz's campaign website accused Bohn of taking undue credit for having built the Redwood Fields baseball park complex in Cutten. (According to the letter-writer, former Supervisor Stan Dixon deserves the credit.)
"Yeah, I didn't build Redwood Fields," Bohn said. "I organized a community to build Redwood Fields. … Stan Dixon was never out there."
When it was Berkowitz's turn, he asked moderator Judy Bennett about Measure T: "That has to do with financing, correct?" She declined to answer. He went ahead and spoke about campaign financing.
"I think that having businesses come forward to support campaigns is inappropriate," Berkowitz said, adding that members of a government body shouldn't take money from a business that they'll later be in charge of regulating. "As honest as someone is, it just doesn't look right," he said. "And if it doesn't look right, you shouldn't do it."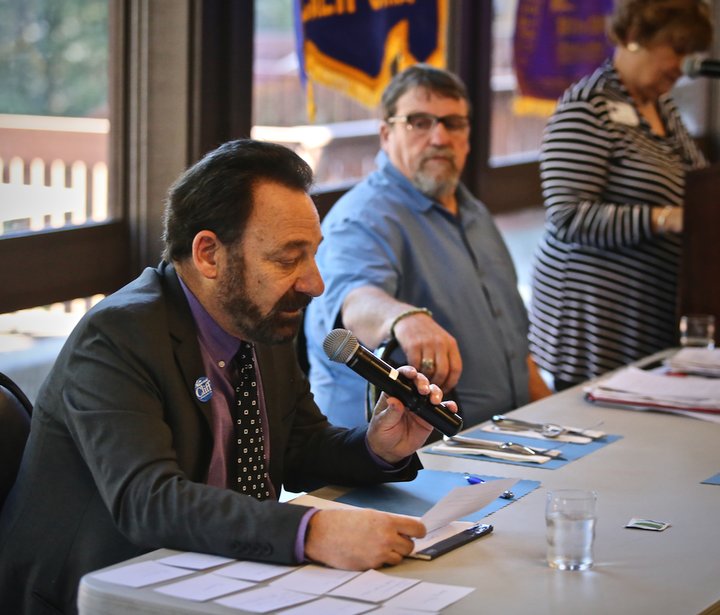 Q: With the failure of the Terra-Gen Wind Energy Project, where do you stand on the proposed offshore wind energy project?
Bohn said he's a fan of wave energy, a fan of solar energy, and he was a fan of the Terra-Gen project, which would have brought in $2 million in property taxes annually, much of which would have gone to local schools. As for offshore, he said he doesn't see it happening within the next 10 years, given the regulatory hurdles in California. But he'll work for the prospect regardless.
"I don't think it will be 10 years down the road," Berkowitz countered. "It's underway." While he considers the proposal a good idea, Berkowitz said he doesn't believe offshore wind projects will be "the silver bullet" answering our energy needs. Instead we need to have a "mixed-use" solution incorporating such things as municipal solar projects.
The Terra-Gen project came up later in the meeting, too, with a question asking whether it could be revived. Berkowitz said he was at the special two-day Board of Supervisors meeting where the project was considered and representatives of the company rejected several proposed modifications of their proposal, which called for 47 turbines atop Bear River Ridge and Monument Ridge south of Scotia.
Bohn took a shot at Berkowitz, noting that while his challenger did come to three meetings on the project, "I went to 55 of 'em." And he said the county should continue to look for opportunities with wind power, which he called "the cleanest source of power in the world next to nuclear."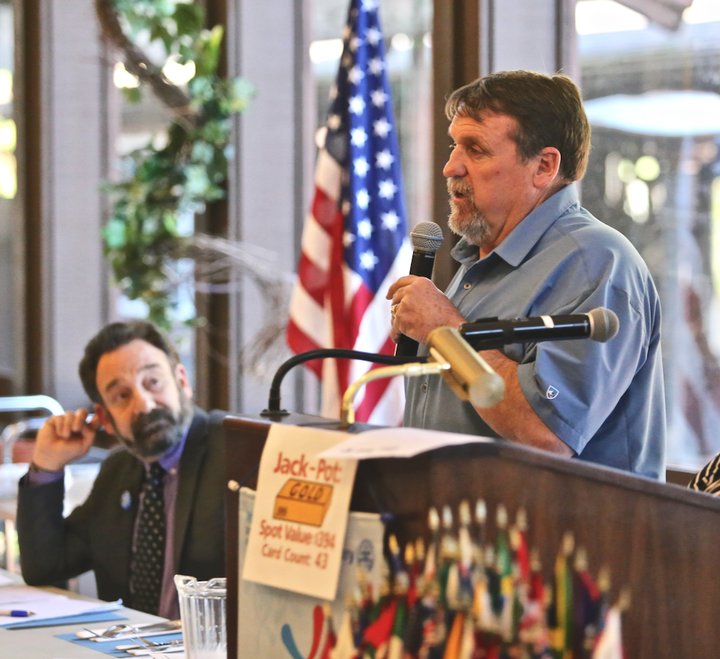 Q: What will you do to repair local streets and roads?
"I keep hearing about this plan," Bohn said, implying that his challenger has yet to provide any details. He also said that the county's Public Works Department has increased the roads budget for the First District every year since he's been in office, and the county has plans for how to spend that budget "every year."
Bohn said the state will be sending Humboldt County $7 million in roads funding this year, a 20 percent increase, thanks to Senate Bill 1, the Road Repair and Accountability Act of 2017. "We will start seeing more work."
"Proper planning is the key on this one," Berkowitz said during his minute. He asked how many in the crowd have seen a couple guys with a shovel come fill in a pothole only to see the hole reappear a few months later. "This is a waste of money," he said. "This is money that's going down the pothole. It's not helping us at all."
The county should do more "in-house" paving rather than contracting those jobs out, Berkowitz said, and the only way to make that feasible is to pay employees more. "These should be good, union jobs," he said.
# # #
Q: What programs do you support which lead to jobs in our county?
"Jobs is job No. 1," Berkowitz said. What we can do best, he continued, is not get some giant corporation to be our savior but rather work to encourage more small businesses, which are "the engine of our economy." He proposed hiring an ombudsperson to help aspiring entrepreneurs negotiate the red tape and get their businesses off the ground.
Bohn noted that the county recently created the position of economic development director at the Prosperity Center. One of that person's first contacts was with Nordic Aquafarms, the company planning a $400 million land-based fish farm for the Samoa Peninsula. That company may be "big, corporate and foreign," Bohn noted archly, but the project would bring jobs and spur growth in auxiliary businesses, bringing even more employment.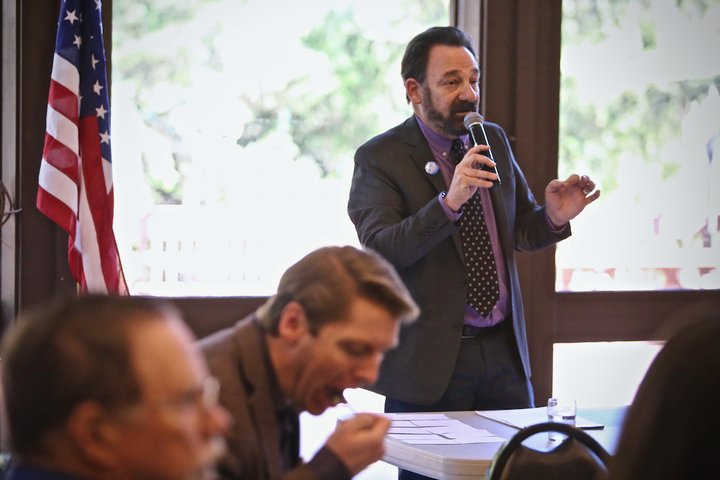 Q: What can/should be done to make better use of the harbor?
Bohn said he's probably worked within 100 yards of the harbor for most of his career (his past employers include Renner Petroleum, the Evergreen pulp mill and FoxFarm Soil & Fertilizer Company, all of which sit near the bay) and considers it "probably our biggest economic unused asset."
Keeping land around the bay zoned coastal-dependent industrial is important, Bohn said, and he added, "I don't think the railroad is a crazy idea." He compared the recent effort to convince local investors to fork over $10 million in seed capital for a double-tracked hydrogen railroad to the Central Valley to early efforts to fund Google, saying it must have seemed equally ridiculous to back a company with such a funny-sounding name.
"You have to look at everything," he said. "The port is a dream for us to have." He again mentioned the Nordic Aquafarms opportunity and said, "You gotta have a positive outlook [and say], 'We're open for business.'"
Berkowitz called the bay "a treasure of Humboldt County" and noted how "stunning and clean" it is. He highlighted the oyster and fishing industries and said the Nordic Aquafarms project "looks pretty good."
But he differed with Bohn on the prospects of turning Humboldt Bay into an international container shipping port, saying, "I have not yet seen a viable train option."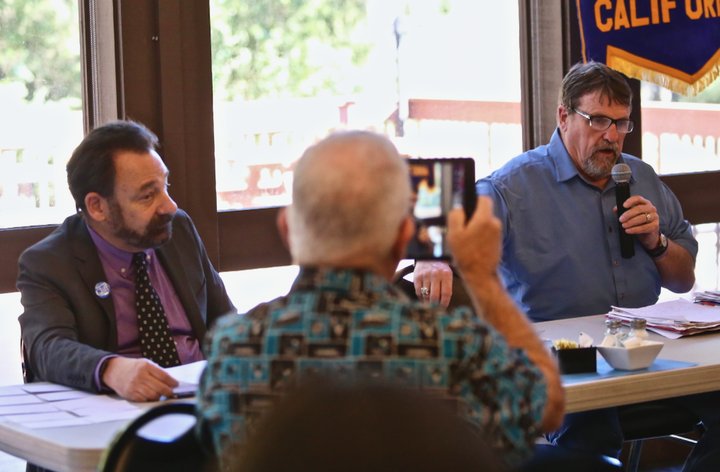 Q: Is it appropriate to accept campaign donations and endorsements from labor unions and political parties?
Bohn said the party question doesn't really apply to him since he's "an independent." (According to the Humboldt County Elections Office, Bohn is registered "no party preference.") He noted that the position of Humboldt County supervisor is nonpartisan, and throwing darts across the aisle will only alienate some people.
Bohn then circled back to the letter that was recently republished on Berkowitz's campaign website, saying, "If I get a negative letter regarding Cliff, I won't post it on my website. And I will be sure to make sure it's accurate."
He again defended his decision to accept campaign donations from businesses, saying successful local businesses provide jobs, and their political donations are a way of saying, "I have faith in you."
Berkowitz reiterated his opposing stance, saying, "Even the appearance of impropriety should be avoided." As for labor unions, he said he has no problem taking campaign donations from them.
Berkowitz, who has been endorsed by both the Humboldt County Democrats and the Humboldt Progressive Democrats, proudly stated his affiliation as a member of the Democratic party, adding, "My opponent doesn't say what party he's a part of, but he's been supported by mostly Republican organizations."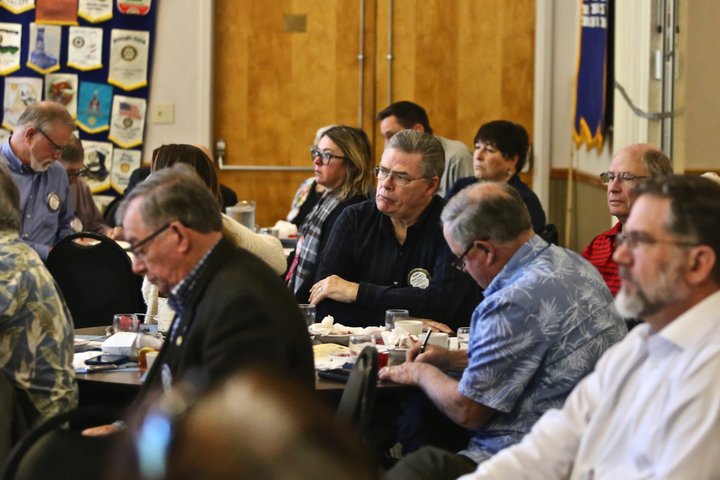 In his closing remarks, Bohn said he's been working with state and local officials as well as the CEO of PG&E to ensure that Humboldt County won't be affected by any more Public Safety Power Shutoffs during wildfire events elsewhere in the state.
Returning once again to the topic of taking campaign donations from businesses, Bohn said they give the county plenty of tax money, so they should be allowed to "have the input." He closed by saying it's been a privilege to serve eight years on the board, and he will serve four more.
Berkowitz, again reading prepared remarks, said the world is changing and we need leadership that will meet those challenges. "Now is not the time for business as usual," he said. "We need plans, not shoot-from-the-hip reactions … and we need solutions rooted in evidence-based best practices."
In closing he said Humboldt's best days are still ahead of us.