Murder suspect David "Dave" Kobak says he remembers almost nothing about shooting his good friend Fred Loftus eight times during a drunken quarrel in Kobak's apartment on Seventh Street.
The 77-year-old Kobak, charged with first-degree murder, took the witness stand Thursday to swear he doesn't recall either shooting Loftus or being interviewed afterward by a Eureka police detective. During that interview, Kobak repeatedly confessed to the shooting, saying Loftus had hit him in the face and said something terrible.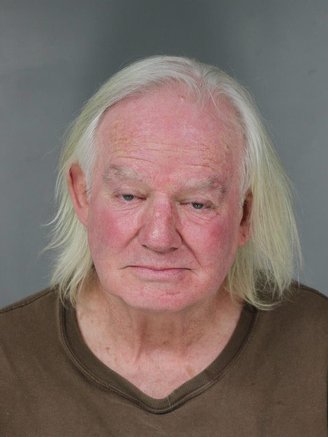 Kobak is white-haired and looks somewhat frail, but his voice was strong as he testified. He has been in Humboldt County Correctional Facility for more than two years.
Loftus and Kobak, both commercial fishermen, had been friends for three decades. Loftus worked for Kobak on several fishing boats. Their relationship was rocky, but somehow it lasted.
"He would quit or I would fire him, numerous times," Kobak testified under questioning by his attorney, Deputy Public Defender Casey Russo. "But we always seemed to get back together."
In the summer of 2017, Kobak said, he invited Loftus to come to Eureka from San Francisco, where he had been fishing. They hadn't seen one another in six years, though they kept in contact by texting and the occasional phone call.
"Was there any bad blood between you?" Russo asked.
"No, we got along fine."
Both men liked to drink, with Kobak preferring Natural Light beer and Loftus usually drinking beer "but he'd drink other things if he could get 'em."
Asked about some angry texts Loftus sent him about two weeks before the shooting, Kobak said he and Loftus "always joked around like that, but it seemed like it just got worse as it went along."
Loftus texted Kobak "Who the fuck makes you better than me, you fucking fuck," and "This could be your last day." Kobak responded with "I'm cooking dinner, Fred. Don't be rude."
Kobak testified that on Aug. 25, 2017, he probably got up between 4:30 and 6 a.m., being an early riser. He doesn't recall what he did then, but "I probably cooked breakfast."
He thinks Loftus left the apartment about 9 a.m., and at noonish he texted Kobak that he was at Ernie's bar. At that time Kobak had already had "a couple of beers," he said.
He walked to Ernie's and met Loftus there. They stayed for several hours, drinking and conversing. Then they walked to Kobak's apartment, about 13 blocks from the bar. "I think I was going to cook him some dinner," Kobak testified. He recalls being in the kitchen, "going over and stirring the stew or whatever it was," and Loftus sitting on a stool nearby.
"Then he got mad at me about something," Kobak said. "All of a sudden he reached up and hit me, and then he hit me again … He said he was going to beat the shit out of me."
After that, Kobak testified, his memory is pretty much blank.
"I remember hearing a couple of pops from a gun, and all of a sudden I looked down and saw Fred lying on the floor."
When Russo asked if he remembered going to his bedroom and getting a gun, Kobak responded "No, I don't remember that whatsoever."
After the shooting, Kobak called 911 and reported shooting his buddy. He said he has no memory of making the call. He also draws a blank on his interview with EPD Senior Detective Ron Harpham.
"I don't remember talking to Harpham there," he said.
"You told Harpham you went into your bedroom and got a gun," Russo said. "Why did you tell him that?"
"I don't really know."
Kobak does remember having his blood drawn at St. Joseph Hospital. That occurred at 9:11 p.m., after the interview and about three hours after the shooting. His blood alcohol level at that time was .147.
Kobak said he does not remember wanting to kill or harm Loftus. He only remembers being scared.
According to Kobak, the night of Aug. 25, 2017, was not the first time Loftus had been shot.
"One time he got shot with his last wife," Kobak said.
"Why did she shoot him?" Russo asked.
"Because he was trying to beat her up."
Kobak testified he has never been in a physical fight and "I've never pulled a weapon on anyone in my life."
Kobak completed his testimony Thursday without being cross-examined by Deputy District Attorney Whitney Timm. That's because two other defense witnesses were in Eureka from out of town and were ready to testify.
Both witnesses, an old friend of Kobak's and his longtime girlfriend, described him as gentle, easygoing and nonviolent.
Witness Robert Rappe, who drove seven hours from King City to testify on Kobak's behalf, said he worked with Kobak as a fisherman and had known him more than 40 years.
"He always treated everyone he knew with respect," Rappe said under questioning by Russo. "He was just a gentleman. Everyone I knew liked Dave."
Under cross-examination by Timm, Rappe said he hadn't seen Kobak in about 10 years. Timm asked him about a phone conversation he had with Detective Harpham, when he told Harpham he hadn't seen Kobak since 1990.
"Oh, I don't recall saying that," Rappe said.
"You have a high opinion of Mr. Kobak," the prosecutor said.
"Yes."
"And you don't like Mr. Loftus."
"You could say that."
Witness Cheri Keel, who lived with Kobak in Bodega Bay for more than 20 years, said Kobak "is just a really sweet man."
"We never had a fight," Keel testified under questioning by Russo. "He helped me raise my four sons, and he never hit or spanked them or even raised his voice. I've never seen him behave violently."
After Kobak moved to Eureka, Keel would often come and stay with him for a week or more. Sometimes she would bring a couple of her boys "because they missed him and wanted to see him."
Beginning to cry, Keel said Kobak is the kind of guy who would buy every single cookie from a Girl Scout who came to his door, or buy "a whole bag of raffle tickets just to help someone out."
She had a different opinion of Loftus, whom she had known for more than 20 years.
"He would drink and party a lot," Keel said. "He could become kind of a nasty drunk sometimes."
She said Loftus "had a character for violence, influenced by alcohol and sometimes by other substances."
Timm questioned Keel about her own telephone conversation with Harpham, noting she mentioned nothing to the detective about Loftus being a violent person.
"I don't think he asked me that," Keel said. "I didn't furnish anything I wasn't asked."
Later, under more questioning from Russo, Keel said Loftus "could be a real asshole when he drank. Real, real bad."
Russo, during his opening statement in the trial, said Kobak shot Loftus while extremely drunk and stressed-out. He also said Kobak was suffering from age-related memory problems.
Kobak testified he was diagnosed in 2017 with early-stage Alzheimer's disease. He had reminder notes posted all over his apartment. Keel said she had even seen a note reminding Kobak "what he was going to eat that day."
Testimony was expected to continue this morning before Judge Greg Elvine-Kreis.
###
PREVIOUSLY: