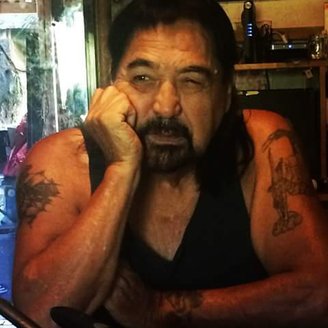 George (Chet) McCovey Jr., born January 23, 1938, in Hoopa to George McCovey Sr. and Maryann Jackson, passed away January 28, 2020 in Humboldt.
He was married to Sharon Keyes and they had four girls together: Melany McCovey, Gail McCovey, Kathy McCovey and Tina McCovey.
He later married Sandra Marks and they raised four kids: Pam Mattz, Shelly Mattz, Darci Berryhill, Terri McCovey.
Chet then married Pam McCovey, Also helping Racheal McCovey and Charlie McCovey Jr.
Chet then married Maryann Lewis and they raised Cheg-em-mem (Lexi) McCovey together.
Chet is survived by his sister Judy and Jim Hatter, Shirley Parrish, and his brother Arden and Ella McCovey. His daughters Mel Hernandez and Junior, Gail Remington, Kathy and Pat Callan, Tina Salinas and Lexi McCovey. Also, many grandkids, and even more great-grandkids. plus all the nieces and nephews.
After a lengthy stay under the care of his medical team at Stanford hospital, Chet was able to come home to Humboldt County to begin his journey surrounded by family and his beloved and best friend Bear.
Chet worked in a poultry plant in Washington state for eight years.
Worked in Hoopa at the plywood plant.
Worked in Oregon at a publisher paper company he worked there for 10 years.
Moved to Crescent City and was a timber faller for five years
In Crescent City he owned and operated a fishing vessel for one year
He then came back to Hoopa to work at Hoopa Timber Corp.
Then at PUD for 25 years, which he retired from.
Chet loved to fish the Red Cap Lake, Mill Creek Lake, Red Mountain Lake and Blue Lake. Chet was an avid fisher. He also loved to hunt. He hunted Doctor Rock, Hill Valley, Salmon Summit and Trinity Summit. Chet also loved to garden, 100 tomato plants a summer. He was also a big fan of HVHS basketball team. Chet was also a hydroplane boat racer. Chet loved to do anything in the mountains, from picking mushrooms, cutting wood and going to look at the burn scene. In younger years, he was an avid sports player. He participated in basketball, football, archery, including the Champion Team of the First All-Indian Basketball Tournament. But the one thing Chet loved the most was to spend time with his family. If you knew Chet you knew that he was the most genuine guy and welcomed anyone with open arms.
He also survived by the special people in his life including Diane Ferris, Joseph Lemieux, Raymond Ferris, Chucky Williams, Bubba & Marlena Riggins, Tanya Schonchin and Erika Kramer, Rayanin Hoaglin, Liam Willison, and most importantly, his boy Bear.
Chet was preceded in death by both of his parents, grandparents, and his brother's Lincoln, Leonard "Specky", Pliney, Paul Jackson and his sister Marge, Daughter Rachel and Cousin/sister Lovey Guyer. And his wife MaryAnn Lewis-McCovey.
Pallbearers: PerGish Hayden, Russell Hayden, Bubba Riggins, Josh Salinas, Justin Hernandez, (lil) Chet Goodrow, Wolfy Colegrove, Royale Johnson.
Honorary Pall Bearers: James Hernandez, Jason McCoullough, Jacob Remmington, Jimmy Larsen, Andrew Salinas, Buckley Hoaglin, Lee Ammon, Joe Lemieux, Chucky Williams, Russell "Rusty" Hurley, Cliffard "Handsome" Hurley, Jim Hatter, Robert Colegrove, Christian Colegrove, Panther Colegrove, Gary Jordan, Emmett H., Desmond Pope, Paul Abernathy, Gabe McCovey, Gabe McCovey Jr., James Hatter, Mark Riggins Sr, Chipper McCovey, Wayne McCovey, Arden McCovey, Jessie McCovey, Lance McCovey, Issac McCovey, James McCovey, Notchko McCovey, George McCovey III, Pliney McCovey, and Liam Willison.
We would like to say a special thank you to: Stanford Medical Center and the Cardiac Intervention Team for their care and hard work, Dr. Smith, the EMT's who transported Chet to the Hospice of Humboldt and the care team at Hospice of Humboldt.
Chet will have his last boat ride and wake on Friday January 31, 2020. The services will be the following day on Saturday February 1, 2020 at 11 a.m. at the NF and burial will follow at the Jackson Family Plot.
###
The obituary above was submitted on behalf of Chet McCovey's loved ones. The Lost Coast Outpost runs obituaries of Humboldt County residents at no charge. See guidelines here.