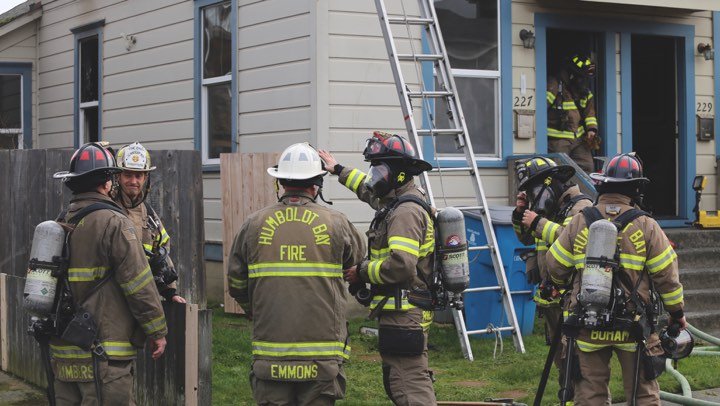 UPDATE, 12:10 p.m: Humboldt Bay Fire Chief Chris Emmons tells the Outpost's Andrew Goff that their preliminary investigation indicates that the fire was accidental, and centered around a kitchen stove near the back of one of the residences.
Damage is to the building is "heavy," Emmons said, but no one was injured.
###
UPDATE, 12:02 p.m.: The fire is under control, according to Humboldt Bay Fire Chief Sean Robertson.
###
A fire broke out in the back of a duplex near the corner of Third and P streets in Eureka just after 11:40 a.m.

Humboldt Bay Fire is at the scene of the blaze, and has confirmed that it is a working structure fire that broke out in the rear of the structure.
According to scanner traffic, people were seen entering the residence with extinguishers shortly after the fire was reported. One resident told firefighters on scene that there had been a gas leak inside the structure.
P Street is currently closed between Second and Third Streets.
We'll update as we know more.