Around 1,500 people live on the streets in Humboldt. For some, life consists of mental heath struggles, drug addiction and at times a simultaneous battle with illness and the elements. But life on the streets also consists of solidarity among those who are in the struggle together and their housed allies.

On Dec. 21, 2019, members of Affordable Homeless Housing Alternatives (AHHA) and Humboldt Area Center for Harm Reduction (HACHR), along with volunteers and homeless community members, gathered for a memorial for the people who have died on the streets of Humboldt. Nezzie Wade, co-founder of AHHA, read aloud the 38 names of the people who died from June 1, 2018 to Dec. 16, 2019. People stood solemnly and listened as the rain pelted the tents above — oftentimes drowning out Wade's voice as she read through a makeshift megaphone. Of the 38 names Wade read off, four were of men who are currently a part of Humboldt's unclaimed dead.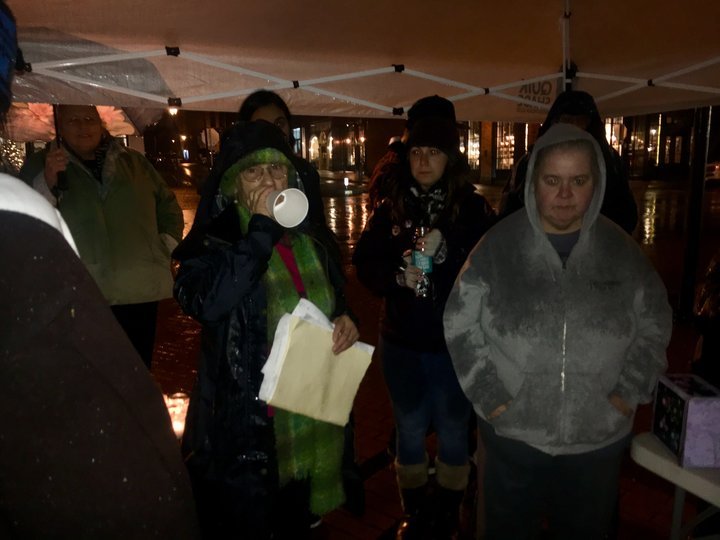 They may be the forgotten, the unknown or the lost. They may have simply lived alone or outlived their friends and family. But for certain, they are the unclaimed dead — people whose remains went unclaimed by their next of kin. Humboldt currently has 25 names on its list dating back to December 2016. Samantha Karges, the public information officer for the Humboldt County Sheriff's Office, said keeping a record of the unclaimed dead is a fairly new process, as is determining whether or not the person was homeless.
"Until about a year ago that statistic was not tracked," Karges wrote in an email to the Outpost. "For some persons there is so little information that we cannot determine their identity [or] residency."
Karges said the database the Sheriff's Office uses is called the National Missing and Unidentified Persons System ("NamUs," for short) and they recently started taking submissions for the unclaimed dead in 2019. NamUs started in 2005 as a way to address the "need to improve access to information that would help solve missing and unidentified person cases." Nationwide there are 7,356 open cases for the unclaimed dead, and California alone has 1,637 open cases. The unclaimed dead cases can be tricky to resolve, and Karges acknowledged that the numbers tracked by NamUs aren't the end-all when it comes to tracking the unclaimed.
According to Karges, the sheriff's office is working with the coroner's office to continue to enter names into the NamUs system, but this will take some time — only recently did the coroner's office switch over to a digital record-keeping system. "So this requires our deputy coroners to individually go through each file and determine if the decedent was claimed or unclaimed," she continued.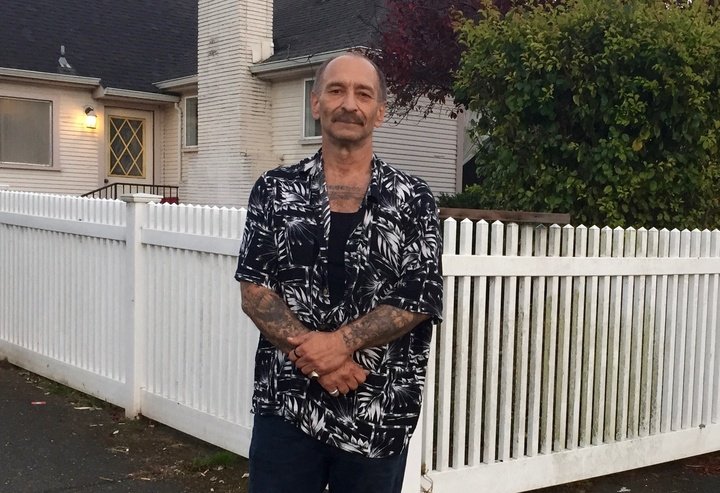 One of them is Jack Sarter. The coroner's report for Sarter says he was 60 years old when he passed away. He was living in an encampment in Eureka at the time, and died from a combination of heart failure, pneumonia and years of drug use. Sarter passed on June 14, 2019, a partly cloudy day with a high of 62. He was wearing black shorts and a purple cut-off T-shirt when he was found unresponsive by emergency medical personnel.
Sarter lived in a number of high-profile homeless encampments around Eureka throughout the years. He lived at the Palco Marsh encampment before it was razed back in 2016, and then headed to the Mycroft Supportive Care facility. Sarter actually spoke with the Outpost's Ryan Burns about his time at Mycroft. Sarter told Burns that he reached out to the Northern California Legal Services for help fighting the eviction notice from the Mycroft facilities. Sarter said he was one of the folks at the facility who was paying rent and didn't think it was right that he was given no notice.
"There's channels to do in evicting somebody," Sarter told Burns. "You can't just hassle somebody and say, 'You gotta go.' You have to put some documentation down. They didn't do that. And that's why I got a lawyer."
Sarter continued to tell Burns that he tried to lead by example on the Mycroft property by cleaning up excess trash, but his efforts were futile. At the time, Sarter feared he would end up back on the streets if evicted from the property. It appears that's what happened.
It's hard to determine if Sarter immediately took to the streets after being evicted, but on Feb. 2, 2019, Sarter and Burns spoke again. This time it was at Ed's Sanctuary, an "ornate hidden garden" that eventually "grew into Eureka's largest homeless camp," as Burns put it. It was a hidden sanctuary filled with mossy, Buddhist-like relics. Cobblestone walkways weaved through the garden that had Japanese maples, ferns, palms and other varieties of flora. It eventually became overgrown and rundown — and finally bulldozed by the city.
"I got $55, but it's not enough for a motel room," Sarter told Burns after being evicted from Ed's Sanctuary.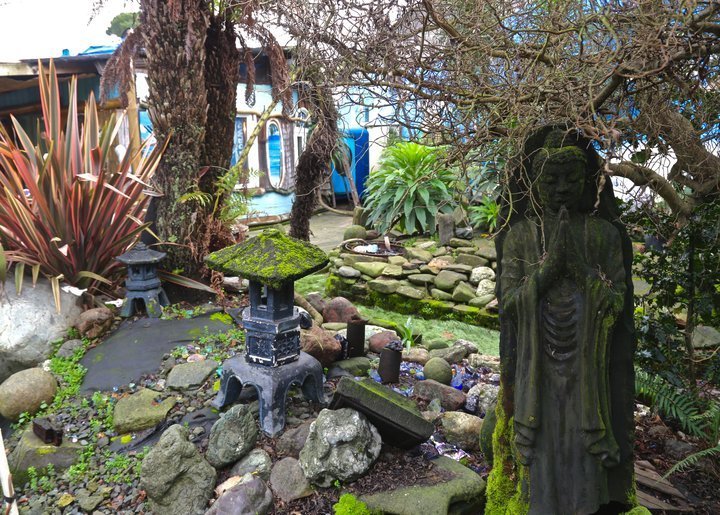 Sarter grew up in Indiana and moved to California around 1978. Carole Truman grew up with Sarter in Indiana and has stayed relatively close to him throughout her life. She currently lives in Lakeland, Florida and hasn't seen Sarter in many decades, but she said she would call and text with him to reminisce about the "old times."
"We had a lot of fun," Truman said. "I would have married that man."
The last time Truman spoke to Sarter was when he was in the hospital for pneumonia, back in April 2019. She said they talked about how he had a bad heart and how he needed to quit smoking. It was the last time the two talked before Sarter died. Through tears, Truman said if she had one more chance to speak with Sarter, she would tell him that she loved him.
"He was a part of my heart," Truman said. "I hope he is doing well in Heaven."
Another person on the list of 25 is Alfred Palumbo. He was 63 years old when he died on Sept. 24, 2018 and was found in the back of his green Chevy Tahoe, according to the coroner's report. He lived out of his vehicle, and with permission he parked it for the night at a job site he was working at. Palumbo worked in the construction business and died in his work clothes after suffering from a heart attack. He had paint splotches on his hands and clothes when the coroner found him.
Palumbo lived a sober lifestyle and didn't smoke or drink. He lived paycheck to paycheck and spent the summers working in Humboldt and the winters in Fresno. Palumbo had a handful of folks he looked out for back in Fresno. One of them was Limer Carter. Carter is 86 years old and lives just a few blocks from Fresno State. He said he knew Palumbo for about 10 years.
"We were friends," Carter told the Outpost. "He was my neighbor, he lived across the street. He was quite handy and did a lot of things around my house. It got to the point where I depended on him."
Carter said the two would talk quite a bit and that Palumbo did a lot of work in the area for a number of people. He painted rooms for Carter and built a patio for him as well. Palumbo also took care of a neighbor with Parkinson's disease, "hand and foot," Carter said. Palumbo like to joke, was an honest guy and read the paper everyday, Carter continued.
"I was shocked when the sheriff's department called me," Carter said. "I talked to him a few days before he died and he was expecting to come back to the [Central] Valley. He wasn't a drinker or smoker. He was just a hard worker."
The bodies of the unclaimed dead are cremated if they are not claimed by friends or family. The process to find the unclaimed's next of kin is thorough. Karges said the coroner's office will "exhaust all resources looking for family before authorizing cremation."
For Jack Sarter, the coroner's office found two possible leads for a next of kin, but one was deceased and the other eventually could not be found. However, the coroner was able to speak to Sarter's ex-wife's father. He said he had little memory of Sarter. Sarter never had any children with his ex-wife and so the coroner looked further. He found out that years ago Sarter had a girlfriend, so he called a last known number for her. It was disconnected.
The coroner then turned to help from the community. According to the coroner's report, Deputy Charles VanBuskirk brought a photo of Sarter to Betty Chinn and asked her to "inquire with the transient population if anyone knew [Sarter's] next of kin." But, by June 26, 2019 no leads for Sarter's next of kin were found.
"I considered [Sarter] as abandon and authorized County Cremation for him," the coroner wrote in the report. "On 06/27/2019 Jack's body was released to Humboldt Cremation which was the Mortuary of the Month."
A similar process happened for Alfred Palumbo. The coroner searched through Palumbo's phone and contacted two people. The first was an employee at Postal Express and Gifts in Fresno. According to the coroner's report, the employee was "personally familiar" with Palumbo and pretty sure "that he was not married and that he did not have any children." The coroner continued to search through Palumbo's phone and found a number that Palumbo had called and received calls from. It was Limer Carter.
Carter confirmed that Palumbo was never married and did not have any children. He said Palumbo may have a half brother in Los Angeles County, but he did not know his name or how to get a hold of him.
"After two weeks of not being able to locate any family for [Palumbo], I contacted the mortuary of the month, Ayres Family Cremation, and advised them of this case," the coroner wrote in the report. "On 10-10-2018, [Palumbo's] body was released to Jered Anderson of Ayres, and I later signed authorization for disposal of Alfred's body."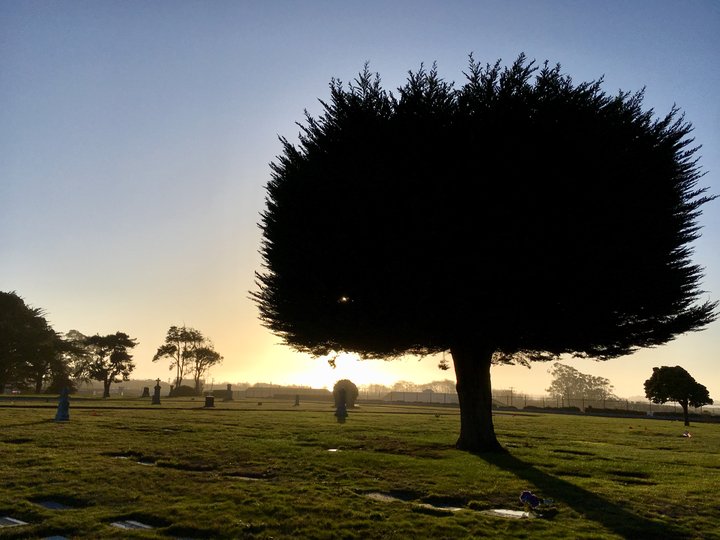 Karges, the Public Information Officer with HCSO, said bodies are usually kept at the coroner's office in large refrigerators for about 30 days before they are cremated. The ashes are then placed in a "temporary urn" before being put in the ground. The county owns a two-acre plot at Ocean View Cemetery in Eureka. Eight urns are buried together at a time and records are kept in case someone would like to claim the cremains.
There are no headstones marking the unclaimed dead, nor is there an organized ceremony. Although they may have died alone, the unclaimed dead now rest in peace in an eternal bond with seven others, laying in the ground on a bluff that overlooks the Pacific.