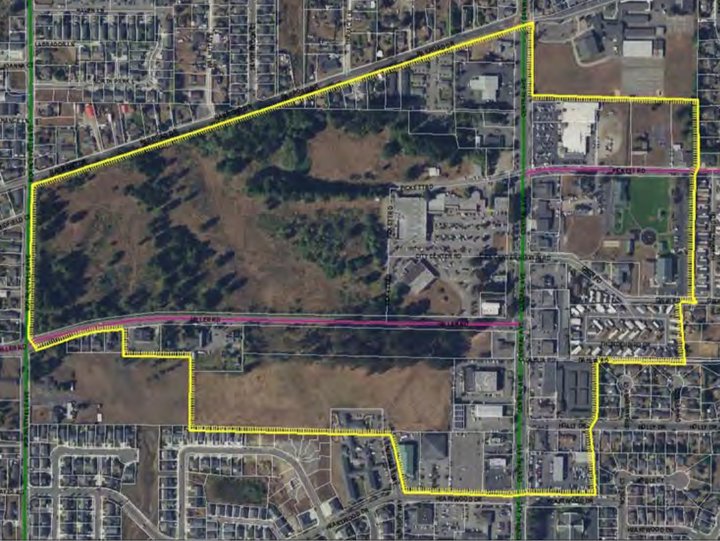 The McKinleyville Municipal Advisory Committee has started the process of hatching ideas of what a future town center for McKinleyville would look like.

The idea for a town center in McKinleyville was first conceived as far back as 1965, but it would take about 40 years before an established pathway for it was put into the County's General Plan.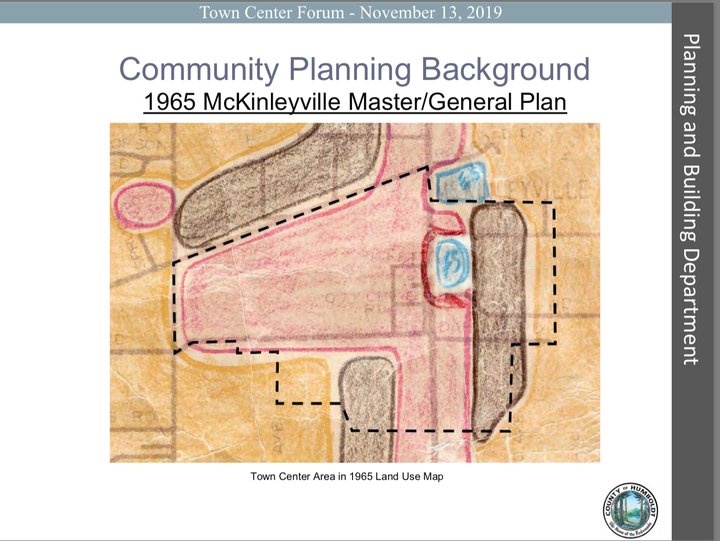 Back in 2002, the "Town Center Goals" for McKinleyville were laid out. There were only two main goals listed: "to establish a unique identity for McKinleyville through the development of a viable town center, serving as a community focal point and providing a center for social/community interaction" and "to develop an area of mixed land uses which encourages bicycle and pedestrian travel, yet allows for convenient and safe automobile access."
The area set aside for the town center is about 141 acres that runs along Central Avenue between Heartwood and Railroad Drives and includes part of Gwin, Hiller, and Picket Roads — with Safeway pretty much in the center of the plot.
The first meeting on this topic was back on Nov. 13, 2019, when the plan was introduced to the public in a "Public Introduction and Community Scoping" meeting. The meeting was essentially a workshop between the public and county officials where McKinleyvillians could air out their opinions on what they want the future of their town to look like. Some of the key themes taken away from that meeting were the desires for a town center that incorporates open space and wetlands, housing, recreation, a centralized community space that incorporates art, economic viability and museums among a few others.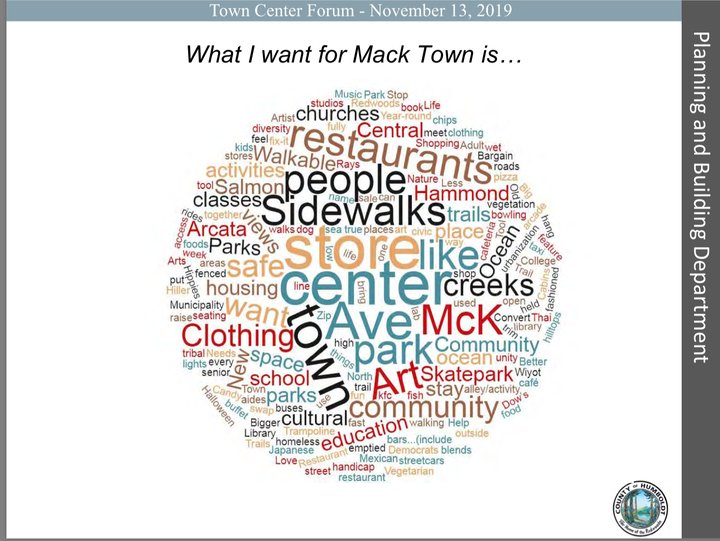 Two subsequent meetings have taken place, with one on Dec. 11, 2019, when roundtable discussions were held to allow deeper discussion about the key themes. From the those roundtable discussions, open spaces, wetlands and their incorporation into a sustainable design came about as one of the most important topics for discussion at a future date. And so, last night, Jan. 8, the McKinleyville High School Library was packed with about 60-70 people to discuss wetlands.
Although the topic of wetlands may sound a bit dry, they are a very important topic when it comes to development. The current plans for a possible town center is boxed in on all sides with wetlands and any possible disturbances of them can cause major roadblocks for construction. Even the man-made structures, such as ditches on the side of the road, count as wetlands and are not exempt from California wetland protection laws. However, there may be ways to get around wetlands.
"There is definitional issue when it comes to wetlands," Humboldt County Planning and Director John Ford told the crowd. Ford went on to say that there are essentially two ways to define a wetland — a one parameter approach or a three parameter approach.
The Community Plan for the town center uses the Department of Fish and Game's definition of wetlands, which are based on three criteria:
the presence of wetland plants
soils that are sufficiently wet in the upper part to develop anaerobic conditions during the growing season, or
periodic inundation for seven (7) consecutive days.
The "one-parameter approach" says that a wetland only has to have one of those characteristics, while a "three-parameter approach" states that a wetland must have all three. If using the one-parameter definition, then nearly 60 percent of the land is classified as a wetland. Using the three-parameter approach, that drops down to about 30 percent.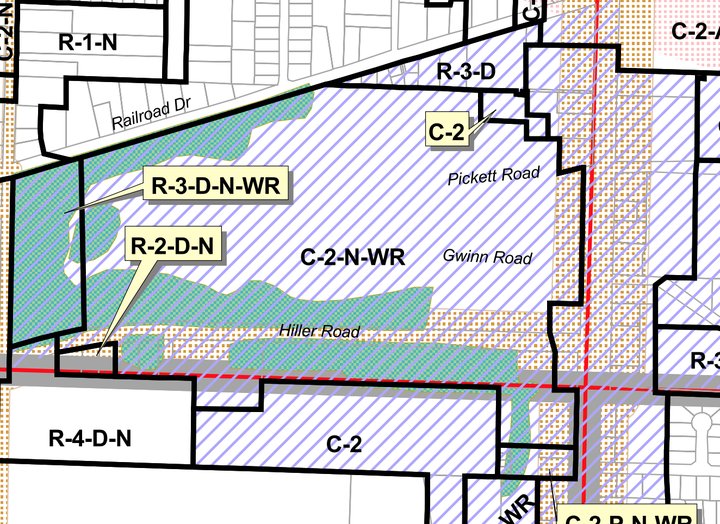 Which approach to use is essentially up to the public. The county tends to use a standard set by the U.S. Army Corps of Engineers that says all three characteristics must be present, but that can change if the public wants it to. During the Dec. 11, 2019 meeting, the public expressed a desire to use the three-parameter approach. According to county notes from that meeting, "1-parameter is too restrictive, and if we want a [Town Center], a 3-parameter is more appropriate."
But even if the public wants to use a one-parameter approach to defining wetlands, that doesn't mean it can stop construction. The wetlands can be manipulated and moved around at a one to one ratio. This means that for every square foot of wetland removed, it has to be added to another area either on the same property or at a separate location.
Most of the land for the town center is owned by the Pierson family. Anne Pierson was in attendance last night. She is the majority landowner and daughter of Ernie Pierson, the person who first built the shopping center in McKinleyville back in the mid-20th century.
"My dad's dream was for McKinleyville to have a city center," Anne Pierson said to the crowd. "Arcata has a sense of a city. It has a center, and there is a vitality to that. McKinleyville can have that too."
Pierson went on to say that McKinleyville is special because it has a high quality mix of nature in public and private spaces. Pierson, along with her nephew Greg, hopes to build hiking and biking trails that can weave throughout the property along the banks of the wetland areas. They would add benches in the area and make it "so it is something people can enjoy," Greg Pierson said.
Anne Pierson said if all goes according to plan, there could be around 200 high-density housing units built in the town center.
"We know what is happening with homelessnes," Pierson said. "There is a lack of housing."
Rick Littlefield, owner of Eureka Natural Foods, stood up to voice his support for the town center. He said McKinleyville has a bright future.
"We are galvanizing our community," Littlefield said. "We shouldn't overburden the opportunities our town has."
Also in attendance was Fifth District Supervisor Steve Madrone. Madrone thanked the Pierson family for their stewardship of the land of the past several decades. Madrone recognized there is some contention around defining the wetlands, but noted that "it's either going to happen here or it is not going to happen at all."
The next meeting for the McKinleyville Town Center planning will be on Jan. 22 at 6 p.m. at the Azalea Conference Center. The topics to be discussed at this meeting will be transportation, streetscape, public facilities and financing.
Director John Ford of the Humboldt County Planning and Building Department said he doesn't need anything concrete from these meetings just yet and asked the community to "Think and dream."