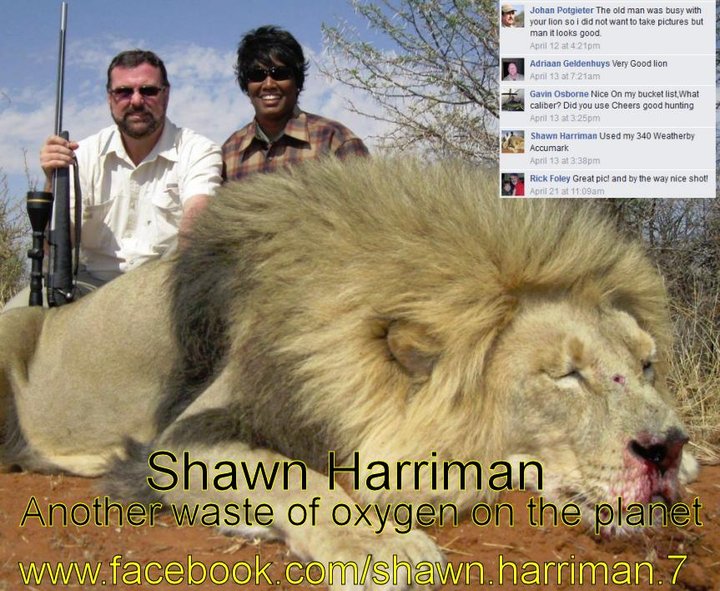 Nordic Aquafarms, the Norwegian company planning to build a land-based fish farm on the Samoa Peninsula, has terminated Shawn Harriman, just a week after his hiring was announced, in response to the above photo, which shows him posing with an African lion he had just killed.
The Outpost was sent a copy of this photo earlier this week, and after determining that it was the same Shawn Harriman we reached out to him for comment.
Initially he declined to comment, saying he would like to wait until he returns to Eureka from Maine, where he'd been attending training for his new position as senior vice president of projects for the company's west coast subsidiary, Nordic Aquafarms California, LLC.
But when pressed on the matter, Harriman acknowledged that it's him in the photo.
"I have family in Africa. My wife's African, Kenyan," he said, "so we spend a lot of time there and have for the last 15 years."
He said his days of hunting are behind him. "What I did 15 years ago is not necessarily what I do today." He also said, "It's a different life in Africa."
After speaking to Harriman, the Outpost reached out to Nordic's local community liaison, Lynette Mullen, to see if the company cared to comment. A few minutes later, Executive Vice President Marianne Naess called.
"I just got word of this [photo] a few minutes ago," she said. "Our company is not supporting lion hunting. It's not in line with our company values, and we're looking into it right away."
Asked if it would affect Harriman's employment she responded, "I need to look into it. We take it very seriously."
Less than an hour later she emailed the following statement:
We have just been made aware of unfortunate circumstances pertaining to Shawn Harriman, who was recently hired as SVP Projects for Nordic Aquafarms in California.

We want our Humboldt County partners and the community to know that we take any concerns regarding our values or stewardship of natural resources very seriously and therefore we had no choice but to terminate our relationship with Shawn.

Over the last two weeks we have learned to know Shawn as a very competent and experienced Project Director and we think this situation is unfortunate both for Shawn and Nordic Aquafarms, but our company values will always prevail. Nordic Aquafarms is always guided by the highest animal welfare and environmental values.
Harriman, who said he'd already moved to Humboldt Hill with his wife and kids, told the Outpost that this photo was at least 15 years old. "That photo has been gone for a long time. It was never supposed to get out," he said.
He also said this was not an example of trophy hunting. "We were down on a ranch and the lion charged us," he said, adding that the photo was taken in South Africa.
The image, which includes a few Facebook comments from Harriman and friends, was posted online in 2015 to a blog called "The Disease of Trophy Hunting: Naming and Shaming These Sub-Humans."
It was subsequently shared on Twitter by several users.
African animals beware: wildlife terrorist Shawn Harriman will be stalking you soon #bantrophyhunting #opfunkill pic.twitter.com/BPA8J7a9Yg

— quorndawg Ⓥ (@QuornDawg) August 6, 2016
The press release announcing Harriman's hire noted, "When not working, he and his wife enjoy outdoor activities and travel to Africa where they help orphans and elderly."