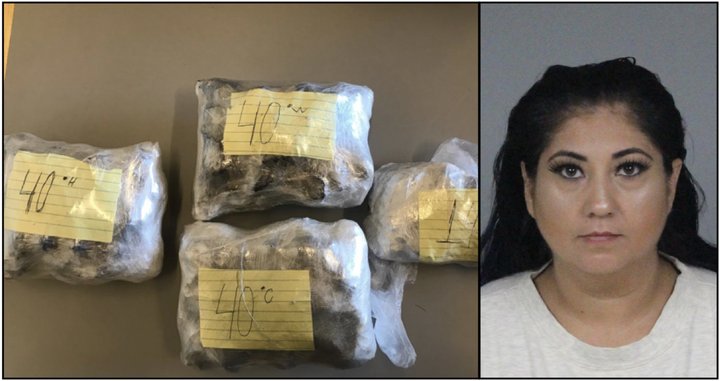 Humboldt County Drug Task Force press release:

On July 13, 2020, at approximately 4:50 p.m., special agents with the Humboldt County Drug Task Force (HCDTF), with the assistance from the Humboldt County Sheriff's Office (HCSO), conducted two traffic stops in the Southern Humboldt area. Through their investigation, agents received information that local resident, Angelica Maria Vega, (age 40 from Fortuna, California) was going to meet unknown subjects from a Drug Trafficking Organization (DTO) based out of Southern California and Mexico. HCDTF has been investigating this DTO for several months and seized multiple pounds of heroin from this organization.

Agents watched Vega meet with the DTO associates near the Benbow Inn. After a brief interaction, Vega proceeded northbound on Highway 101 where agents continued to follow her. Eventually, HCDTF agents conducted a traffic stop on Vega near the Miranda/Maple Hills exit. Pursuant to Vega's probation terms, and from observations of narcotics seen in plain view, agents searched Vega's vehicle. Agents located approximately 2.5 pounds of suspected heroin packaged for sales. Vega was subsequently placed under arrest and booked into the Humboldt County Correctional Facility for transportation of controlled substances.

Shortly after Vega left the Benbow area, HCSO patrol deputies contacted the DTO subjects in the Benbow State Park day use area. The newly hired HCDTF narcotics detection K-9, "Bodhi", was deployed and alerted to the presence of narcotics within one of the vehicles. An additional 6 pounds of suspected heroin was located in Benbow as well as approximately $4,000 in U.S. currency. This currency is believed to be profits from narcotics sales and was seized pending future asset forfeiture proceedings.

Upon police contact, the DTO subjects were identified as Guillermo Padilla (age 21 from Coachella, California) Kaina Galdamez (age 24 from Indio, California) and Edgar Melgar-Zamora (age 27 from Sinaloa, Mexico). All three subjects were cooperative and explained to agents they had just travelled from Southern California to deliver narcotics.

For officer and community safety concerns regarding COVID-19, agents elected to release these subjects and will forward their report to the Humboldt County District Attorney's Office for prosecution.

Anyone with information related to this investigation or other narcotics related crimes are encouraged to call the Humboldt County Drug Task Force at 707-267-9976 or the Humboldt County Sheriff's Office Tip Line at 707-268-2539.