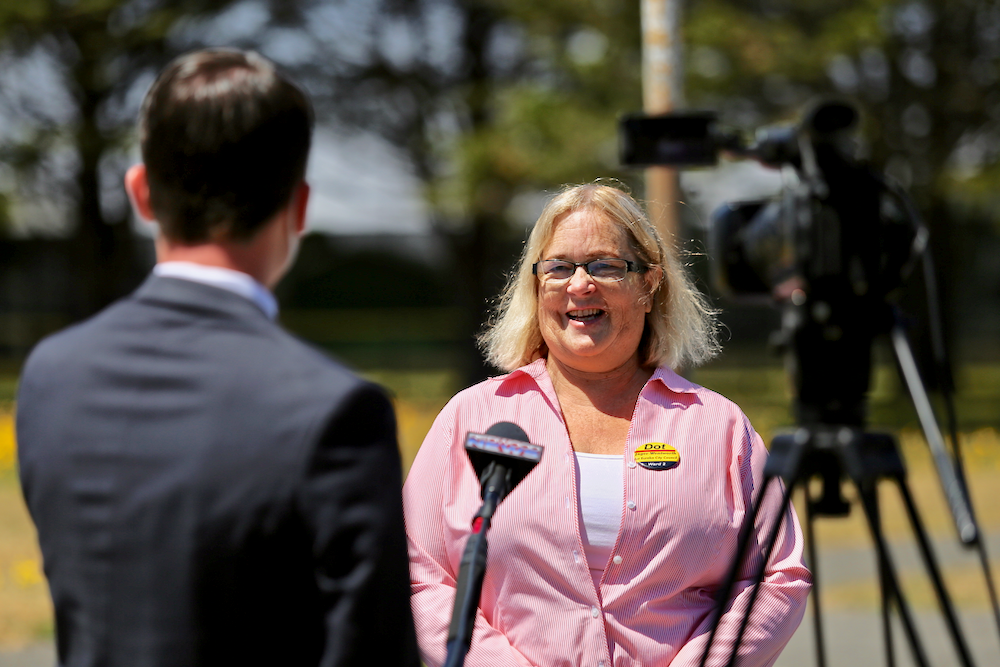 You'll be forgiven if local city council races have not been much on your personal radar recently. There's been some stuff going on. But with less than four months until the Nov. 3, 2020 election, the Outpost thought you might like to know that Eureka's Second Ward officially has one person willing to step up and serve as its councilmember.

On Thursday at a small, socially distanced gathering in Eureka's dandelion-filled 20/30 Park, Dorothy "Dot" Jäger-Wentworth launched her as-of-yet unopposed campaign for one of Eureka's two up-for-grabs city council seats. (County planner Liza Welsh has declared her desire to serve as councilmember for the city's Fourth Ward. She too has yet to garner an official challenger.)
Current Eureka Second Ward Councilmember Heidi Messner is barred from running again due to a redrawing of Eureka's political boundaries which left her house in a different ward.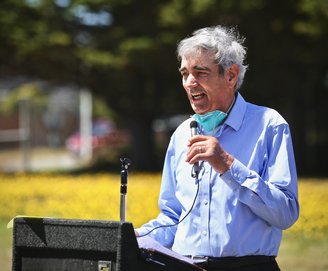 While Jäger-Wentworth is a political newcomer, she has close familial ties to Eureka politics. Her brother, Frank Jäger, is a former councilmember himself and served as Eureka's mayor for eight years from 2010 to 2018. Brother Frank kicked off sister Dot's afternoon campaign launch and shared the story of when he first learned she planned to pursue power.
"About a year ago, I think at a family gathering, my sister mentioned to me that she was considering running for Eureka City Council. At that time I advised her, 'Don't do it,'" Frank said, drawing a few laughs. "I said, 'Unfortunately politics have a way of making you lose friends and making you a target.' But she insisted on doing it. She cares about our city."
Jäger-Wentworth previously cared for Eureka in a different capacity. For 28 years she owned and managed Pat's Market, part of a retail and wholesale career that spanned 45 years. In the midst of that she earned an associate's degree from College of the Redwoods and raised two sons — one of her children, Nick, is a local paramedic.
In a short prepared speech, Jäger-Wentworth shared some of her motivations for opting to run.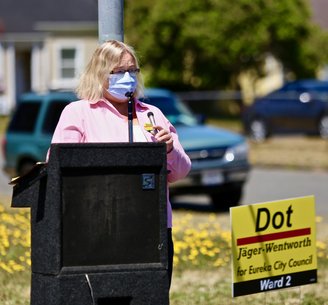 "The Second Ward that I'm running for is notorious for homelessness, violent crime and drug trafficking," she said. "I believe that these issues can be attributed to the presence of various criminal hotspots. I will work diligently to establish an active neighborhood watch program to help aid our Eureka Police Department in addressing these issues and improving the safety of the residents of our community."
The desire for a safer community is personal for Jäger-Wentworth. Before her speech she told the Outpost that she had a boat and several other big ticket items stolen from her Pine Street house. In addition to public safety, she went on to list road improvements, affordable housing, and park renovations as other issues she hoped to tackle.
As for the clear path to victory she's currently staring down, Jäger-Wentworth admitted that she would prefer to not have to spend huge amounts of time raising money and campaigning.
"I hope no one runs against me," she told the Outpost. But whether she gains a November opponent or not she plans to knock on doors in her ward to hear from her constituents — yes, while maintaining good social distance, she said.
The nomination period for Eureka City Council officially opened last Monday and runs through Aug. 7, 2020. For more information on how to run for either the Ward 2 or Ward 4 seats, click here.