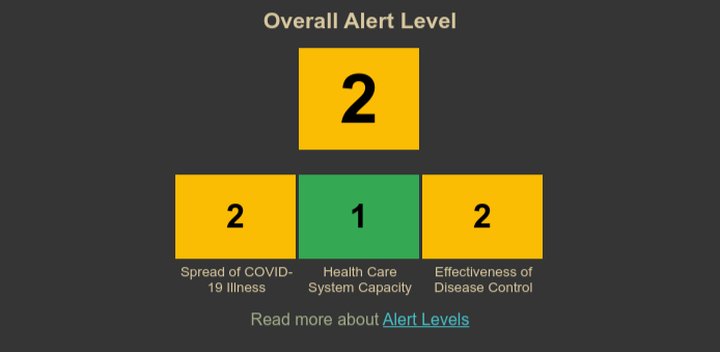 Yesterday, the county's Joint Information Center added a new feature to its COVID-19 dashboard — an "alert assessment tool" that's meant to provide the public with an at-a-glace measurement of the state of the pandemic in Humboldt County.
The assessment looks at three variables — the local spread of the virus, the available capacity of our health care infrastructure, and the effectiveness of control measures — and rates them on a scale of 1 (good) to 4 (bad), according to certain predetermined guidelines, which can be found at this link. The three categories are then summed up into a single "overall alert level."
Overall, the county currently places us at Level Two, or "moderate risk." The prescription for moderate-risk times, according to the tool, is to "increase efforts to limit personal exposure." If the county were to move up into higher levels of alert — into "high risk" or "very high risk" — then the tool suggests further clampdown.
Again: You can find the tool at the county's dashboard.
Below: Dr. Josh Ennis, Humboldt's deputy health officer, talks about the design of the alert assessment tool, how it informs local decision-making, and what the public can do to help keep the county down in the green zone as much as possible.