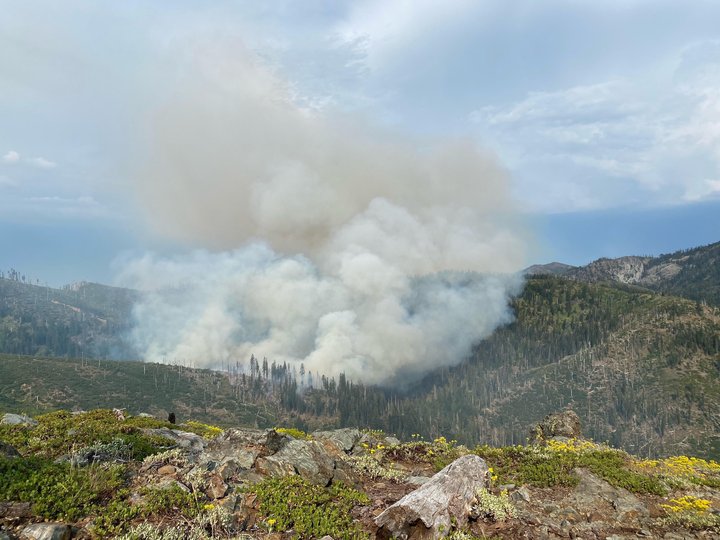 ###
Recent lightning storms have sparked off a couple of tricky wildfires way out around the northeast corner of the county, in the Shasta-Trinity and Six Rivers National Forests.
The largest of these is the Salmon Fire, which at last update stood at 550 acres, just south of the peak of Salmon Mountain, which marks the triple boundary of Humboldt, Siskiyou and Trinity Counties.
To its northeast is the Red Fire, in the Six Rivers National Forest, which is about 70 acres in size. Both fires are in extremely remote and rough terrain, and this morning comes news that they are being administratively consolidated underneath an interagency management team.
As discussed below, there'll soon be a new home on the web for updates from these fires, but for now you can go here for information on the Salmon Fire and here for information on the Red Fire.
From Six Rivers National Forest:
As is typical of late July, a thunderstorm passed over the Six Rivers National Forest on the evening of July 26, bringing with it lightning, but very little precipitation. At this time, the lightning is known to have sparked two fires on the forest's Orleans/Ukonom District:

Sidewinder: this lightning-caused fire was burning northeast of Dillon Mountain. It was contained at 0.5 acres on Tuesday, July 28. One engine and one crew were assigned. Patrols will continue to monitor the area.

Red: this lightning-caused fire is burning timber in the Trinity-Alps Wilderness—in the Red Cap drainage about a mile west of the Salmon Summit Trailhead and about a mile east of Black Mountain. This remote fire, now at 70 acres, is burning in steep, rough and brushy terrain, requiring crews to hike about an hour and a half to reach the fire. Resources staffing the fire include 7 smokejumpers, 7 handcrews, 4 helicopters and 1 air attack plane and 2 air tankers.

At 11 AM today, management of the fire will transition to California Interagency Incident Management Team 14 (CIIMT 14). This incident management team—or IMT—will manage both the Red Fire and the Salmon Fire—just southeast of the Red Fire on the Shasta-Trinity National Forest—as the Red Salmon Complex.

Firefighters and other forest staff continue to conduct patrols, checking for additional fires that may have been started by the lightning.

For additional information about these lightning fires, visit this link. A separate page for the Red Salmon Complex will be created by the IMT managing the fire at https://inciweb.nwcg.gov.