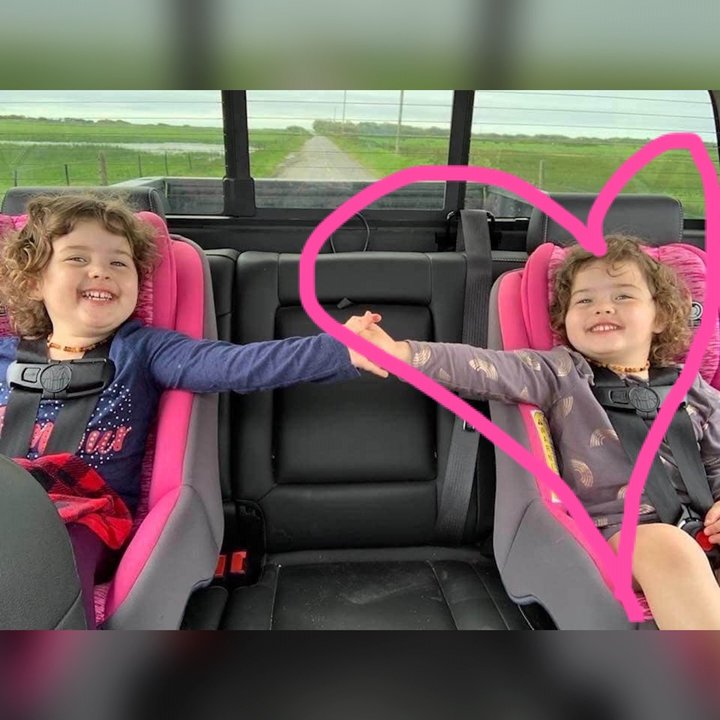 Writing this is something no parent should ever have to write about their child, but this is our reality.
Wednesday we danced to the music, made mud pies, rescued baby birds who had fallen from their nest, cleaned and even did some house remodeling together. The kids all skipped their naps to get that extra time to play, came in from outside sun kissed and tired but hungry. I washed the mud from each girls hair and face in preparation for dinner. Paxton cleared her plate and ate almost an entire cantaloupe with her twin sister Sutton and drank mom's water from a big girl cup with a straw.
We continued to dance and snuggle. Paxton told me she was tired and went to her room to get her blanket. It was near their normal bedtime. Paxton didn't return from her room so her sisters went to check on her. They told me she had curled up with her favorite blankets and fallen asleep in her bed. I knew she was exhausted, so I choose to let her sleep that night and didn't check on her. If I had known that the last time I would have seen my baby, walking to her bedroom to get her blanket, I would have climbed those bunkbed stairs and laid with her awhile. I tucked the other girls into bed by 8:50 p.m, and I also followed.
Paxton put herself to sleep that night. We didn't do our special hand shake, our bedtime hug and kiss or get to tell her how extremely much we loved her. She didn't rise with the sun the next morning.
Paxton was the hellion out of our five children. We use to tease her that she was our "devil child" and that "she would be the death of us." Now that has a completely different meaning. She was spunky, wild, carefree, a daredevil and always had us on our toes. She was so hard to discipline because her smile was so contagious that you could not keep a straight face even when she was misbehaving.
Paxton's cause of death was sudden cardiac arrest. We are still trying to figure out how this can happen with a child that had a heart of gold. Paxton was adored and loved by anyone who laid their eyes on her. She was often the child of our family that was drawn to stand out because she was so friendly and fearless. She was the child who was right up front asking you a million questions, introducing her siblings, and eager to become your best friend. Her favorite color was pink (her chosen twin color) and she loved M&Ms and Kit Kats (we blame that sweet tooth on Grandma Honey). She was an avid animal lover, she loved the water, she loved to get dirty, and she loved her daddy. (Her daddy called her P-Nutty and she didn't let a day go by without reminding you that she was her daddies' baby)
From the moment Paxton made it earth side she was bright eyed and bushy tailed and ready to conquer the world. She was robbed of her time to conquer all the things in this lifetime that she so greatly deserved to experience. She left us with her other half, her twin sister Sutton, and we know she would want us to make sure her best friend lives her best life. We will make sure we do everything in our power to make sure that happens to honor Paxton.
Paxton enjoyed baking and cooking with her daddy, going to King Salmon to play at the beach, dancing even when there wasn't music playing, she was an excellent helper with any given task, she enjoyed watching the bucks and other wildlife graze in the fields, swimming in the pool and going to the lake, getting her nails painted and being pampered, hot tubing with her Papa Chester, riding bikes with her Grandma Teri and Papa Tom, facetiming with her Grandma Eva and Papa Buck and she loved to argue with her momma any chance she got. (I encouraged her strong willed independent self, and I'd do anything to get to lose another argument with my threenager once more).
She was born on November 22, 2016, raised in Humboldt County. Paxton is survived by her mother, Courtne and father, Ryan. Her siblings Orrin (10), Aria (6), Sutton (3.5), and Onyx (2). Grandparents: Papa Chester, Papa Tom, Papa Buck and Papa Mike, Grandma Honey, Grandma Teri, and Grandma Eva. Many aunts, uncles, cousins, friends and puppy dogs.
So many people are saddened and will feel the void that Paxton's absence has created on this planet. We will have a celebration of life for our sweet girl on August 8th, 2020. We ask that you please contact a member of the immediate family for details.
Until we meet again,
Paxton Ulyanna Marleigh Austrus
11/22/2016-07/16/2020
Forever 3, and always our baby you'll be.
A GoFundMe has been set up to help the family with funeral expenses and to help support the household while the family mourns the loss of their baby girl. Any size contribution is greatly appreciated and if you aren't able to donate please share.
###
The obituary above was submitted on behalf of Paxton Austrus's family. The Lost Coast Outpost runs obituaries of Humboldt County residents at no charge. See guidelines here.