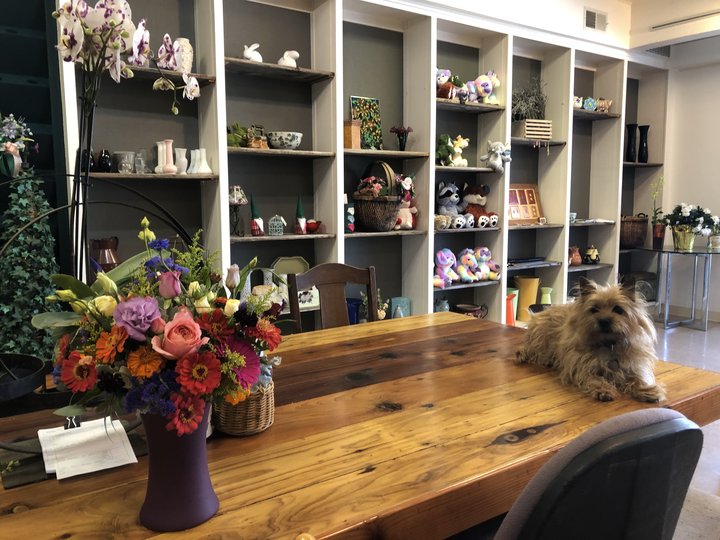 ###
Finn Ferguson never really wanted to be a business owner.

"I was not a big fan of being the person in charge," she told the Outpost in a phone conversation on Monday. But sometimes preparation meets opportunity in unexpected ways.

Ferguson and her friend Gwen Price recently took over Eureka Florist, a 90-year-old flower shop in Henderson Center. And while they're facing some challenges familiar to all new business owners (plus a host of others caused by COVID-19), Ferguson and Price don't plan to operate their shop like a traditional business — with a boss who hires employees to work for an hourly wage. Instead, they'll run it as a worker-owned cooperative, meaning everyone involved will be a co-owner with an equal stake in the venture's success or failure and an equal voice in its management.

Ferguson learned about this alternative business model via Cooperation Humboldt, a nonprofit that aims to make the local economy more equitable and sustainable through an array of community-focused endeavors, from "Little Free Pantries" that stock food for hungry residents to a skill-share network, workshops and study groups critiquing capitalism, patriarchy and white supremacy.

Last year, Ferguson and Price appeared together in Ferndale Repertory Theater's production of Mamma Mia! Shortly after the run ended, Price started working at the flower shop. "I was working at a hair salon around the corner, and I would come visit in the afternoons," Ferguson said.
When they learned that the shop's 80-year-old owner planned to retire and sell the business, they started really looking at the space — 4,500 square feet, cute flower shop below and ample storage space upstairs — and imagining the possibilities. Business ownership started to seem appealing.

"Once we decided to move forward, I said I would be more comfortable if we were a worker-owned cooperative," Ferguson said. "[Price] researched what that was and realized it was the perfect model for us."

Other local business people have recently come to the same conclusion, thanks in part to the work of Cooperation Humboldt. Since its inception the organization has supported efforts to build worker-owned cooperatives, and recently, with help from the U.S. Federation of Worker Cooperatives and a $25,000 COVID response grant from the Humboldt Area Foundation, Cooperation Humboldt launched a formal training program called the Worker-Owned Academy.

"When the pandemic hit, it really became clear that this area is experiencing — and will continue to experience — a pretty significant economic downturn," said Tobin McKee, a core team member of Cooperation Humboldt. How does that relate to co-ops? "As a business model, this has demonstrated to be very resilient during downturns because risk is spread among everybody and the commitment of employees to work is higher," McKee said. "Worker turnaround is lower and reward is higher. That buy-in and team connectedness and sense of ownership/leadership creates a more resilient business."

These attributes have been borne out by research. A study from Rutgers University, for example, found that employee ownership boosts company productivity by four percent, shareholder returns by 2 percent and profits by 14 percent.

Earlier this month, 22 people took the inaugural course in the Worker-Owned Academy. The curriculum included a series of free introductory webinars followed by four 90-minute meetings led by McKee. Ferguson and Price were among the participants along with members of three farmers' co-ops, a bakery, an artist's co-op and a community health worker co-op.

"The academy is designed to familiarize people who are inspired to start worker-owned cooperatives with the process and to really give people a reality check about the amount of work and the kind of work it takes to start a business and [operate] a cooperative," McKee said.
How do those experiences compare to launching a traditional business? "It is more work in the beginning," he said. "You have to relearn ways of managing and learn how to work together. … The employer-employee relationship is so ingrained, it can be a challenge for employees to start thinking like owners, and for people who are used to being in power to distribute it."

Cooperation Humboldt has also partnered with the North Coast Small Business Development Center (SBDC), which offers free consulting on practical matters such as writing a business plan, bookkeeping and obtaining a business license and insurance.
Leila Roberts, director of the North Coast SBDC, said she sees enormous potential for worker-ownership in Humboldt County. "We are thrilled to now be able to help support the start-up of new worker-owned businesses this year," she said in a statement provided by Cooperation Humboldt. "Now more than ever is the time to support businesses where worker-owners share the risks, decisions and profits."

Many people's concept of co-ops begins and ends with grocery stores like the North Coast Co-op. But there are others here in Humboldt. Eureka-based janitorial company Restif Cleaning Service, for example, has been organized as a worker-owned cooperative since 1990, when founder Chris Copple sold the business to his employees.

"Working in an employee-owned cooperative provides me and our employee/owners with the opportunity to work together, democratically, to run our business," Restif General Manager Natalie Renfer said in a statement emailed to the Outpost. "Not only do we have democratic governance but members have enhanced job security and get to share in the profits of the business based on their labor."

Renfer said that a janitor in a comparable position in a typical company would make about $14 to $17 per hour. "At Restif, our janitorial techs are making between $18 and $24 per hour," she said.

For Ferguson and Price, the cooperative model has been working great. "Every decision we made felt right at the moment of consensus," Ferguson said. "Anything we waffled on, we had that moment where we would bounce ideas around until, whoa, there's the solution right there."

The pair brought on a third person as a holiday helper during the Valentine's Day rush, and now, almost six months into running the business, they're looking to expand. "She'll be joining us in October as an owner," Ferguson said of their Valentine's helper. "She's starting to participate in the decision-making process and our collaborative meetings about marketing and pricing."

True to the ethos of Cooperation Humboldt, Ferguson and Price's vision for Eureka Florist doesn't stop at being a flower shop. They've been "doubling down on community connections," Ferguson said — conversing with the upstart worker-owned farm cooperative in the area and sourcing as many flowers as possible from local farmers. (They already get 95 percent of them from California.)

"We've really enjoyed building our community connections," Ferguson said. "We're all about connecting to our local community, so that means community partnerships, community vendors" — they try to do as much of their shopping as possible within Henderson Center — "and when our doors were open we had a big custom table made so people could have classes and host meetings." They've made their upstairs available as costume storage for local theater companies, and it's currently serving as the "drag closet" for Club Triangle. (The local "queer dance party" has switched over to live-streamed Instagram events during the pandemic.)

When Humboldt County's shelter-in-place order took effect, Ferguson and Price offered their building up as a distribution center for Cooperation Humboldt's COVID-19 response efforts. They stored Cypress Grove cheese in their walk-in cooler and helped distribute it to the community.

"Anytime something comes up that's aligned with what we can do for the community, we love to be able to say, 'Hey, we have the space,'" Ferguson said.

For her and Price, the cooperative model not only feels like the most effective and stress-free way to run their own business; it also reflects their values and their vision for what advocates call a "solidarity economy." The COVID-19 outbreak has forced a lot of people to rethink their work practices, and Ferguson sees this moment as a catalyst for change.

"I think there's a lot of fear that people have right now," she said. "Everyone has a desire to return back to normal. I don't expect that to happen. Being able to show people other paths forward I think is a lot more exciting … because if you can look at something this other way and realize it will work better, it's going to make the future brighter. That's what I have taken away from both my experiences with Cooperation Humboldt and running a business this way. It feels completely different. It doesn't have any of the fear or anxiety that previous ways of life have had. … Getting rid of that hierarchy has just really relieved a lot of stress for us."

Cooperation Humboldt's first Worker-Owned Academy course wrapped up a couple of weeks ago, and the next one is scheduled to start on Sept. 17. McKee said a local bakery is now in Worker-Owned Humboldt's incubator program, preparing to make the transition to a cooperative. His organization has also been in talks with the people behind the recently shuttered SCRAP Humboldt about potentially relaunching their creative reuse center as a co-op post-pandemic.

For Ferguson and Price, being a business owner is not about being in charge or even making money — at least not as a primary goal. "For us, it turns out, business is about relationships," Ferguson said. "Every time we've chosen to go local it has meant a new connection and that has always led to something better for our business."
These personal relationships have value beyond their own flower shop, she added. "Working to create a strong local economy of connections benefits everyone in the community."