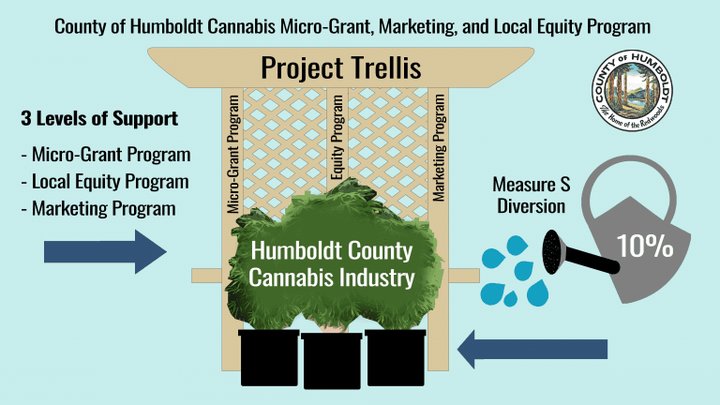 ###
Although Humboldt County has been awarded nearly $3.7 million in funding for its Cannabis Equity Program — a state-funded local project designed to lift up communities disproportionately impacted by prohibition — residents of Humboldt County have yet to receive any of those funds.
That's not entirely the county's fault, however. Of the $3.7 million awarded to the county by the Bureau of Cannabis Control, the county has only received around $1.3 million in the first round of funding, with the other $2.4 million coming at a later date.
Humboldt received the $1.3 million in April, and the only money it's spent so far has been on overhead. Scott Adair, economic development director for the county, that agency did not have strict criteria for how the funds should be used. Essentially, its only guidance was that the funds have to be spent in conjunction with the county's equity program, and that funds must be used within a year.
"It has been frustratingly slow…. And we get it," Adair told the Outpost. "People are anxious to get the funding out and we are too. Things are moving very quickly now and I just want to give my reassurances to the public that we are also equally interested in getting this funding out into the community as quickly as possible."
So what's the hold-up, you might ask?
Well, there was a debate about Proposition 209, the amendment to the California Constitution that prevents discrimination or preferential treatment based on race, and how that might affect the distribution of funds within the Equity Program.
"We had to have some conversations with our county counsel and with the state and it looks like we are fine and can move forward," Adair said.
This hold-up caused the California Center for Rural Policy, the agency that helped prepare the assessment, to make an update to the final report, which will have to be sent back to the Board of Supervisors before any funds are dispersed.
"Once they approve that, we can then immediately go to a Notice of Funding Availability and start the application process," Adair said.
The COVID-19 pandemic also slowed the process down quite a bit, and caused a lot of the Economic Development department to redirect most of its resources to helping businesses currently struggling with the pandemic.
"In fact, half of our team got moved over to the county's Emergency Operations center for about two months and during that time we were not giving the Trellis program, or the Equity Program, the amount of attention and staff time that it needed to move forward quickly," Adair said.
Because of this, the decision was made to permanently hire someone who solely focuses on Project Trellis and the Cannabis Equity Program. Adair said people have been vetted, interviews scheduled and that he hopes to hire someone for the position in the very near future.
If someone gets hired in the next two to three weeks and the CCRP makes the needed updates to the assessment by mid-August, Adair hopes to have the new assessment to the Board of Supervisors by mid-September, meaning that funds could be distributed as early as this fall.
"We are definitely going to have an application period this fall," Adair said. "I do not want to see this go into 2021, because we only have until April of 2021 to expend the first round of funds."
Adair estimates the maximum amount of funding a person can receive will be around $15,000, and will be based on the need of the applicant. The grants will essentially be a reimbursement program based on education and training costs, licensing or permit fees and other expenses that can be barriers preventing people from entering into the legal side of the cannabis industry.
When the county put together its application for Cannabis Equity funds, included in the report had to be a rough estimate of how many people would qualify for the grants. The county came up with a minimum of 1,531 people who will qualify for funding. This was based off of the number of cannabis permits that had been granted and a few other factors.
"If we just go off of the number of licenses that Planning and Building recorded, then that's for a business," Adair said. "It doesn't include how many individuals that even work at that business. There could be black market operations that still exist out there, or workers who are working for black market operations, who may have been hesitant to come forward and identify themselves, but some of this funding is to help those operations come into compliance."
###
The Outpost emailed a few further questions about the program to Adair. Here are the exact questions and his answers.
If a person was never arrested/convicted of cannabis-related charges nor had their immediate family, are they still eligible for funds? If so, why?
Yes. Arrest and or conviction is not the sole requirement for eligibility, it's just one of many potential criteria which can be met for the program. There are other ways that persons were adversely impacted by the war on drugs which did not include arrest or conviction.
Do you feel that Humboldt has received a disproportionate amount of funds from the state for the Cannabis Equity program? Why or why not? (Context: The County of Humboldt received $3,798,264.15 in both rounds of funding which is one par with some urban areas such as the City of Long Beach, which received $3,613,991,77 and the City of Sacramento who received $5,029,075.27.)
No. A lack of competition made it easier for Humboldt County to secure a larger award. Our County was one of the first to act (i.e. when the funding was announced) and many other jurisdictions were not able to apply for funding or meet the criteria before the deadline. As we understand it (vis-a-vis our discussions with our state counterparts) new funding is going to be made available in future years. As such, it is anticipated that there will be opportunities for other communities to also apply for funding. This also means that we're not sure yet what the denominator is, or if the amount of funding that Humboldt has received when compared to all anticipated future distributions of said funding is (or will be) disproportionate. Personally, I find it equally important to remind persons that the hills and mountains of Humboldt County served as ground zero for military backed operations related to the war on cannabis and that our neighborhoods and streets were the backdrops for police actions against those individuals who were cultivating it. The gravity and magnitude of past military and police activity in our community leads me to believe that the size of Humboldt County's award is defensible. (C.A.M.P., Operation Green Sweep, etc.)
If people are making $100,000 or more in the cannabis industry will they qualify for the grants? How impacted could one be if they are making a six-figure salary?
I can see the argument here, and the point that is being made. Why should an individual who is doing well economically receive or benefit from an equity grant? The legislation behind SB1294, and the direction given to us from the state (i.e. for how we can disburse these funds), is very clear. This program is designed to provide recompense for those populations, communities and neighborhoods who are adversely impacted by the criminalization of cannabis and by the war on drugs. Eligibility is therefore based on the adverse impact of those prior actions, and is not based on an applicant's assets, finances or income. Meaning that participation in the program is not based on whether or not an individual is financially deserving of the funds, but whether or not an applicant meets the criteria.