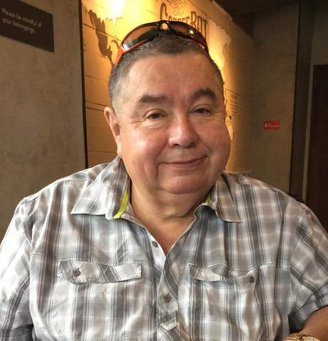 A Yurok man, a warrior has now gone to be with his ancestors. Born June 7, 1945 and passed over on June 10, 2020.

Larry, the son of Mabel (Hodge) Hendrix (deceased) and Irving Hendrix, Sr. (deceased), was raised in Trinidad, in the house his father built, located on the corner of View Avenue and East Street. Larry attended and graduated from Trinidad Grammar School, then attended and graduated from McKinleyville High School. After high school Larry was employed in several different jobs: dock worker, woodsman, fisherman, heavy equipment operator. Of all the things Larry liked to do, his favorite was to gather, a skill he learned from his father and mother. He not only fished for salmon, he fished for sturgeon, many times knitting a new net each year so he could set a net for sturgeon. Larry loved to gather mussels and seaweed, which he happily shared with his special "ladies," Betty Jackson and Jacqueline Winter. He gathered wood for tribal members of his district, sometimes in the rain, never wanting anyone to be cold.
His sister Gloria lived in Ocean Park, Washington — he loved to visit her, especially when there were good clam tides. It was in Ocean Park he met his friend, Pete Heckus. Pete is an oyster farmer; Larry often went to help Pete and then he brought oysters home to share with his many friends. Larry knew his sister Gloria liked fish soup. He would save salmon heads, freeze them and take them to her so she could make her salmon head soup. Larry had a special recipe for preparing fish to smoke, which he learned from his mother. Many fish he smoked, canned and shared. He shared everything, even the chores he had to do. Often, he would stop by his niece Sherri's house and say to her husband Jack, "I need your help". Off they would go, sometimes to get a load of hay or pick up a trailer. Many miles he traveled alone, but he became happiest when he was able to bring his wife, Razel, home to be by his side. Side by side they recently would fish for sea perch off the beach at Orick.
Larry was drafted into the Army during the Vietnam War, serving in Vietnam in the Da Nang region. He worked as a heavy equipment operator, as well as being assigned to all duties a soldier endured during that period of time. He encountered Agent Orange while in Vietnam, which later resulted in medical and physical problems. However, as his family and many of his friends know, he never let his disabilities discourage or stop him from any activity he wanted to do. On the day he passed, he was kayaking on the Middle Fork of the Payette River in Idaho.
Larry was a fisherman on the Klamath River, often having his mother with him. During one fishing season his mother was camping on the river bar at Lamb's Riffle, after having the OK to fish there by "Little" Johnny Walker, who traditionally holds that fishing place. Not only did Larry's mother camp and fish there, but she also brought her chickens with her to the camp. All was good, until water was let out of the dam upriver, the river rose, and her chickens floated away.
Larry was a Yurok first, and a Warrior in many ways. Always working. One adventure occurred when he helped Dave Rankin, a fisherman of Trinidad, bring a fishing vessel through the Panama Canal. He worked in the timber industry, invested in a store in Oregon, but always returned home to Trinidad.
When the Yurok Tribe began developing into an organized tribe, Larry was elected the first Orick District Representative. His years of service as a Yurok Council member began in 1993 with the first election and ended in 2018, having served 25 years.
Larry is survived by his wife of seven years, Razel (Cuesta) Hendrix of Orick. He is survived by his children: daughter Teresa Hendrix Wright (Mervin Wright, Jr.) of Nixon, Nevada, his daughter Julie Hendrix (Haskola Rivera), Middletown, and his daughter, Rhonda Wright of Eureka; his grandchildren Nikwich Wright, Lena Wright, Amos Wright, Tony Ramos, Jr., Timothy Ramos, Tausha Ramos, Irving Hendrix. Teresa Hendrix, Freddy Hendrix, Lawrence Jacob Hendrix, Michael Norris, Wakara Winter Scott. He is also survived by his sister Susie Long of Trinidad, as well as several great-grandchildren, cousins, nieces, and nephews. Larry was always wanting to know about his 15 great-grandchildren who survived him also. Larry is also survived by his father-in-law Roque Alvaro, his mother-in-law Analie Cuesta, his sister-in-laws Hazel Cuesta, Mileza Alvaro, Rachell Ann Alvaro, Regine Nicole, Devonne Jhail Alvaro, and his brother-in-law James Denver Alvaro of Guimbal, Compostela Cebu. Philippines. Larry enjoyed visiting his family with his wife Razel and often went to visit them. He loved to shop for items such as flipflops, and a variety of other items to ship to them. Larry enjoyed exploring the islands of the Philippines with Razel.
Larry is preceded in death by his son, Fredrick James Hendrix, and his daughter, Paula Mae Norris. Larry joins his ancestors with his father, Irving Hendrix, Sr., his mother, Mabel Hodge Hendrix, and his sisters Gloria MacNeill, and Veronica Dee Brett, his brother Irving Hendrix Jr., his grandmothers Rosa Evans Hodge and Susie Donnelly Crutchfield and his grandfather Henry Hodge.
Larry desired to have his ashes scattered off Trinidad to the beaches where he will rest. The small ceremony will be attended by immediate family. To honor Larry, friends and family are welcome to make a donation to the Yurok Tribe Veterans Services.
Pall Bearers: His grandsons: Nikwich Wright, Amos Wright, Tony Ramos, Jr., Timothy Ramos, Irving Hendrix, Freddy Hendrix, Lawrence Hendrix, Michael Norris, and Noah Mattz. Honorary Pall Bearers: Walter Lara Sr. Geoge Nelson, Joe Hufford, Gary Perkins, Pete Heckus, his son-in-laws Huskola Riveria and Mervin Wright, Jr., his nephews Murray MacNeill, Frank MacNeill. Robert MacNeill, Daniel MacNeill.
Celebration of life to be determined and announced at a later date.
###
The obituary above was submitted on behalf of Larry Hendrix's family. The Lost Coast Outpost runs obituaries of Humboldt County residents at no charge. See guidelines here.