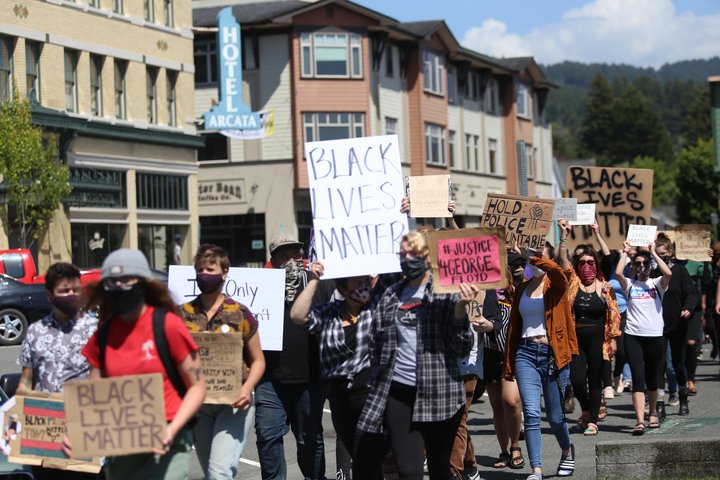 ###
UPDATE, 4:11 p.m.: Protesters took a knee and a held a moment of silence for George Floyd outside City Hall.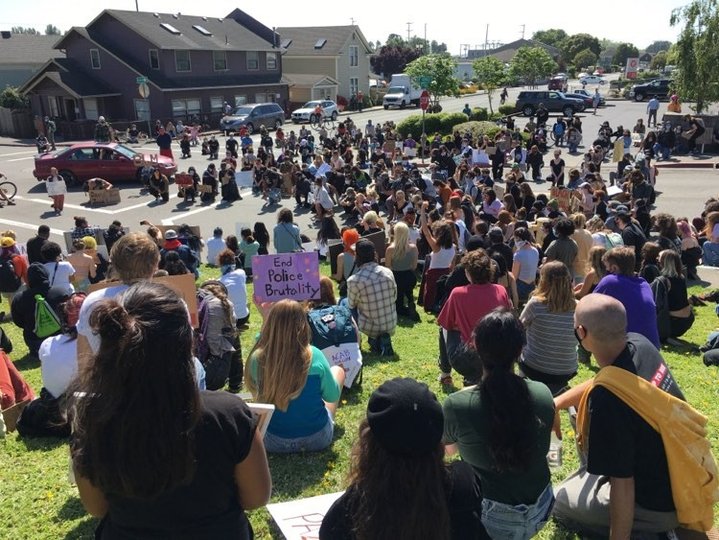 UPDATE, 3:58 p.m.: Back at City Hall.
###
UPDATE, 3:55 p.m.: Continuing past the Plaza and down G Street.
###
UPDATE, 3:52 p.m.: The march turned up G Street is now back at the Plaza.
###
UPDATE, 3:47 p.m.: The march has turned up H Street, which is completely blocked.
###
UPDATE: 3:42 p.m.: The protests are moving down Seventh Street now, and their numbers have swollen considerably — perhaps 400 or 500 people are now on hand.
###
Around 200 people have gathered in downtown Arcata this afternoon to join the nationwide protests sparked by the killing of George Floyd in Minneapolis a week ago.
More and more people are filtering in, according to Outpost reporters Andrew Goff and Stephanie McGeary, who are at the scene.
Protesters first gathered on the Plaza, marched around it and headed to the Arcata City Hall, where they currently stand, chanting "Justice for Josiah," "No justice, no peace," and "black lives matter."