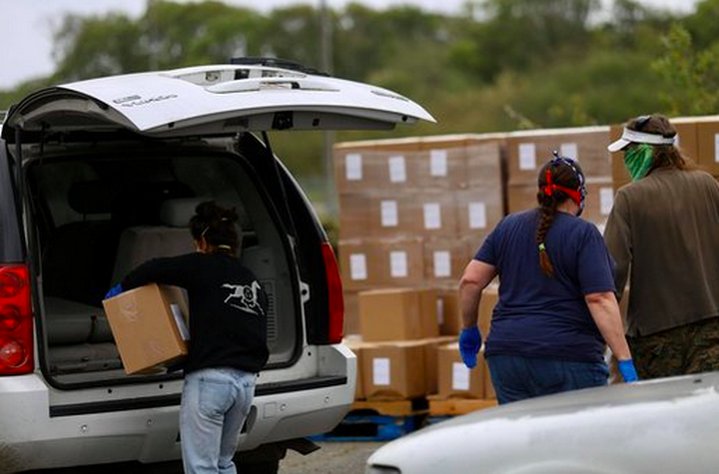 Press release from Food for People:
Have you been impacted by the current pandemic due to lost wages or revenues and find yourself struggling to make ends meet? Food for People will hold an emergency drive-through food box distribution on Wednesday, June 3rd from 2:30-4:30pm. The drive through will take place in the Arcata Community Center parking lot at 321 Dr. Martin Luther King Jr. Parkway. The parking lot will open at 2:00. Participants must remain in their cars and volunteers will load the food directly into your trunk in order to minimize face to face interactions and practice safe social distancing. Please note that this is a drive through only. In order to keep everyone safe, no bicycles or walkers will be allowed. If you are on foot or on a bicycle we ask that you go to the Arcata Food Pantry at Trinity Baptist Church located at 2450 Alliance Rd. (across from Murphy's Market) which is open from 3-6 p.m. every Wednesday.

What: COVID-19 Emergency Response Drive-through Food Box Distribution

When: Wednesday, June 3, 2020 at 2:30-4:30pm

Where: The Arcata Community Center Parking Lot (321 Dr. Martin Luther King Jr. Parkway)

For: Those suffering financially due to the pandemic

Food for People, the food bank for Humboldt County, is here for the community during the COVID-19 crisis. Many are suffering in our community with the call for self-isolation - from families staying home with kids, to seniors unable to leave the home, or those experiencing lost wages or revenues. Food for People's staff is hard at work making sure we can safely provide food to those in need. Food for People's 18 programs include a countywide network of food pantries and produce distributions, food distribution programs for children, seniors and homebound individuals, nutrition education and outreach activities, as well as many partnerships throughout the community. For more information visit www.foodforpeople.org.

For those looking to help, financial donations are currently the best way to support hunger relief in our community. Give online at www.foodforpeople.org. All donations are being matched up to $25,000 now through July 15th by Craig Hansen Insurance! Those interested in volunteering can fill out the Volunteer Response Team form.