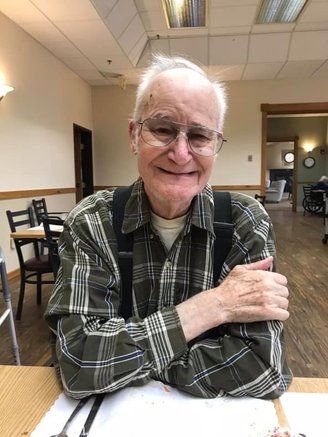 Winfred Grissom, a former Times-Standard "paper man" and docent at the Humboldt Bay Maritime Museum, died Monday evening from COVID-19, his longtime friend Leroy Zerlang announced on Facebook today.
Grissom had just turned 91.
"Winfred was a hell of a man," Zerlang said when reached by phone this afternoon. Grissom spent many years walking through Old Town and downtown Eureka selling copies of the Times-Standard, his friend recalled.
"Everybody in downtown and Old Town just adored Winnie," Zerlang said. "He would walk and yell, 'pa-PER!'"
Grissom's twin brother Wilson Grissom died in 2018. Both men were born on May 31, 1929 in Searcy, Arkansas.
Winfred Grissom was a member of various social clubs, including the Lion's Club, Zerlang said. He lived on his own until the last two or three years, when he was moved into Alder Bay. The assisted living facility in Eureka has seen a deadly outbreak of COVID-19 over the past month. Grissom's death marks the fourth Humboldt County fatality from the disease. All four were residents at Alder Bay.
Zerlang announced that the flags at the maritime museum and on the Madaket harbor cruise vessel will be flown at half mast in honor of Grissom. "His heart was as big as the world," Zerlang said.