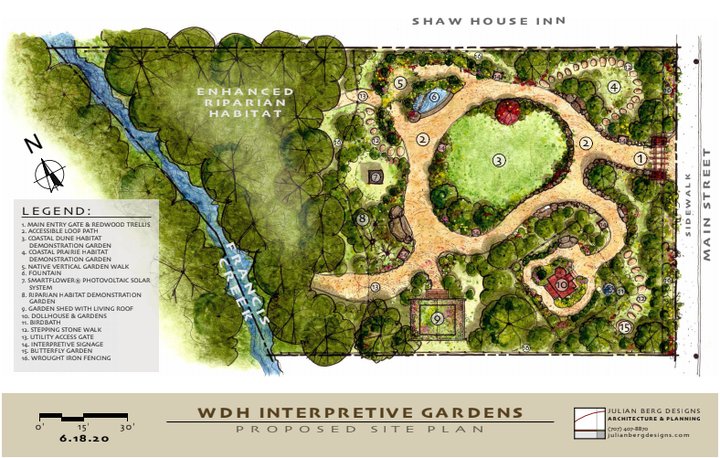 ###

The vacant lot on Main Street near the Shaw House in Ferndale may soon be home to a public garden, blooming with native plants. The WDH Foundation is proposing plans for the "WDH Interpretive Gardens" to the Ferndale design review committee on Thursday.

The property was owned by long-time Ferndale resident Willis Hadley, who passed away in 2017. Hadley was passionate about wildlife conservation and, before his passing, formed the WDH Foundation to ensure that his properties would be preserved as open spaces.

Thomas Herman of the foundation told the Outpost that the native plant garden has been in the planning stages for about a year. Design plans for the garden include a coastal dune habitat, a riparian zone habitat, a butterfly garden, a small pond and waterfall. Access would be free to the public and the paths would be wheelchair accessible.
"The gardens would be a place for people to go and appreciate the various biomes of Humboldt County," Herman said.

One of the garden's main attractions, Herman said, would be the famous pink Victorian dollhouse — also known as "the house that Troy built" — which sat on Main Street for many years. The foundation had the tiny house restored and it's looking forward to giving it a new home in the garden, where it can be enjoyed by the community and visitors.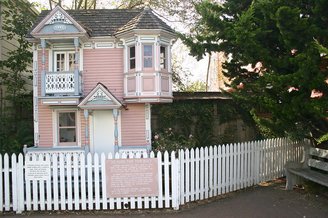 The garden plans still need to go through several approvals before construction could begin. But if all goes well, Herman said, the foundation hopes to break ground on the project by the end of this summer.

Herman hopes to see support for the garden, which would be funded and maintained by the foundation and could really benefit the community.

"It'll take what's otherwise an unsightly vacant lot, and turn it into a nice place for people when they're visiting Ferndale, shopping or touring," Herman said.

The Ferndale Design Review Committee will meet online via zoom on Thursday, June 25 at 8:30 a.m. You can view the full agenda here.

If you are interested in participating, here are the instructions from the meeting agenda:
We are strongly recommending that public comments for this meeting be submitted prior to the meeting. Public comments should be submitted to cityclerk@ci.ferndale.ca.us by 4:00pm on Wednesday, June 24, 2020.

Please be sure to put "Public Comment " in the subject line and include the agenda item, if applicable. All public comments received by 4pm will be read into the record (limit to 5 minutes) during the regular meeting.

To provide public comment during the meeting, you will need to join the Teleconference meeting.

Join Zoom Meeting https://us02web.zoom.us/j/83955247083?pwd=M21QUmdIYjFiQi9hWmdBVTk3R3M1UT09

Or go to Zoom.us and input the following information when prompted

Meeting ID: 839 5524 7083

Password: 314802

Or for telephone only access: Dial by your location +1 669 900 6833 US (San Jose) +1 253 215 8782 US (Tacoma)Input the following when prompted

Meeting ID: 839 5524 7083

Password: 314802