UPDATE #3: Alan Fischel, M.D., resigned from his position as president of the board of the Humboldt Eagles last night, he told the Outpost via text message.
###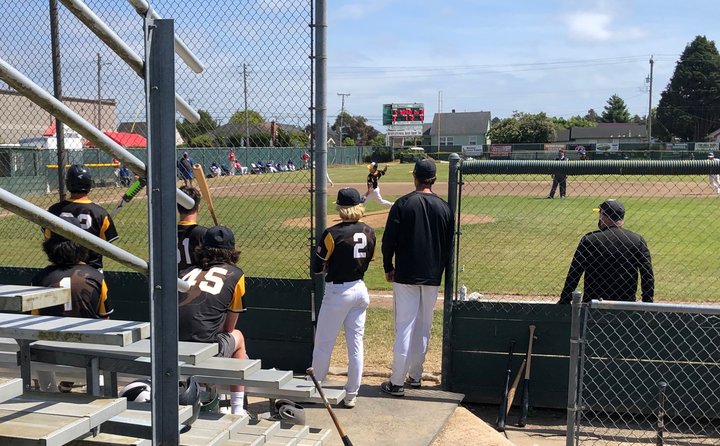 ###
2ND UPDATE, June 27, 4:15 p.m.:
Despite yesterday's statement from the county's Joint Information Center, which said Humboldt Eagles Board President Alan Fischel "understands the fact that team play cannot resume at this time," team play did indeed resume on Saturday.
A few members of the teams' coaching staff wore face masks but few, if any, of the players were doing so. Spectators gathered in the bleachers, and cars filled the St. Bernard's parking lot.
The Outpost left a voicemail for Fischel asking for more information. We'll update when and if we hear back.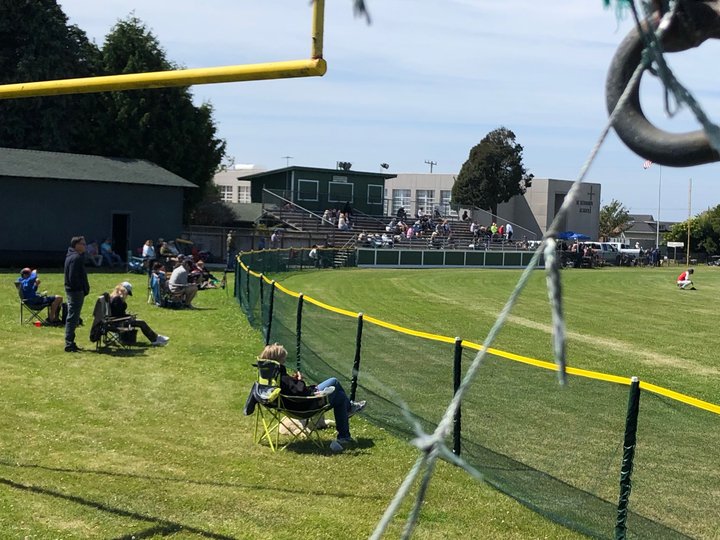 ###
UPDATE: The following statement was sent Friday evening by Heather Muller, lead public information officer with Humboldt County's Joint Information Center:

Health Officer Teresa Frankovich spoke with Dr. Fischel tonight to say that we appreciate that he felt he could do this safely, but he understands the fact that team play cannot resume at this time.

County personnel have reached out to other teams and hope they will also discontinue play.

The state currently does not allow team sports, and we do not have the authority to approve this or any similar plan. We appreciate the conversation and look forward to the day we're able to open team sports safely.
###
Original post: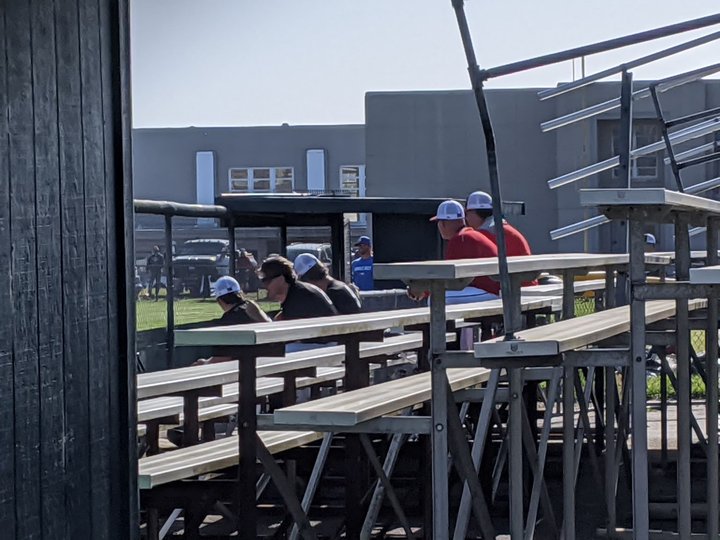 # # #
California continues to reopen and approve activities, despite suffering a dramatic spike in cases this week. One thing that hasn't been approved yet — neither statewide nor here in Humboldt County — is team sports. But that didn't stop the Humboldt Eagles 19U baseball squad from playing a doubleheader against Team Australia on Thursday.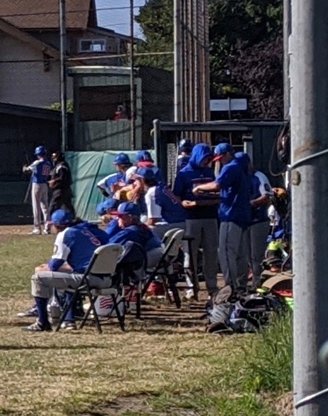 The two teams are part of American Legion Baseball, an amateur league for 13- through 19-year-olds in the U.S. and Canada. They faced off on the diamond at St. Bernard's in Eureka on Thursday, and this afternoon the Eagles were back at it, playing against the WBC Colts, an Oregon-based team that includes players from Dubai, Tunisia and Guam, according to the Times-Standard.

As Humboldt Eagles Board President Alan Fischel, M.D. told that paper a week ago, he considers these games "outdoor recreation" rather than team sports. The county allows outdoor recreation, once the Health Department has signed off on certification, and Fischel told the Outpost on Friday that he's still awaiting approval on the plan he submitted.
"I did hear from [Humboldt County Health Officer] Dr. [Teresa] Frankovich," Fischel said. "She told me yesterday they're still reviewing it."
Team Australia, by the way, is not from Australia. Most years they are. The coach is from Humboldt but fields a team in Perth, Fischel said. However, since Australians aren't currently allowed to travel, this year's team is comprised of "mostly Oregon kids." Which still requires traveling from out-of-state.
"I assume they drove down," Fischel said.
On Monday, Frankovich addressed this matter directly during one of her regular media availability videos. She said that unlike a daycare, where the same cohort of kids socialize day after day, baseball brings kids together from disparate circumstances. "That is not a stable cohort of kids," she said, adding, in no uncertain terms, "The state has made it clear that [team sports are] not to operate until state guidance has been released on this, and we have not received it, and therefore it should not be operating now."
Asked to respond to this, Fischel held his ground.
"I've written to Dr. Frankovich, but as I think I expressed, our feeling is that we're not a youth sports league, we're not a travel team," he said. "So our feeling, the way baseball is played, my view is that we're not different than a group of kids at the beach playing frisbee."
The state's guidance for RV parks, campgrounds and outdoor recreation calls for worksite-specific COVID-19 safety plans to include such precautionary measures as proper hand-washing, social distancing and face coverings.
"We're following all the guidelines under outdoor recreation," Fischel said, and he listed off some of the precautionary measures he's taking: hand-washing stations, sign-in sheets (to assemble names for future contact tracing, if necessary), encouraging mask usage and asking players to "keep separated as best they can."
On Thursday, however, few masks were in sight, and there didn't appear to be any social distancing taking place in the dugouts.
Even if the Humboldt Eagles are operating under the assumption that they qualify as outdoor recreation, the state's guidelines say, "The guidance does not apply to youth camps, team or contact sports, school and educational activities, and other public gatherings."
Eureka Police Chief Steve Watson told the Times-Standard last week that shutting down baseball games was not a priority for his department, and today he told the Outpost that he still thinks education is a better approach than enforcement. "That's really what it comes down to for me as chief in terms of my personal position," he said. "We don't want our officers to be in the position of the COVID police."
He also said there are questions about the constitutionality and legality of some health orders: Are they overly expansive? He added that COVID-19 is obviously "a real thing, a real crisis" and said he thinks Frankovich is doing "a pretty amazing job."
"That balancing act between mental and economic health versus the risk of COVID and deaths is a tough one," Watson said. "We're kind of walking a very difficult line there. But again for a police department with limited resources and a lot going on, there are other, higher priorities."
Rather than assigning police as the front-line responders to such matters, the City of Eureka has assigned its code enforcement unit to handle much of the education and enforcement. Eureka Public Works Director Brian Gerving said the education approach has worked well to date.
"The vast majority of people realize they play a part in keeping our community safe," he said. After receiving some calls from local residents concerned about the baseball games last week, the city sent an officer out to take a look at the situation and chat with people on the field.
"I had a sergeant roll by," Watson said. "He didn't see deep crowds or any significant issues with people not being masked or being in close proximity." Still, the folks on the field weren't exactly happy to see him.
"He reported back, said he got a little guff, people saying, 'Don't you have more important crimes?' I have issue with that," Watson said. "He was just doing what I asked, but we didn't see anything [too concerning] on that particular incident."
Gerving agreed. "He saw that for the most part people were doing the things they should to protect themselves and other people, even though as far as I can tell team sports are a no-go from county."
Watson said he is concerned if players are coming in from beyond the counties that border Humboldt. "Just my personal opinion," he said. And he suggested that the person organizing such games should be made to defend them.
"I personally believe they need to answer to the community for their decision," Watson said. "They're putting the whole community at risk. … Maybe that social pressure might be a more appropriate way to deal with this."
Fischel said that if the county winds up telling him that these games don't qualify as outdoor recreation and are indeed considered team sports, "then we'll have to stop." He did cancel a planned road trip to Reno over the Fourth of July weekend for his 15- and 17-year olds due to concerns about COVID-19.
But until he gets told directly from health officials, code enforcement or police officers that he has to stop, the ballgames will continue.