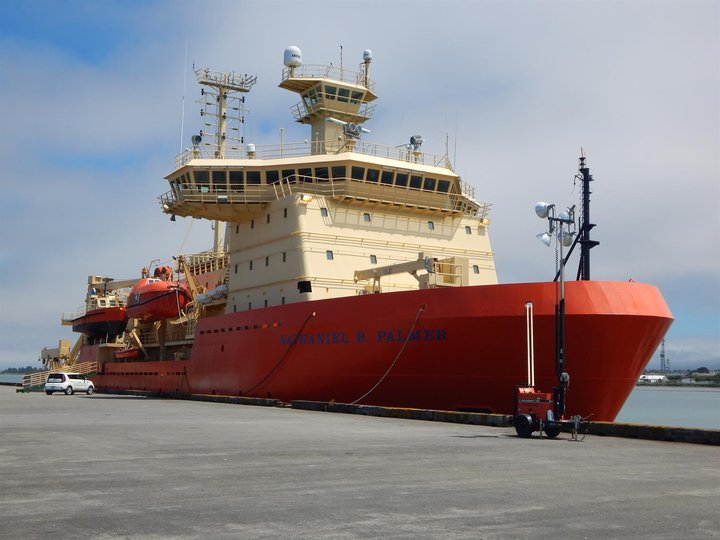 # # #
Humboldt County may be discouraging outsiders from visiting during the coronavirus pandemic, but we've made an exception for the Nathaniel B. Palmer.
This icebreaking research vessel, built in 1992 for use by the National Science Foundation, spends most of its time assisting with scientific expeditions to Antarctica, though it has traveled to ports in countries around the world, including Chile, New Zealand, Australia, Tahiti, Urugray and South Africa. And now it's here, moored at the Fairhaven Terminal in Humboldt Bay.
Why? Well, it took the Outpost more than two weeks to get an answer to that question, and a few others. We had to communicate through the ship's local port agent, who had us email a list of questions which he then forwarded to the National Science Foundation, which required a multi-level approval process before sending back answers.
They finally arrived in our inbox this morning — a list of typed-out responses that are absent of any personal attribution but appear to be speaking on behalf of the National Science Foundation. For convenience, we'll call the author Shackleton.
Shackleton explained that the Nathan B. Palmer arrived here from Port Hueneme, in Ventura County, where the crew delivered "critical science samples and other USAP [United States Antarctic Program] cargo we had on-loaded in Punta Arenas, Chile."
Like many of the world's pristine environments, Antarctica abides by a "Leave no trace" philosophy. "In accordance with the Antarctic Treaty system," Shackleton explained, "all materials brought to the continent must be transported back off continent."
The ship functions as a year-round research platform, equipped with whatever laboratory and research equipment is required for any given research mission, be it oceanographic, biologic, geologic or geophysical in nature.
But there's not much science conducted on Antarctica this time of year. It's wintertime in the southern hemisphere, and conditions that far south are not friendly. "Having delivered materials to Port Hueneme, Humboldt Bay was a convenient location for the vessel to wait until science resumes and we head south again," Shackleton wrote.
The Nathaniel B. Palmer arrived here on May 14, having spent most of the past two decades in Antarctica and the southern Patagonia region of Chile. The scientists onboard have been studying the effects of climate change on Antarctic ice shelves, including Thwaites Glacier, a Pennsylvania-sized slab of ice that's been nicknamed "The Doomsday Glacier" for its potential to trigger catastrophic sea level rise.
The ship's profile page on the NSF website notes that it can accommodate up to 37 scientists, has a crew of 22 and is capable of missions lasting up to 75 days. It also carries a helicopter, and amenities for the crew include a lounge stocked with movies and books, a workout room and sauna, and a mess hall that serves breakfast, lunch, dinner and midnight snacks.
The vessel is owned by Edison Chouest Offshore, a Louisiana-based marine transportation firm that staffs the crew of at least 18, including a ship master, mates, engineers, oilers, able seamen and cooks, Shackleton said.
The Antarctic Support Contract, a collection of private government contractors, staffs the ship's science personnel, including marine technicians, laboratory technicians and information technicians. "If the ship sails with a helicopter onboard additional staff are required to support these operations," according to Shackleton.

According to the local port agent, Leroy Zerlang, nobody's being allowed onto or off of the ship while it's stationed here, in part due to the COVID-10 pandemic.
How long can you expect to see the 308-foot orange hull out there on Humboldt Bay? "It will depend on what research the National Science Foundation decides to support," Shackleton responded.
Fair enough! Welcome to Humboldt, science folks!