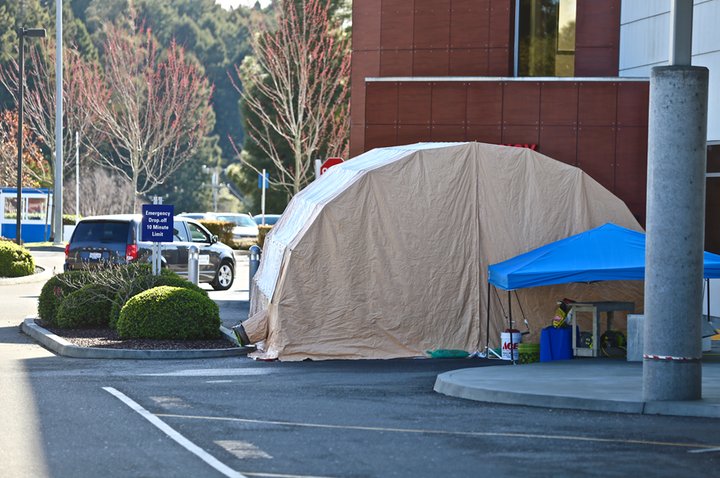 # # #
At today's Board of Supervisors meeting, Humboldt County Public Health Officer Dr. Teresa Frankovich described the biggest challenge facing our community, along with the rest of the world: "This pandemic," she said, "is unlike anything that's happened in our lifetime."
The unprecedented nature of the COVID-19 outbreak, which has infected nearly 200,000 people and killed almost 8,000 as of this writing, has prompted government officials around the world to take extreme measures, including curfews and lockdowns. The goal, as many have described it, is to "flatten the curve" — that is, slow and limit transmission as much as possible so that the rise in cases doesn't overwhelm our health care resources.
"[W]e're asking people to shelter in place, to isolate at home," California Gov. Gavin Newsom recently said via Facebook Live.
Here in Humboldt, bars have closed, restaurants are limiting service to take-out and delivery and seniors are being encouraged to follow a statewide directive to quarantine themselves at home.
"The idea is to take the most vulnerable people in our population and cocoon them if we can," Frankovich said at today's meeting. Local nursing homes and long-term-care facilities have now closed their doors to visitors, except in cases where a patient is clearly at the end of life. "Frankly, no one is 'business as usual' right now," Frankovich said.
Thus far, Humboldt County has fared better than most of the country. We've had only one confirmed case, and that patient has since recovered from the virus.
But Frankovich warned that we shouldn't be complacent or dismissive about the risks. People with even minor symptoms — say, of the common cold — should definitely stay home, and people who think they may have COVID-19 symptoms should contact their medical providers and ask about being tested.
"The real message today is that we're seeing [COVID-19] spread," Frankovich said. "We're not seeing it yet in our community, but it will arrive on our doorstep."

This raises a key question: What is Humboldt County's surge capacity? In other words, if we see a sudden spike in COVID-19 cases locally, how quickly will our health care resources exceed capacity?
It's hard to nail down an accurate answer to that question, in part because existing resources can be expanded. More beds can be brought in, for example, and hospitals across the country have access to an emergency stockpile of ventilators from the Centers for Disease Control and Prevention (CDC), according to Providence St. Joseph spokesman Christian Hill.
But we've crunched some numbers in order to get a sense of our local resources and community vulnerability.
Humboldt County's population, according to the most recent data, is 136,754. Experts are saying that 20 to 60 percent of Americans will likely contract COVID-19. If that holds true locally (and that remains a big "if"), we'll be looking at between 27,000 and 82,000 cases of the disease in Humboldt County alone.
Of course, most cases of COVID-19 are not severe. A study of 44,000 confirmed cases in China found that 81 percent were mild. Most deaths from the virus have been among people aged 60 and older and/or those with preexisting conditions such as high blood pressure, heart disease and diabetes.
Frankovich said the underlying message for all county residents is this: 'If you don't have to go out, don't.'
Still, the impacts in Humboldt County could be significant, in part because we have a relatively old population. More 30,000 residents (about 21 percent) are 60 or older. Even if we assume the low estimate of a 20 percent infection rate, that would mean more than 6,000 Humboldt County seniors contracting the disease. With a 60 percent infection rate we'd have 18,000 infected seniors.
That study from China, which was published in the Journal of the American Medical Association (JAMA), found a confirmed fatality rate of 14.8 percent among patients 80 and older. The county had more than 4,700 residents in that age category at last count.
Humboldt County doesn't have nearly enough hospital beds or ventilators to treat an outbreak of that magnitude. According to Hill, St. Joseph Hospital has just 12 ICU beds, though he said that number could potentially be expanded. The hospital also has just a dozen ventilators.
Mad River Hospital has six ICU beds and five ventilators while Redwood Memorial Hospital in Fortuna has four ICU beds and five ventilators. Jerold Phelps Community Hospital in Garberville has "very limited" equipment, CEO Matt Rees told the Times-Standard yesterday, with four emergency room beds and just one or two ventilators.
That adds up to 26 total ICU and ER beds and 24 ventilators across all county hospitals. If COVID-19 hits Humboldt County the way it has hit the Bay Area or King County, Washington, those resources would quickly be overwhelmed.
That would leave doctors and nurses with excruciating decisions to make. In Italy, where the COVID-19 outbreak expanded exponentially, a medical association published guidelines to help doctors and nurses decide who should receive treatment once demand outstrips health care capacity. The document's authors, all doctors, concluded, "It may become necessary to establish an age limit for access to intensive care."
Those who are too old to have a high likelihood of recovery, or who have too low a number of "life-years" left even if they should survive, would be left to die. This sounds cruel, but the alternative, the document argues, is no better. "In case of a total saturation of resources, maintaining the criterion of 'first come, first served' would amount to a decision to exclude late-arriving patients from access to intensive care."
Patients' overall state of health can also be taken into account. But Frankovich today suggested that proper planning and safety measures could help our community avoid such a nightmare scenario.
"What we all should be doing is planning, especially around surge capacity for health care," she told the Board of Supervisors. "There's a reasonable level or worry that should exist, but we really need people to be calm." The underlying directive for all county residents, she said, is this: "If you don't have to go out, don't."
In response to questions from the board, Frankovich said that with just the one confirmed case locally, she doesn't believe it's appropriate to implement a full lockdown, ordering residents to stay at home, as seven Bay Area counties have done.
"We will increase measures when feel we should," she said. "We're not there yet on closing things down; we're in the mode of preparedness, not panic. And we need people to be thoughtful in their approach."
Fifth District Supervisor Steve Madrone, who is one of three county supervisors over age 65, announced that after today's meeting he would be "self-isolating" for at least the next two weeks. Supervisors later canceled their scheduled March 24 meeting. The next Board of Supervisors meeting is now scheduled for April 7.
Both St. Joseph Hospital and Mad River Hospital have set up screening tents in response to COVID-19 — not to offer additional treatment but rather to perform pre-entry triage and screening. And both hospitals have published online resources to help you determine whether you might have COVID-19 and how to treat the symptoms at home.
Here they are: