Images by Andrew Goff
PREVIOUSLY: (UPDATE) Well, Crap: Sewage Spill in Eureka Forces Food For People to Close Temporarily
###

It's a sad scene at the nonprofit food bank Food for People's Eureka headquarters today, as the staff throws away thousands of dollars worth of food ruined by a massive sewage spill last week that forced the location to temporarily close.

Food For People Executive Director Anne Holcomb told the Outpost this afternoon that staff is still tallying up the damage, but have established, so far, a total of $38,000 in food losses alone. This doesn't include the costs of the biohazard cleanup or damage to the building, which is still being evaluated.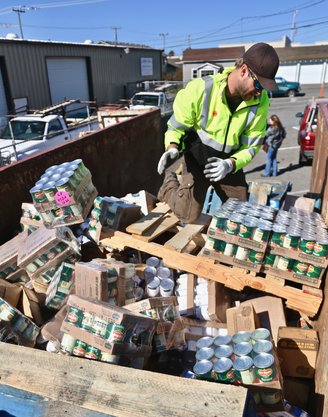 "Something that's somewhat fortunate is it's the beginning of the month," Holcomb told the Outpost, desperate to find a silver lining in this disaster. Holcomb said that people are generally most in need of the food bank's services toward the end of the month, when money tends to be tight.

The building — on Summer and Fourteenth Streets — has been closed since Friday morning, when the sewage overflow was discovered. It was later revealed that the sewage had gotten into the walls, damaging about two-thirds of the building, including the choice pantry holding most of the fresh food.

By the time public works arrived on Friday morning the issue had "resolved itself," Eureka Public Works Director Brian Gerving told the Outpost. Gerving said he's fairly certain the issue was caused by a blockage of some kind, but the cause is still under investigation.

"It's relatively unusual that the problem resolves itself," Gerving told the Outpost over the phone today. "Usually there is something that needs to be corrected by our team when we get there."

Until the cause can be determined, it is uncertain if Food For People or the City of Eureka's insurance will be responsible for covering the damage. Either way, Food For People will have to initially foot the bill for New Life Service Co., which is taking care of the cleanup.

To make matters worse, Holcomb told the Outpost she just learned that their insurance has a $30,000 cap for coverage of water and sewage damage — a disheartening number when the organization has already calculated more than that amount in food losses alone.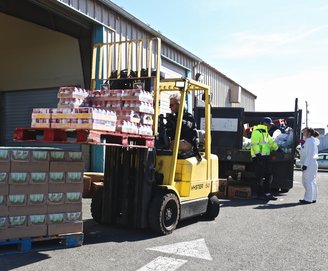 But Holcomb said that Eureka city staff and the community have been incredibly helpful. Several city council members and Mayor Susan Seaman — who also volunteers for the food bank — are doing everything they can to help Food for People find an alternative temporary location in Eureka. Holcomb said that the organization is also working to assemble "emergency bags" of food to have available immediately when they find a new spot.

If you would like to help Food For People during this difficult time, you can donate at this link. Holcomb said that many people have been reaching out with food donations, but until the organization has found another location, only monetary donations can be accepted.

"Until we have everything mitigated here, we can't really accept donations of food," Holcomb said. "We really appreciate those offers, we're just asking that people hold off for now."