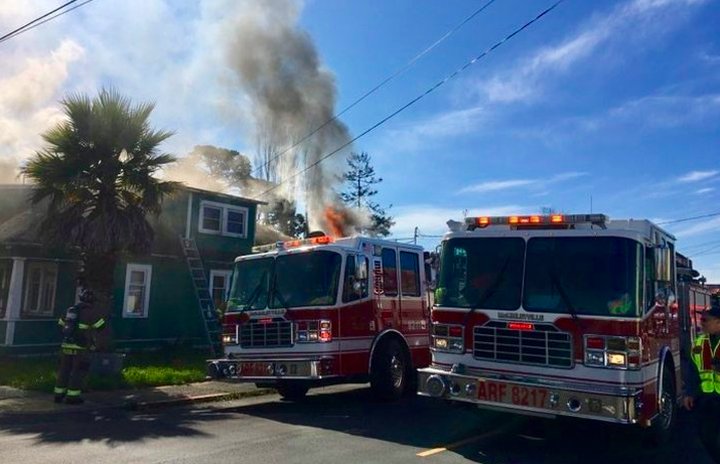 The Arcata Fire District on Tuesday announced plans to close one of its three stations on Wednesday due to the failure of Measure R. The district, which currently operates two stations in Arcata and one in McKinleyville, will rotate closures between the three stations beginning with the Mad River Station on Janes Road in Arcata.

Scott Gordinier, vice president of the Arcata Professional Firefighters Association, told the Outpost in a phone interview this afternoon that the rotation method will allow the district to weigh out the impacts on service before making a decision on which station should be permanently closed.

"Unless we pass another measure, we're going to have only two stations theoretically forever," Gordinier said. "We really don't know how things will go. So we really want to get good data and figure out what's best for the community."

Measure R, which was placed on the March ballot by Arcata Fire, proposed a property tax increase to help fund the district's operational costs. Needing two-thirds voter approval to pass, the measure gained just under 62 percent of the vote.
Though he is disappointed that Measure R failed, Gordinier said he understands why some people voted against it. A lot of people who live in the district are low-income and the tax increase would have greatly impacted them.
Throughout the campaign, representatives from the fire district argued that the tax increase was essential for maintaining staffing at the three stations. So it should come as no surprise that one station will now have to close. The district also plans to lay off some of its staff and demote all three of its battalion chiefs as a result of the failed measure. Those moves will likely take place in early July, Gordinier said.

Given the financial issues, Gordinier said, the district planned to close one of the stations even sooner. But with the onset of the COVID-19 pandemic, the chief decided to keep all three stations open as long as possible in case of an increase in emergency calls. But the district has held out as long as it could, Gordinier said.

Arcata Fire plans to keep the public up-to-date on which of its stations is closed each week, sending out press release reminders and possibly placing banners on the exterior of the stations. The last thing the firefighters want, Gordinier said, is for someone to come to one of the stations in an emergency and find that it's not open.

With the station closures and layoffs, Gordinier said the community can expect some delays in response times and a drop in the level of service. For fire calls, such as the recent house fire on Sixth and I in Arcata, there will be one fewer engine responding, which will impact the amount of time it takes to put out the fire. Response will be particularly difficult when the fire district has more than one call at a time, something that is fairly common, Gordinier said.

But even with the new setbacks, Gordinier said the district will do everything it can to respond to emergencies in a timely manner.

"The reason we all became firefighters in the first place is to help people," Gordinier told the Outpost. "We sincerely are going to do our best to keep up the best level of care. It's going to be tough and undoubtedly there's going to be less service. But we're still going to try our very best."
Below is a press release from the Arcata Professional Firefighters Association:
On 02/11/20 Arcata Professional Firefighters Vice President issued a press release highlighting the importance of a yes vote for Measure R on the March 3, 2020 ballot. The press release outlined the service delivery model that the Arcata Fire District could maintain with a YES vote, as well as the potential ramifications of a NO vote.

Sadly, today we issue this press release to update our community that we are now closing a station. The failure of Measure R comes with layoffs and demotions to critical frontline personnel of the Fire District. Starting 04/01/2020, one of our three stations will close. In an effort to gather critical information to evaluate which station shall be permanently closed, the Fire District Board of Directors has opted to experiment with rotational station closures on a weekly basis.

"The people who live in our district depend on us to be there fast when seconds count," said Scott Gordinier, Vice President of Arcata Professional Firefighters in his press release for Measure R. Unfortunately, due to station closures and the rise in overlapping calls for service we may be delayed getting to your emergency. With our District covering 62 square miles, this means potentially waiting significantly longer to receive our services when you are in need. Please, when you need our service, call 911 EARLY.

The Arcata Professional Firefighters Association would like to reemphasize to you, OUR COMMUNITY, that YOU and YOUR safety is still OUR highest priority. Please follow us on social media for up to date information on station closures.