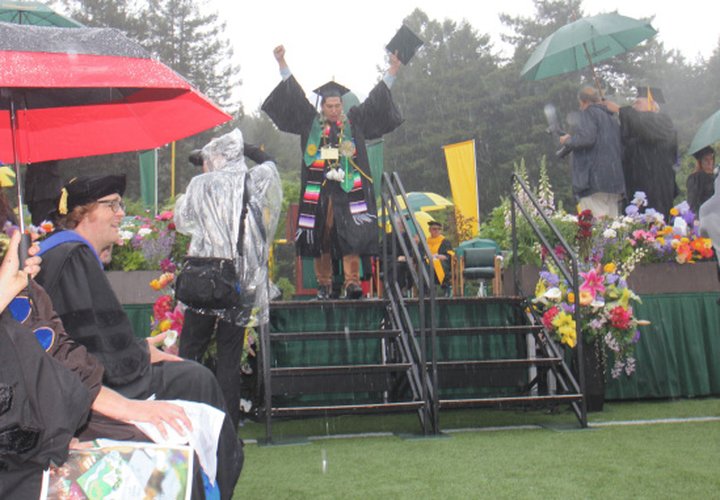 Humboldt State University:

Humboldt State University's Class of 2020 will celebrate in an unusual way, with three virtual Commencement ceremonies on Saturday, May 16.


On the day of Commencement, HSU will be broadcasting a video for each College on YouTube, including messages from students and faculty, a student music performance, and addresses by President Jackson and others. Links to the ceremonies will be available on the HSU Homepage and the Commencement website. If you aren't able to watch live, archived videos will be available on the Commencement website.

Ceremonies will be broadcast at the following times:

•College of Arts, Humanities & Social Sciences—10:00 a.m.

•College of Natural Resources & Sciences—1:00 p.m.

•College of Professional Studies—4:00 p.m.

HSU is hoping to be able to hold an in-person Commencement ceremony, possibly next spring. But given the circumstances due to the COVID-19 pandemic and everyone's safety, the virtual ceremony will be the first step in recognizing the class of 2020.

"Commencement is our favorite day of the year—we love getting to celebrate with students and their families, and seeing the pride they have for this huge achievement," says Kristen Stegeman-Gould, HSU Creative Director and Commencement Co-Coordinator. "So we truly share the disappointment of having to cancel the in-person ceremony. But, we have lots of video submissions from students who used this as an opportunity to thank the people in their lives who have helped them along the way. Their messages are incredibly moving and we're so happy to be able to share them and celebrate the Class of 2020 with our Lumberjack family!"

More than 2,100 students will earn credentials and bachelor's and master's degrees this year, and more than 600 have submitted videos to be aired during the celebration.

Humboldt State's first graduation event took place at Arcata's Minor Theatre in May 1915, with 15 women receiving teaching certificates.

Each year, students are nominated by faculty and staff to be recognized for achievement in academics, community service, or leadership. Two were selected as the Outstanding Students of the Year for their overall excellence in academics and community service:

Psychology major Doug Cherry has reached a level of involvement in the field of Psychology that's rare for an undergraduate student. As HSU's Student Council Representative for the Western Psychological Association, he advocates for students at the yearly council meeting. He has demonstrated academic leadership as a graduate assistant for the Psychology Department and within academic clubs and organizations.

Child Development & Native American Studies major Ellen Colegrove, a member of the Hoopa Valley Tribe, has spent four years balancing academics and cultural responsibilities with community service. Recognized for academic excellence as a Udall Scholar, she is actively involved in numerous organizations and projects that support the campus and local Native American communities.

More Commencement Information

Forever Humboldt: New graduates are encouraged to register for FREE with Forever Humboldt, the official association for the HSU community. Registered alumni members receive ongoing HSU Library access, special discounts at local businesses, access to HSU career resources, special invites to Forever Humboldt events, and more. Get more information on the Forever Humboldt website.

Get Social with #HSUclassof2020: Graduates, their friends, and families are encouraged to share their photos on social media by using the #HSUclassof2020 hashtag.

Graduation Pledge: Students are encouraged to take the Graduation Pledge of Social and Environmental Responsibility, a Commencement tradition that began at HSU in 1987 and has been used by more than 100 universities worldwide.

Find more details about the 2020 Commencement on the Commencement website.