UPDATE: Haggard has been arrested by the Fortuna Police Department.
Fortuna Police Department press release:
On May 18, 2020 at approximately 12:10 p.m., Fortuna Police Department received a call about a possible sighting of Zachary Haggard in the downtown area of Fortuna.

Haggard was wanted for an incident that occurred on 5/17/2020 where he fired at least six rounds at a residence in the 2300 block of Acacia.

Officers located Zachary Haggard riding a bike in the 100 block of 12th Street. He was arrested and taken into custody without incident.

Haggard was transported to the Humboldt County Jail, where he was booked for violation of the following charges: 664/187 PC, 245(a)(2) PC, 246 PC, 29811(a)(1) PC, 417(a)(2) PC and 1203.2 PC.

This is still an ongoing investigation and if anyone has further information about this case they are asked to contact the Fortuna Police Department at707-725-7550.

The Fortuna Police Department would like to thank the alert citizen that took the time to notify the Police about the location of Haggard.
###
The Fortuna Police Department is actively searching for a man who reportedly fired a .22 caliber semi-automatic handgun at an unnamed person on the 2300 block of Acacia drive last night, before returning to the scene and firing at least six more rounds into the victim's home.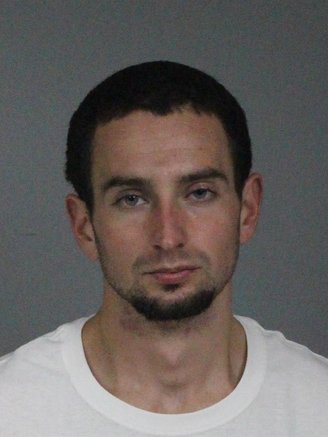 FPD Lt. Matt Eberhardt told the Outpost that officers responded to a disturbance at the residence shortly before 10 p.m., where they received reports that 25-year-old Zachary Morgan Haggard of Fortuna was responsible for the shooting. Officers also found numerous .22 caliber shell casings in the street and bullet holes in the residence.
"He fled the area on foot and was last seen in the vicinity of Hope Lane in Fortuna," Eberhardt said. "We had assistance from allied agencies and conducted a thorough search of the area and did not locate him."
Haggard is described as White male adult with brown hair and blue eyes, standing 5 feet 5 inches tall and weighing 130 pounds. He was last seen wearing a green camouflage hat, a red bandanna and green pants and is known to frequent the Fortuna area.
Haggard is wanted on the following charges: Attempted homicide, assault with a firearm, shooting into an inhabited dwelling, felon in possession of a firearm, brandishing a firearm and violation of felony probation.
FPD is asking anyone with knowledge of the incident or of Haggard's whereabouts to contact its detective unit by calling (707) 725-7550.
No injuries were reported in relation to the shooting.
"It's very fortunate that no one was injured or killed during this incident," Eberhardt said.
###
PREVIOUSLY:
Two Arrested in Fortuna after Probation Searches Turn Up Meth, Cocaine
Revolver Stolen in Florida Two Decades Ago Emerges, Brandished, in Fortuna Bar