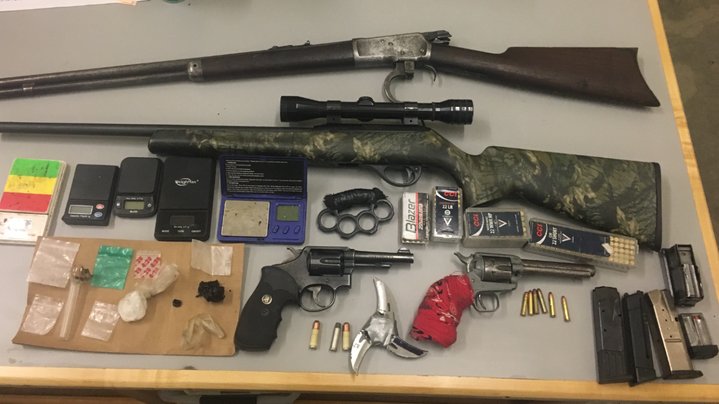 ###
Press release from the Humboldt County Drug Task Force:
On May 20th, 2020, at approximately 1:35 p.m., special agents with the Humboldt County Drug Task Force (HCDTF), with the assistance of the Humboldt County Sheriff's Office, served a search warrant at a residence on Moon Lane, south of Cal Pac Road, Hoopa. After receiving numerous complaints from Hoopa Valley community members regarding nonstop traffic from this location, HCDTF launched an investigation and were able to secure a search warrant for a residence owned by Joshua Salinas (age 40).

Upon arrival, multiple people were detained including Salinas. Agents located approximately 15 grams of suspected heroin packaged for sales along with 8 grams of suspected methamphetamine. In close proximity of these substances were digital scales along with over $4,000 in U.S. currency. Agents also located several firearms and other illegally possessed weapons. The residence was littered with hypodermic needles and other miscellaneous drug paraphernalia.

Salinas, who is a previously convicted felon, was subsequently placed under arrest for various narcotics and weapons violations as well as three outstanding warrants. Salinas was transported and booked into the Humboldt County Correctional Facility.

Agents determined the $4,000 is likely profits from illegal narcotics sales. This currency was seized pending future asset forfeiture proceedings.

Anyone with information related to this investigation or other narcotics related crimes are encouraged to call the Humboldt County Drug Task Force at 707-267-9976 or the Humboldt County Sheriff's Office Tip Line at 707-268-2539.