A look at the hole in Thallheimer's kayak. | @bigb_marijuana on Instagram.
Eureka man Michael Thallheimer Jr. made local headlines yesterday after a 16-to 18-foot shark reportedly chomped its massive jaws into the side of his kayak while he was fishing in Shelter Cove.
The 40-year-old recently took the time to speak with the Outpost about his encounter, which occurred during a Memorial Day camping trip.
"I got down to the water by 6:30 a.m.," Thallheimer told the Outpost over the phone. "I initially caught and released a couple of small [lingcods]. The third one was a good size, about 36 inches or so."
Seconds after reeling in his prized catch, Thallheimer found himself face to face with a shark that he said was "definitely a great white."
"The shark must have seen [my fish] coming up, because right as I cut its gills and pulled it into the boat, [the shark] bit a hole into the side of my kayak," he said. "I could see all of its teeth and its big softball-sized eyes. I looked into its soulless, black eyes and I could tell that animal did not give a shit. My exact words were: 'What the fuck?' And that's when I reared back and hit it at least once, probably twice. I punched it in the face. I can't remember if [my hand] was an opened or closed fist, I just started wailing on it and it let go. Most people say life flashes before their eyes; I didn't have time for that."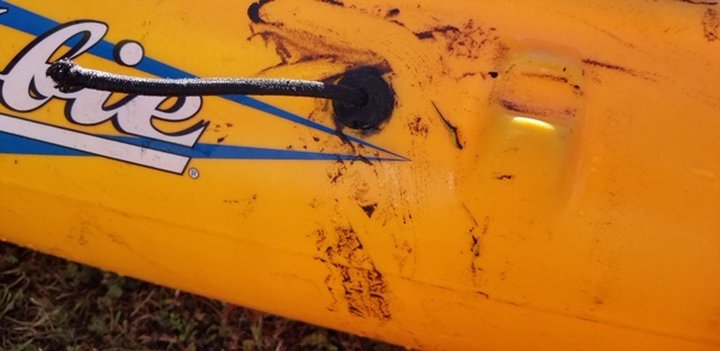 Still holding onto his fish, Thallheimer began paddling back to shore. But within 5 to 10 minutes, his kayak started to sink due to the shark tooth-sized hole in the bottom of his kayak.
In distress, Thallheimer called 911 for a water rescue, but within minutes his phone and house keys fell into the water.
"I kept telling [the dispatcher] that my kayak was going to roll over and they kept telling me to stay on the line," he said. "I neglected what she said and tried to put the phone into my waterproof case, and right then my kayak flipped over."
Holding onto his mostly submerged kayak, life vest on, Thallheimer bobbed nervously in the water as he listened to rescuers coordinate on his emergency radio.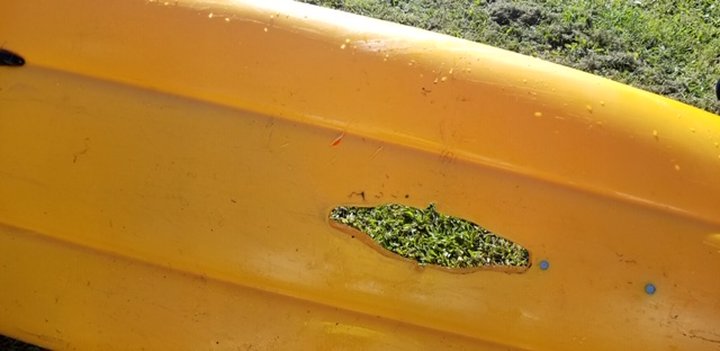 "I could hear them talking to fishermen in the powerboat, so I knew they were coming to get me. But they couldn't hear me," he said. "I'd probably paddled a quarter mile [from the area of the attack], but [the shark] was on my mind for sure. Especially when I could no longer stay on my kayak and was holding onto it."
Eventually, a group of local fishermen pulled a hypothermic Thallheimer onto their boat. But as they sped toward the safety of the shoreline, like any classic big fish story, Thallheimer lost his prized lingcod.
"I held onto [the fish] for a long time, but when the boaters towed the kayak in I must have kicked the fishing clip loose and cut it off. I was bummed the fish got away. It was one to be proud of."
Thallheimer was cleared by paramedics after warming up on land and although he escaped the incident unharmed, he wants his experience to serve as a cautionary tale for ocean kayakers who don't follow the recommended procedures.
"Let my experience be a lesson for everybody," he said. "I was the only kayaker out there, which was a huge mistake on my part. Every kayaker knows not to go by themself. Always take a buddy with you kayak fishing, always."
###
PREVIOUSLY: Eureka Man Reportedly Attacked By 18-Foot Shark While Kayaking in Shelter Cove; Local Fishermen Rescue Him From Icy Water