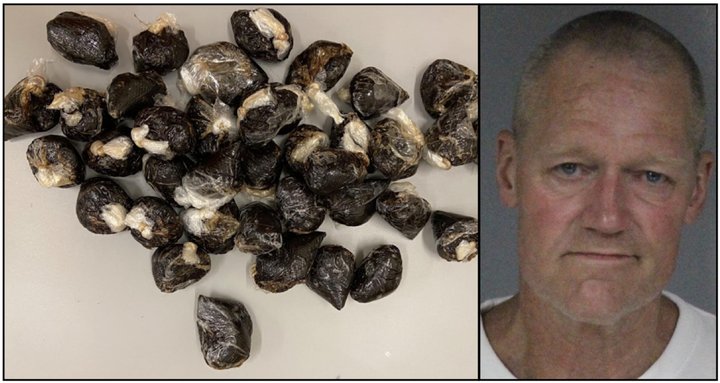 Humboldt County Drug Task Force release:
On May 28th , 2020, at approximately 2:45 p.m., special agents with the Humboldt County Drug Task Force (HCDTF), with the assistance of the Arcata Police Department, conducted a traffic stop in the 1100 block of Chester Court, Arcata. Through their ongoing investigation, HCDTF agents believed that Aaron "Doc" Nelson (age 57) was trafficking heroin throughout Humboldt County. Nelson is a local probationer with search and seizure terms.

Upon contact, Nelson was detained without incident. Agents searched Nelson's vehicle and located a Taser which is a violation of his probation. Agents were aware that Nelson lived on Chester Court and proceeded to this location. Agents conducted a probation search of Nelson's residence and located approximately 2.5 pounds of suspected heroin packaged for sales. Agents continued their search and located a sawed-off shotgun, digital scales, packaging material, and other items consistent with drug trafficking. Nelson is a previously convicted felon which prohibits him from possessing firearms.
Nelson was subsequently placed under arrest for narcotics and weapons violations and booked into the Humboldt County Correctional Facility.

Anyone with information related to this investigation or other narcotics related crimes are encouraged to call the Humboldt County Drug Task Force at 707-267-9976 or the Humboldt County Sheriff's Office Tip Line at 707-268-2539.