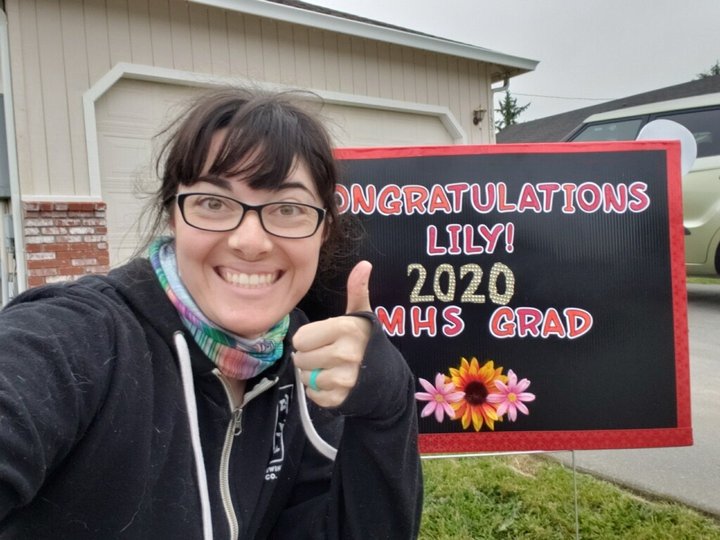 They say not all superheroes wear capes, but might some wear masks?

Early this morning, a group of faculty and staff from McKinleyville High School (which this reporter attended many years ago, fwiw) set out to deliver personalized, hand-decorated signs to the yards of the class of 2020.
Among the many things that COVID-19 has taken from us are all the joyous rituals that attend graduation — the walks across the stage to accept your diploma with a handshake, the ecstatic skyward toss of tasseled mortarboards, the group hugs with extended family and, of course, the grad night parties.
Perhaps some lovingly hand-crafted signs can compensate for at least a bit of the lost festivities.
Anne Sahlberg, an academic counselor and chair of Mack High's student services department, sent these photos to the Outpost today with a note saying MHS personnel delivered the homemade signs to graduating seniors from Eureka to Orick.
"About 30 folks were involved in the decorating, coordination, and delivery," she wrote. "I don't know if this is anything for publication, but we had fun making these personalized signs and delivering them between 5 a.m. - 9 a.m. this morning, and I wanted to share!
Congratulations to the class of 2020.
# # #
UPDATE, 1:40 p.m.: The Arcata High Safe and Sober Committee for the Class of 2020 is organizing a community-wide celebration of this year's graduates. Kristen Burrell, a member of that committee, writes:
"For the week of June 6-14, we are encouraging the community to acknowledge how hard these kids have worked by decorating their houses, businesses, sidewalks and cars to show their support. I am attaching a flyer that Arcata businesses will be proudly displaying."
That flyer can be downloaded here.
# # #