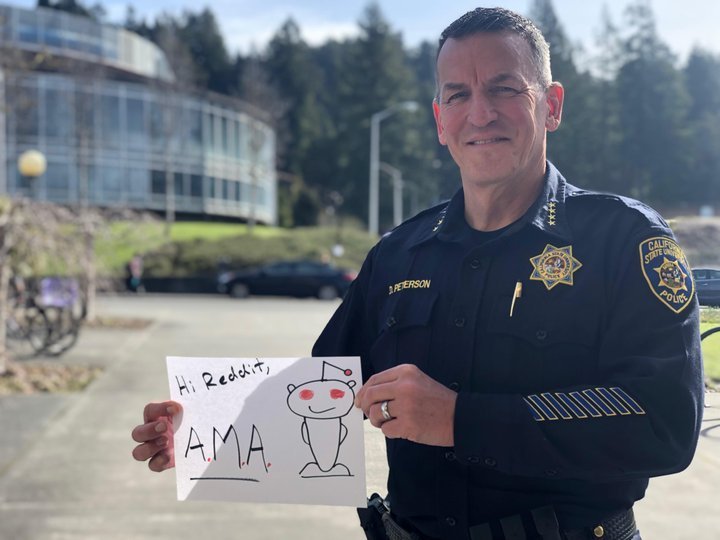 Humboldt State University Police Chief Donn Peterson, who has clashed with his own officers in recent years over a variety of issues, is retiring from his position, effective immediately, according to a press release published below.
Last we heard, back in November, the university had retained an independent police oversight firm to review allegations from Peterson's own officers, who had accused him of creating a hostile work environment (including the use of racial slurs), violating labor laws and manipulating crime statistics. They cast a vote of no confidence against the chief last September.
Peterson vehemently denied the allegations, and in an interview with the Times-Standard he said he'd come into a department that was rife with toxic masculinity, homophobia and misogyny.
The Outpost reached out to HSU about a week and a half ago to ask about the status of Peterson's employment and the results of the independent review. Communications Specialist Grant Scott-Goforth responded via email, "His employment hasn't ended. We are expecting to receive that review most likely in the next month." [Disclosure: Scott-Goforth is a friend of mine.]
The press release below does not say what led to Peterson's decision. A voicemail left for him was not immediately returned. We'll update this post if we hear back.
# # #
Press release from Humboldt State University:
Donn Peterson will be retiring from his position as Chief of Police at Humboldt State University effective May 31, 2020.

The University thanks Peterson for his dedicated service over the past five years. Peterson has participated and created several programs that have improved the overall safety of our campus. As referenced in his evaluations, these programs include being an active participant in Equity Arcata, creating and participating in the Chiefs' Advisory Panel, and the creation of the Student Safety Escort Program, which provides students who do not feel comfortable walking alone at night a uniformed student employee escort. Peterson also initiated the "Ask Me Anything" events on campus, creating opportunities for stronger dialogue for students.

HSU appreciates these and other contributions Peterson has made during his tenure and wishes him well in his future endeavors.

Information about filling the Chief position will be shared over the next several days.
# # #
PREVIOUSLY