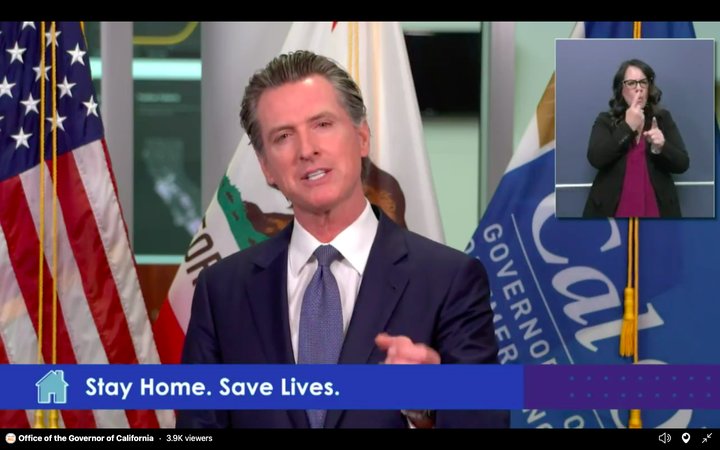 # # #
Humboldt County Supervisor Rex Bohn was all set to ask Governor Gavin Newsom to ease the state's stay-at-home order and give more control to individual counties. Looks like he's getting his wish without even asking.
This afternoon Newsom announced that certain retail stores will be allowed to reopen on Friday, as long as specific safety precautions are in place. And he said county governments — through their health officers and boards of supervisors — will be given more authority to gradually loosen restrictions aimed at slowing transmission of COVID-19.
In a live news conference, Newsom said counties can begin moving into the second phase of the four-phase plan he has outlined for reopening the state. This Thursday, he said, his office will release a set of guidelines, and counties that meet those guidelines can begin allowing lower-risk workplaces to reopen, with modifications.
Clothing stores, bookstores, toy stores, sporting good stores and florists will be allowed to reopen by offering curbside pickup, Newsom said. Associated manufacturers and supply chain businesses will also be allowed to fire back up. Not included on the list: shopping malls, offices and sit-down dining in restaurants. Those businesses will have to wait until things are further along.
Counties will be given some leeway to chart their own courses on reopening, according to Newsom's announcement. Individual counties will be permitted to move further into Phase Two, loosening restrictions even more, as long as they have plans in place to meet the state's criteria for testing capabilities, contact tracing, physical distancing and protecting the most vulnerable citizens, such as seniors, the incarcerated and the homeless.
"If those criteria can be self-certified by the local health official and county supervisors, we will allow additional movement through Phase Two," Newsom said. Local plans will have to be submitted to the state Public Health Department, and they will be posted online.
Newsom revealed that state officials have been working to "build an army" of health care professionals who can perform contact tracing — that is, mapping the spread of COVID-19 statewide. The state has enlisted UCLA and UCSF to create a "virtual training academy" for "disease detectives."
To date, California has assembled a workforce of nearly 3,000 such experts, mostly at the local level, Newsom said, and through the online training program that number is expected to grow to 20,000 people in the coming weeks.
The state is now averaging more than 30,000 tests per day, and this "active monitoring" was a prerequisite for reopening, Newsom said. He also noted that the number of daily new cases across the state has leveled off, though he acknowledged that it could very easily go back up again.
But he characterized today's announcement as good news. "This is an optimistic day as we see a little bit of sunshine on the horizon," Newsom said.
Speaking to the Outpost earlier in the day, before Newsom's announcement, Bohn said he's been impressed with the local business community. He has seen safety modification plans from hairdressers, sport fishermen and restaurant owners, and he believes they can do a good job of protecting the public.
"Corporate Humboldt's open," Bohn said. "The mom and pops, small businesses, I want to give them a little bit of rope, and let's see if they hang themselves."
Watch the governor's announcement below: