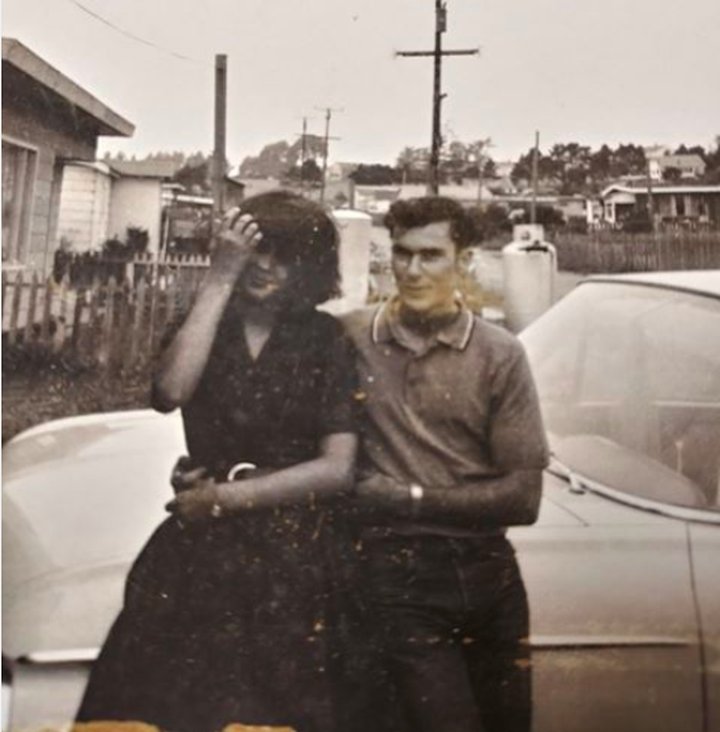 # # #
Terry Lange considers his mom and dad soulmates. They've been married for more than 56 and remain inseparable. "They are never apart," he said. "They even share the same birthday."
Over the past couple of weeks, however, Lange's parents have been apart, though not by choice. His mom Linda, 71, was recently admitted to St. Joseph Hospital with a relapse of ovarian cancer. Due to the hospital's COVID-19 safety precautions, family members, including her devoted husband, can't visit her in her room.
Lange said his mom's condition is terminal, and he believes the thing she needs most is her husband, 76, at her bedside.
"All l wish is for them to be together," Lange recently told the Outpost. "It's all they want also. … My dad being with her gives her life. It gives my dad life. You can hear it in their voices."
In a prepared statement, St. Joseph Hospital said this:
In order to protect the health of our communities, and as a safety precaution to prevent the risk of spreading COVID-19, we have instituted visitor restrictions in accordance with recommendations from The Center for Disease Control and Prevention (CDC) and the Governor of California.

We understand the importance of patients having access to their loved ones while receiving care at our hospital. However, at this time, we ask patients and their families to consider communication through phone and video chat as their primary means of communication.
Hospitals across the country have implemented similar safety measures in an effort to slow a pandemic that has now infected more than 1.2 million Americans, killing close to 75,000. While states, including California, have begun lifting restrictions, the virus shows no signs of retreat.
"Almost every day," the New York Times reports, "at least 25,000 new coronavirus cases are identified, meaning that the total in the United States — which has the highest number of known cases in the world with more than a million — is expanding by between 2 and 4 percent daily."

But Lange finds St. Joseph Hospital's precautions excessive. He said hospital staffers told him they haven't had any positive COVID-19 cases onsite. (St. Joseph spokesman Christian Hill told the Outpost that, to maintain confidentiality, the hospital is not disclosing whether or not there have been any cases there. They cannot discuss the Lange family's situation for the same reasons.)
Lange told concerned friends on social media that it's not the hospital's fault. "If you want to complain, complain to the governor of California," he wrote. "Or the president."
Lange himself took to the streets last weekend, joining about 60 other people in a protest outside the county courthouse. While other protesters held signs decrying "government overreach" or demanding, "Open Humboldt!" Lange held a pair of signs with plaintive, personal messages: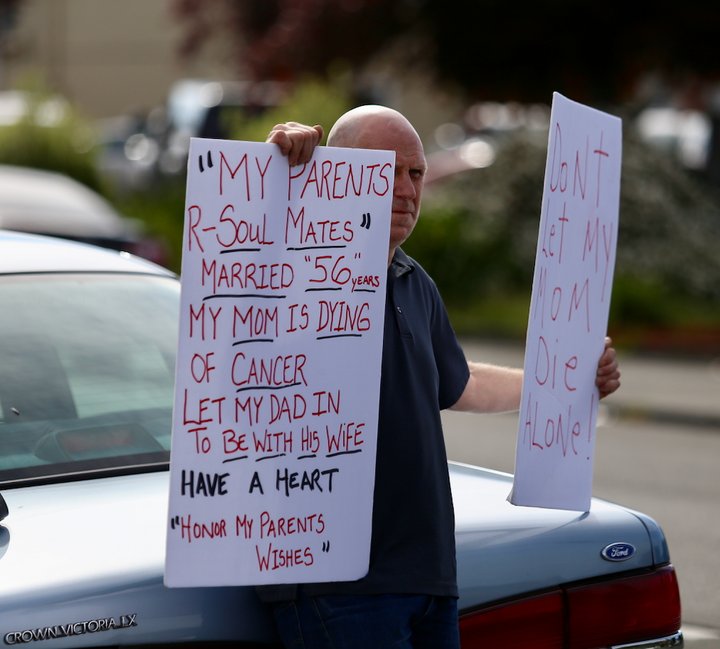 On Monday, state and local health officials said hospitals could resume deferred routine, elective and preventive health care. Yesterday, Lange's mom began receiving chemotherapy, but he said his dad still isn't being allowed to visit her in person.
Lange talked to her on the phone, though. "It's vital to her health that she and my dad to be together," he said. "I'm going to be really upset if she dies alone."