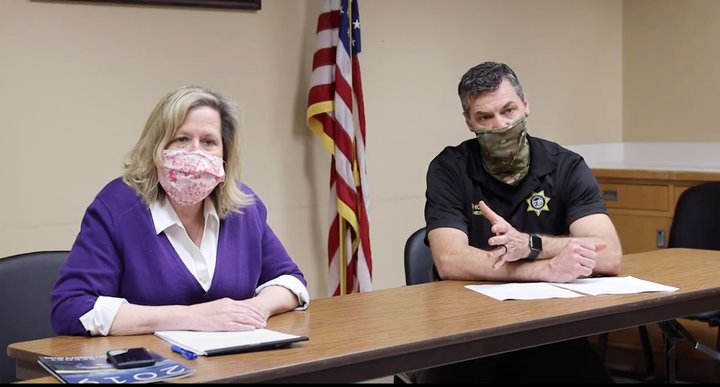 On Friday afternoon Public Health Officer Dr. Teresa Frankovich and Humboldt County Sheriff Billy Honsal held a discussion about the new implementations of Phase Two of the reopening the economy here in Humboldt County. Frankovich said the eased restrictions are part of a "soft opening" of the economy and businesses that are able to serve their customers with curbside services are able to open.
"As long as they have good safety measures in place for their employees and for the whole transaction," Frankovich said in a video issued by the county. "We want people to understand that [Phase] Two includes many types of businesses and is made to span a period of time."
Frankovich went on to say the county is faced with two tasks. The first one is a roadmap for how the county will operate throughout the remainder of Phase Two of the pandemic with the second part falling on the business owners and getting them up to compliance.
"We've really been working on how to make that happen on both ends," Frankovich said, adding that she is preparing a report to be sent to state officials about Humboldt County's testing and surge capacities. The report to be sent to the state will include letters of support from various county partners, a timeline for how the county is preparing to meet Phase Two requirements and plans for how to deal with a sudden outbreak if one were to occur.
Honsal said an important component of moving into the "expanded" Phase Two is the incorporation of customers starting to reenter businesses.
"That is going to require businesses to register online," Honsal said.
Honsal mentioned a set of state guidelines for a number of industries that the county will be using to build off of in order to further the reopening process. Four things will be mandatory when it comes to businesses planning to reopen. The first will be a plan on how to train employees; the second will include establishing control measures; the third will be a disinfecting plan; and the fourth will be a physical distancing plan.
"Those four key elements you can work on right now and when we get our framework in here, you're going to be able to actually submit your plan to the county for approval," Honsal said. "And when it is approved, we will be able to provide you with a compliance certificate."
These measures and the county approval system are being done to not only ensure customers are entering a safe environment, but also so the employees know their place of work is safe as well, Honsal added.
"We want to build confidence in our community and we want to make sure that people do feel comfortable when they do decide to step out either to work or to go into our retail establishments," Honsal said. "Unlike other counties, we have that framework in place to open up rather quick."
Frankovich reminded the public that a sense of normality is still far off and that once businesses are able to open it will not be in a way where things immediately return to pre-COVID-19 days. She asked for everyone to have patience and realize that the masks are here to stay for a while.
Frankovich pointed business owners with any questions on how to come into compliance with the mandated guidelines to the state website so that the process doesn't have to be a "guessing game."
"It's all pretty well spelled out," Frankovich said. "We're not asking for 20-page documents, we are really going to just provide an online form for people to complete."
The review process for reopening will be completed by a combination of county and city employees with the whole permit application/compliance process being up and running within a few days.
"We don't want to be the limiting factor for people getting through this," Frankovich said. "We want to provide some assistance if people need it. I think our timeline now is fairly short to be able to see our community become more of a vibrant, active community again."
However, Frankovich did caution lifting restrictions too quickly and wanted to remind everyone to still abide by physical distancing and other COVID-19 precautions.
"For this Mother's day, I'm asking that people really protect their mom by honoring [those precautions] and trying to structure their celebrations inside their homes," Frankovich said.