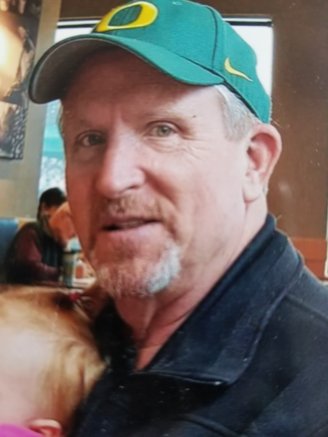 David Elwood Ball was born in Eureka on August 24, 1950, and went to be with the Lord on November 5, 2020 in McKinleyville. Dave was the son of Stanley Gordon Ball and Colleen Rosemary Staff. Dave was full of life and those he touched will remember his quick wit and sense of humor, his love of animals and his generosity and giving nature to others.

Dave attended Franklin Elementary School, Eureka Junior High School, and then to Eureka High School where he graduated in 1968. As a youth, Dave played various sports with many good friends. He participated in track and was a member of the successful 1968 football team at Eureka High School. Sports were a passion, but his family and friendships were most important.
A good part of Dave's youth was spent at Richardson's Grove and French's Camp in Southern Humboldt. These were family vacations but friends were always in attendance, as well. Swimming, hiking, nightly barn dances, and just exploring while getting in to mischief with friends was a big part of the fun. These friendships grew over the years and became lifelong friendships. Duck hunting through junior high school and high school was a favorite pastime. Many of these friends became owners of Volkswagen Bugs and it was a sight to see a bunch of different colored "Bugs" at many of their gatherings such as the first Friday of every month card games. It would be nothing for these friends to load up and take off for Lake Tahoe on a Friday afternoon, arrive late Friday night, play all weekend, and then leave late Sunday to get back home for school or work the next week. If not Tahoe, then to the Bay Area to take in a Giants game on Saturday and a doubleheader on Sunday. Enjoying the games and other activities the Bay Area had to offer often led to a nap during the second game of the doubleheader before driving home after the game to again prepare for the following week.
In the late 1960s, Dave's parents purchased an acre of property in Willow Creek, built a home, and eventually added a nice swimming pool. Dave with his family and friends spent a lot of time around the pool. Besides pool games and barbecues, Dave and his friends broke in the Willow Creek Golf Course. Great times were had in Willow Creek.
After high school, Dave went to College of the Redwoods and then on to Humboldt State University. While attending HSU, four of his friends lived in a house in Sunny Brae while attending the university. They attended classes but also had a good time in Sunny Brae. An illustration of this good time was through a picture that Dave shared with others that showed the roommates posing behind empty cases of beer bottles on the front porch. The bonds that Dave made with these friends lasted for the entirety of his life. Whether it be through trips together, playing softball for Dale Edge Construction, or getting together for a nice dinner, Dave's friendships were important for him.
After graduating from Humboldt State, Dave spent time in Oregon where he became an avid "Ducks" fan. 49ers, Giants, Warriors, and now the Ducks were sports team he followed and pulled for. He also loved the horse races, and this was another friend interaction he was fond of. Of course, it was always better when he won, but regardless, he enjoyed the races in Ferndale, betting on the horses, laughing with his friends, and going to dinner afterward at the Ivanhoe.
Throughout his life, Dave had pets. Dogs and cats were important to him. He loved his animals and cared for them as if they were his children. In fact, they were his children. He had a dog named Peeze that was special for him. It was a short-legged dog that Dave would refer to as a miniature lab. He would get a chuckle when those who he told that to said, "Really?" Family pictures show many instances where Dave is with his animals and many more where he is napping and one of his dogs or cats are snuggled up to him napping as well. They loved him as much as he loved them.
Dave was an avid photographer. He took beautiful pictures of landscapes. Ocean beaches, the redwood forests, and mountain scenery's and lakes, were a few of the landscapes he captured. He loved these areas and taking photos of them. He ended up giving away more of these beautiful pictures than he sold because he wanted people to have them. A testament to his good heart.
After returning from Oregon, Dave went back to HSU and received his Physical Therapy Certification and he began a career that was near and dear to him. He worked for numerous Physical Therapy Clinics in the Northern Humboldt area and later in Anderson, Calif. It was a passion. He loved being able to help others with their health. He was perfect in this role. He had the demeanor to talk with his clients and gain their trust — a combination of his humor and warm personality. His patients knew that he cared for them and that they were in good hands. He stated many times that his time as the Athletic Trainer at McKinleyville High School were his best times. He generated many friendships with staff at the school and spent time with them at athletic events and other school activities. Even though he was a part time trainer on loan from one of the clinics, Dave was part of the team at MHS. He put in more than double or triple the amount of time that he was being paid for because he cared about what he was doing and wanted to do the best that he could. He was the trainer, but also was a coach at times, a van driver, a counselor, and basically whatever needed to be done. He was a Panther.
But most important were the student-athletes. Dave helped so many student-athletes with their injuries and life issues. He forged friendships, as he always has, that continue to this day. He wanted the best for these young men and women and worked hard for their benefit. He often asked those in the know how individual athletes were doing in their lives. The feelings were mutual. Many of these former student-athletes are forever indebted to Dave for his care for them. One athlete stated, "I don't even have words to begin to explain the gratefulness I feel in my heart for you. You made one of the worst times of my life something I look at fondly because of all the things you taught me…" Mentoring our youth is an important responsibility. Dave took it seriously and helped make many MHS Students successful adults. They appreciate him for that.
During his time at McKinleyville High School, other good things were happening for Dave. He met his future wife, Kathy, and they were married on June 23, 2002. They shared many of the traditions of Dave's youth. They were married at Richardson's Grove. They bought a time share in Tahoe where they spent a lot of time having fun in the sun. He especially liked being on the Lake in Tahoe and other lakes on his Sea-doo. Kathy and Dave traveled to many Giants' games and enjoyed many of the opportunities found in the San Francisco Bay Area. Traveling in general were favorite times for Kathy and Dave. They spent a lot of time together exploring places they had not been before. They moved to Shingletown for a few years where they enjoyed weather that was different than what they were accustomed to in Humboldt County. Many new friendships were forged and memories made in the Redding area.
Dave and Kathy just enjoyed spending time with each other, with family, and with friends. One of their favorite destinations was the Ivanhoe Hotel and Restaurant in Ferndale. Family celebrations, birthdays, or just a night out with good friends was the norm. Even when they moved to Shingletown, a trip to the Ivanhoe during a visit to the coast was a must. They often said that the Ivanhoe was the best restaurant in Northern California.
Dave and Kathy were a perfect match. They were ideal soul mates for their travels together, but also were a great support for one another during times of difficulty. When their respective families faced adversity, the other was a great support to lean on. When either one of them had their own health issues, the other was a rock. Their love and support were a bond that was a strength for them. Dave served as a supportive son-in-law for Ethel and supported Kathy's children Nicole and Shana. As seemed to be a theme in his life, he had an affinity for youth. Shana's children were his grandchildren. When they were mentioned, a smile always crossed his face. Dave was proud of his tee-shirt that said, "My favorite people call me Grandpa." His family and friends will dearly miss Dave Ball.
Dave is survived by his wife Kathy, his step-daughters Nicole and Shana, her husband Josh, and their children Shyanne and Jacob, Dave's grandchildren. He is also survived by his brother Dan Ball and his wife Moselle, their children Stacey Elliott and her husband Mike, and Darin Ball and his wife Angelina and their sons Jordan and Ethan.
Dave was preceded in death by his parents Stanley and Colleen Ball and his mother-in-law, Ethel Dygert.
Kathy and her family would like to thank Hospice of Humboldt and Timber Ridge in McKinleyville for their care of Dave. He felt comfortable with their assistance.
A Celebration of Life will be held at a later date when it is appropriate to do so.
###
The obituary above was submitted on behalf of David Ball's loved ones. The Lost Coast Outpost runs obituaries of Humboldt County residents at no charge. See guidelines here.