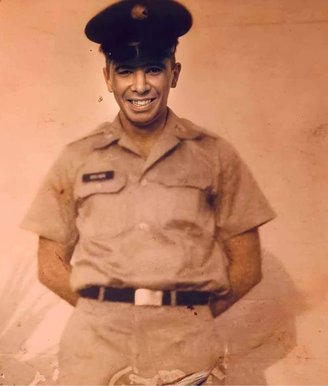 Raldon Fredrick Brown Sr. (Beetle) was born June 23, 1947 in Hoopa to the late Frederick and Dorothy Brown. Beetle passed way November 10, 2020 at the age of 73. He was a member of the Hoopa Valley Tribe, where he lived most of his life until he moved to Central Point, Oregon to be with his wife.

Throughout his life Beetle enjoyed hunting, fishing, woodcutting, playing co-ed softball, going to hydroplane boat races, doing puzzles and watching sports, especially football, with his friends and family. He was an avid San Francisco 49er's fan.
He worked as a millworker for many years, and also at the Tismil Gas Station in Hoopa.
Beetle was also a proud member of the United States Army. During his term he served in the Vietnam War.
Beetle was truly an all-around guy who was loved by all, as he was a brother, father, grandfather, uncle and a friend.
Beetle is survived by his siblings, Sylvester (Flabs) Brown, Oscar (O.B.) and Lori Brown Sr.,Katherine (Tuni) and Gaylord (Gunga) Hescock, Doug Brown, Deborah (Debbie) and Matt Moore, and Frederick (Freddy) Brown; his loving wifes, Diane Doty-Brown, Robin Martin-Brown; his children, Raldon (Ralph) and (Mia) Brown, Leanna and (Larry) Martin, Ladonna Brown, Lynnette and (Terry) Wilkie, Arlen, Christie, Kimberly, Ashley & Bruce Brown; stepchildren Donald and Mike Williams, & Eric Doty Sr. Beetle; and his loving grandchildren Travis Brown, Trevor and (Jessica) Brown, Kayla Brown, Kyle and (Callista ) Brown, Savannah an Arlen Brown, Nevaeh Abbott-Brown, James Jr., Joshua, Jacob, Jimmy, Jordan, & Jasmine Marshall, Kendra, Kaylee, Dustin Jr., & Dakota Stotler; step-grandchildren Chad, Christopher, Eric Jr. and TaShanna Doty. However there are a few other grandchildren names unknown , and one great-granddaughter Erica Brown. His nieces and nephews include: Michael, Houston, Oscar, and Naomi Brown, Chris and (Pamela) Heath, Lucy Heath, Bernardine Jackson, Ian Moore, Darcy Brown, and numerous great-nieces and nephews.
He is preceded in death by his parents Fredrick and Dorothy Brown, his first wife Betty Linder, siblings Wally and Arlen Brown and nephews Joseph Jackson and Waylon Brown.
Beetle's viewing will be held at Paul's Chapel: 1070 H ST. Arcata, California 95521 from 3 p.m. to 5 p.m. on Friday, November 13,2020
Graveside services: 11 a.m. on Saturday, November 14, 2020 at the Brown's Cemetery
Honorary pallbearers include:
Denny Kane, George Moon, Leonard Masten, Thomas Masten Sr., Ed Masten Sr. John Marshall, Timothy Casey, Timothy Bussell Sr., Robbie Moon, and Bob Borden.
Pallbearers:
Travis, Trevor, & Kyle Brown, Michael, Houston, & Oscar Brown, Chris Heath, Ian Moore, Bill & Dan McCovey, William (Pecos) Carpenter, Troy (Horse) Branham.
###
The obituary above was submitted on behalf of Beetle Brown's loved ones. The Lost Coast Outpost runs obituaries of Humboldt County residents at no charge. See guidelines here.