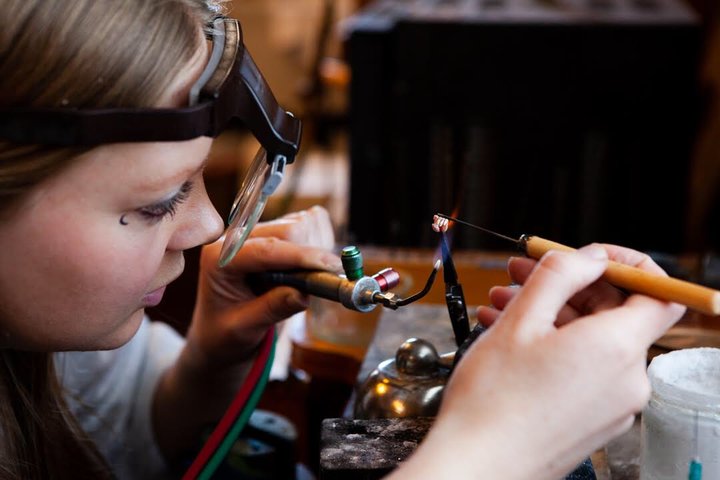 ###
Most artists agree that pursuing art is risky. "The art world, it's feast or famine," one artist told the Outpost recently. "I can make $10,000 in one month, and then make nothing for the next two."

That's in normal times. From summer to winter, between holidays and tourism, business ebbs and flows, artists say, and that's okay.
In 2020, things just sort of … ebb.
Traditionally in November, Humboldt's artists work around the clock, painting and sculpting and crafting their inventory in preparation of the annual Artisans Crafts and Music Festival, hosted in early December at Redwood Acres Fairgrounds in Eureka. That three-day event — which features more than 100 artists and dozens of live music performances — obviously isn't COVID-safe, and organizers cancelled the 41st festival in June.
Two regular vendors — painter Linda Parkinson, who has been going for 15 years, and potter Peggy Loudon, who has attended all 40 years — told the Outpost that the festival reliably generates enough revenue to cover their property taxes. Another vendor, jeweler Haylee Corliss, said she relies on it more for networking purposes, which are often profitable later.
Across mediums and levels of experience, Humboldt's artists are confronting this shared challenge in different ways, but often, their outlook is the same. Uncertainty is part of the job, they say, and now is a time to slow down, live frugally and maybe build their inventory or channel this time into their art — all with faith that soon, things will flow once more.
###
Any other year, watercolorist Linda Parkinson would be preparing her work for the Artisans Crafts and Music Festival right now. "It's bizarre, because usually — I do all my own printing of my cards, my prints and stuff — and so I would be working constantly all day, wrapping and printing and all this stuff. And now I'm not, and it's just kind of weird," she told the Outpost.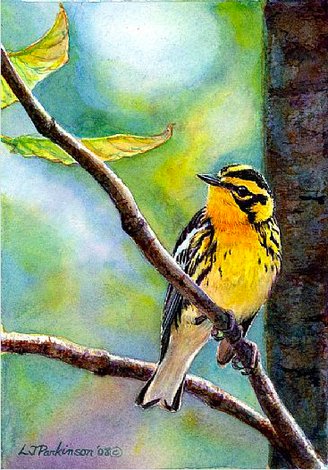 Parkinson's wildlife watercolor paintings normally supply half of her income. But not this year. "I'm not making any money off my artwork right now," she said. Parkinson planned to do eight shows up and down the West Coast this year, in addition to a few local festivals, including Godwit Days. She aims for one big show a month, with smaller showings at local businesses and events like Arts Arcata and Eureka's Arts Alive. But COVID "took the wind out of the sails," Parkinson said. Everything she planned to participate in was cancelled.

Though her artwork is posted on Parkinson's website, she has found that people aren't likely to buy flat artwork online. "They want something functional," she said. "One of my sons has set up a website that features t-shirts and mugs and things like that with my artwork." She's letting him keep all the proceeds and is hopeful his efforts will take off.
Parkinson has a rental property and gardening business that are keeping her afloat right now. Still, "it's been a big adjustment," she said. Without the potential to sell, there's not much motivating her to paint. "It gives me more time to do artwork, but at the same time, if I can't sell it, there's no point," she said.
She misses the social aspect of Humboldt's art scene, too. "A lot of the motivation is that, you know, you want to show your new work and have all your friends give you feedback. You know, it's exciting. It's fun," Parkinson said. "It's not that fun and exciting anymore to say, 'Oh, look, I finished a painting,' and I have no one to show but me." She estimated that she used to dedicate 20 to 30 hours a week to painting, but now she's "hardly putting in 10."
But Parkinson said she values slowing down. She's making art less, but when she is painting, she's doing it for herself, which hasn't been the case so much in the past. She's been meeting that monthly show goal for 35 years. "Now I can just produce what I feel like because I want to, not because someone else wants to see me produce," she said. "That's a whole different ballpark."
###
For Haylee Corliss, a jeweler based in Eureka, the cancellation of Redwood Acres and other local fairs is less of a hit, but still "a bit concerning," she told the Outpost during a phone interview. She typically vends at three to six fairs a year, but all she signed up for in 2020 have been cancelled. "I usually make some sales there, but that's also where a lot of the community finds me," she said. "People like to wait when they're shopping for jewelry."
Corliss is the owner of Ay Su Jewelry, a metalsmith and jeweling business that she started after learning the craft while living in Istanbul. Corliss sells her work at Whiplash Curve, a jewelry store in Eureka. Often, customers discover her at craft fairs and then come into the shop for custom work later, Corliss said.
Most of her sales come from walk-ins, especially from tourists during the summertime. A decrease in tourism is the most noticeable impact that COVID-19 has had on her business.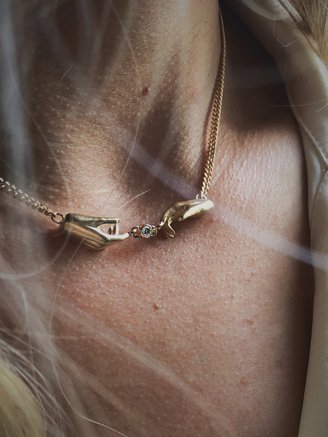 Corliss added that many sales are thanks to word of mouth as well, which has decreased with fewer walk-ins and fewer face-to-face interactions in general. Corliss mentioned one sale she made before the pandemic, when a local business owner saw one of Corliss's pieces — a necklace featuring two hands suspended and reaching for each other (inspired by Michelangelo's "The Creation of Adam," of course) — on a customer during a pilates class.

"This is kind of, I feel like, how our community sort of runs sometimes. And so I think that's why COVID affects us so much. Because, you know, I got a sale through my customer who was doing pilates in a studio," Corliss said. "I think we don't even really know all the little ways in which we're being affected."
She's in good spirits. Corliss loosely estimated that her sales were down by only 25 percent in the summer, when the shop was closed for several weeks and tourists weren't visiting Humboldt when it was open. She predicted that sales might be half their usual amount this holiday season. She's able to make sales via the storefront, which is now open to one customer at a time, and Corliss said she's planning to start offering private viewing appointments in December.
When COVID restrictions arrived in Humboldt, Corliss adapted quickly. "As soon as we went into shelter-in-place in March, I just immediately knew that I needed to get everything onto my website," Corliss said. She updated her site — something she'd been meaning to do for a while anyway — and started offering free local delivery to limit face-to-face interactions. "It's a whole different ball game, online marketing," Corliss said. "But I just feel like that's where my focus is going to have to go if I'm going to survive."
Corliss said she's been pleasantly surprised with her sales this year, given the circumstances. "We have an amazing community in Humboldt County. I love everyone here, and I think that we support each other."
Through her four years of business owning, Corliss has learned that uncertainty and flexibility are part of the job. "I try not to let the circumstances affect me too much," she said. "I'm just gonna keep making jewelry, no matter what."
###
Locally, potter Peggy Loudon normally participates in "everything," she said, including the North Country Fair, North Coast Open Studios and the Artisans Crafts and Music Festival, among others. Over decades of shaping porcelain, Loudon has built a national name for herself and is a regular vendor at a couple of annual fairs in the Bay Area. Loudon's business depends on in-person interactions. "Now that that is not happening at all, it's frankly quite scary," Loudon said. "It's quite a chunk of money that is not coming in."
She isn't eligible for unemployment, but she's getting by. A primary source of income during COVID has come from classes Loudon teaches at Fire Arts in Arcata, but that business recently closed with Humboldt's progression into the substantial (and now widespread) tier under the state's "Blueprint for a Safer Economy."

Between sitting in front of a computer screen and the required self-promotion, nothing about selling her work online on a platform like Etsy appeals to Loudon. Even so, she has been able to make sales here and there. Previous customers have contacted Loudon via her website, and she's planning to set up an in-person, view-by-appointment system so that people can shop at a booth outside her studio. It'll be the first time she's done something like that in her career.
The county has risen with efforts to help artists, too. Over the weekend, Loudon set up a display for the Bayside Holiday Market, which will feature more than 20 local artists and run November 27 to December 19. She won't need to be present for the event.
"It's sobering," Loudon said of her slimmed income. But pursuing the arts was a leap of faith when she started, Loudon said, and that faith still applies now. "I have faith that we will have a vaccine, this will shift, it will change, it will get better, and I will be able to sell my work," she said.
Loudon misses the fairs and events that her long days in the studio lead up to. "I miss the camaraderie of the world of craft, of my buddies, you know, that we set up a booth and we come over and we trade and we're all excited about what everybody else is doing. I miss that joy. The joy of sharing," Loudon said. "It's a lonely time."
Although selling her work has changed, creating it has not. Being a potter is pretty isolating as it is, she said. Loudon misses the fairs, but it's "kind of relaxing" to have the pressure of preparing for those events lifted. And she's using the pandemic and the isolation as an opportunity to dream up new ideas and let them materialize. Being alone is like "a cauldron for creativity," Loudon said.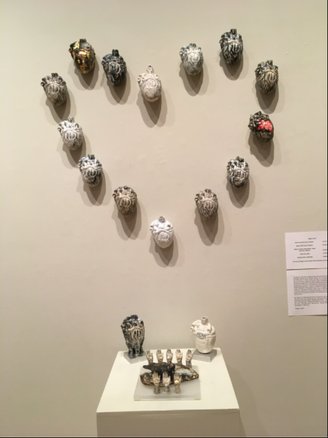 One of her pandemic-inspired ideas was displayed recently at the Morris Graves Museum, during their "Art in Place" exhibit. "I did a homage to all the frontline workers, with anatomical hearts with words on them related to courage and bravery and resilience," she said, adding that they're a reminder that "we're all in this together."

Loudon's process is the same as it's always been, for the most part, and she's eager to build up her inventory during this lull. She spends her days at the wheel in her studio, blasting music as she works. And Loudon really loves pottery. Over a 45-minute chat about how much COVID has upended her life and business, she steered it back to that positive outlook time and again. "I couldn't not do it," Loudon said of her career. She loves that she's creating something tangible, and pottery continues to be her salvation.
"We are creative people in the world of craft," she said. "People are making an effort to try and do the best that we can during this time."
###