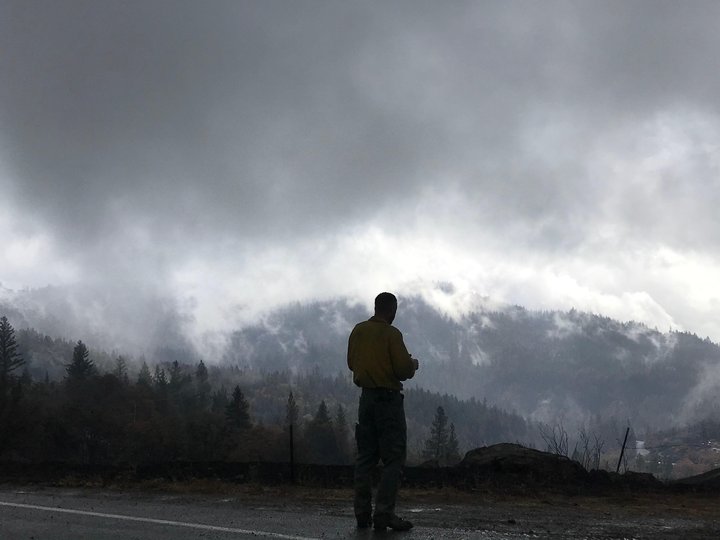 West Zone of the August Complex

Calfire:
Total acreage on the August Complex is 1,028,529. The West Zone is 75% contained at 140,402 acres.

Yesterday's moisture allowed good progress to be made in many areas of the West Zone. While that moisture provided relief to the fine dead fuels, it did not affect heavier fuels and the relief is going to be short-lived.

Warmer and dryer conditions start returning today, along with gusty north winds. This will serve to dry out the fine fuels and increase fire activity. There is potential for critical fire weather to return later in the week as weather conditions steadily worsen.

Today crews will be engaged in continued mop-up, patrol, and hazard tree mitigation. Firefighters will also work to support federal partners in other zones.

Mendocino County Evacuation Orders Reduced to Warnings

WHEN: Effective Immediately

WHERE: Zone R (West and south of Mina Road, south of the north fork of the Eel River, east of the Eel River.)

ROAD CLOSURES: None in this area.

NOTE: Once a wildfire has burned through an area, many dangers may remain. There may still be smoke in the respective areas as firefighters continue their suppression operations. When driving to your property check for hazards. At your property check for fire or fire damage. If your services are off, check for burned service equipment and facilities. When you have secured safety outside of your home, check inside for fire or damage.
Homes protected by firefighters in the Northwest Zone. | Videos by the Alaska Incident Management Team.
###
Northwest and Northeast August Complex
Northwest Zone Incident Command Teams:
Start Date: 8/17/2020

Location: Shasta-Trinity NF; Six Rivers NF; Mendocino NF

Cause: Lightning

Fire Size (All Zones): 1,028,529

Containment: 74%

Personnel (All Zones): 4,798

Weather: Rains fell across much of the fire area yesterday providing some much-needed moisture, anywhere between 0.12 inches and 0.25 inches. This was by no-means a season-ending event, and the fire is still active. Starting today and continuing for the next several days the chance of rain is 0%. This drying trend will combine with increased temperatures over the next couple days, which could increase fire behavior and intensity. For today, temperatures remain cool with highs in the low 70's with N/NW winds at 8-12 mph.

Northwest Zone – Crews took advantage of yesterday's moisture to further-solidify containment lines over much of the Northwest Zone. Masticators continued their important work of clearing roadway debris and removing felled trees north of Ruth Lake along Mad River Road. Dozers worked nearby, building secondary containment line. Firefighters have completed line construction from Van Duzen Road to the Mad River Road at Ruth Lake. Due to poor visibility, helicopters were not in operation.

Today, crews continue mopping up along containment lines across the Northwest Zone and patrolling around nearby structures in the Ruth Lake Area and north on the Mad River Road. West of the Ruth Lake, crews continue line construction from the Lassic Fire burn scar near Coffee Pot eastward towards the lake. Dozers continue indirect line construction north of Mad River Road on the 12 Road. Crews continue mop up and patrol along the burn south of Little Round Mountain. In the coming days, firing operations may commence in unburned islands near the fireline in the Ketten Pom area. This work would consume unburned fuel at a low intensity. Helicopters remain ready to assist firefighters on the ground with bucket support, reconnaissance operations, and potential aerial ignition support.

Northeast Zone – Fire activity was moderated yesterday by high humidity and some precipitation that occurred across most areas of the fire. Where rain showers were heavier crews patrolled the fire from Highway 36. The moisture allowed fire crews to make good progress and engage the fire directly in the afternoon. Near Irish Mountain and Little Bear Wallow Creek the fire received near one tenth of an inch of rain and hand crews completed and strengthened direct line around spot fires that crossed firelines the previous day. Heavy helicopters assisted firefighters here yesterday as skies cleared and dropped numerous buckets of water to extinguish hot spots near the fire's edge. South of Post Mountain and in the Rattlesnake Creek area crews were able to gain increased depth with their mop-up work and further secure the fireline. In Beegum Creek the fire received less rain, however firefighters were able to keep the fire within its current footprint due to overall subdued fire activity.

Today, northwest winds behind the passing front could gust to 15 mph and will bring drier air across the fire. In the afternoon, fire activity may increase where wind comes into alignment with terrain and slope, especially in the Beegum Creek drainage. Additional fire resources and hotshot crews will be deployed to focus areas in Beegum Creek, south of Pony Buck Peak and Bear Wallow Creek. In South Fork Trinity River drainage, firefighters will work to fortify contingency dozer and hand lines and continue brushing FS Road 1S14. In Bear Wallow Creek near Progeny, crews will install hose lays and conduct strategic firing operations to secure fireline. North of Highway 36 and in the communities of Beegum and Patina firefighters will further structure assessments and preparations.

For Trinity County evacuation Information, please contact: 530-623-2611 or visit: https://www.facebook.com/TrinityCoOES/

For Humboldt County evacuation information, please contact: 707-268-2500 or visit: humboldtsheriff.org

Road Closures: For updated Road Closure information, visit Caltrans at https://roads.dot.ca.gov/.

Forest Closures are still in effect and can be found here:

Six Rivers National Forest: https://www.fs.usda.gov/alerts/srnf/alerts-notices
Fireline preparation.
###
Red Salmon Complex
U.S. Forest Service:
Yesterday, precipitation was received all across the fire area, ranging from one-third to one inch. Firefighters were unsuccessful in conducting defensive firing due to wet conditions.

Crews finished setting up a community protection line around Godfrey Ranch. Crews also began suppression repair work on the north flank of the fire between Salmon Trailhead and Black Mountain.

Safety: With clearer skies, air resources will be available to support ground crews for the first time in two weeks. A Temporary Flight Restriction remains over the entire Red Salmon fire area, which includes drones. Remember: If you fly, we can't.

Weather and Fire Behavior: Today's temperatures will be cooler and the area will start to dry and warm slowly as a high pressure system moves into the region. Winds will be from the northwest, with gusts up to 20 mph on the ridgetops. Skies should remain relatively clear with isolated areas of smoke. Saturday's steady rainfall helped moderate fire behavior for the next several days.

Today's Operations: North and northeast flank: Firefighters will continue to patrol and hold fire along the Salmon River, mop-up around structures and monitor fire progression south of Methodist Creek. In areas where the fire is contained, suppression repair plans are being developed to restore hand and dozer firelines, roads, trails, staging areas, safety zones and drop points in order to minimize erosion. Repair work can include installing water bars and pulling woody debris over disturbed soils.

Southeast and south flank: Continue mop-up and secure lines along the East Fork New River and the New River, maintain structure protection around Miller Ranch, and develop plans to implement suppression repair.

West flank: Mop-up and secure line in the Colgrove Branch drainage and work on repairing Big Hill Road.

Evacuation Warnings remain for: Forks of Salmon, Cecilville, and nearby residences (www.co.siskiyou.ca.us/sheriff) and Denny to include the Miller Ranch area (www.trinitycounty.org/OES).

Closures: Areas and roads within and near the fire perimeter on the Klamath, Six Rivers, and Trinity National Forests are closed. More information is available on forest websites:

www.fs.usda.gov/alerts/klamath/alerts-notices

www.fs.usda.gov/alerts/srnf/alerts-notices