(AUDIO) Topher Reynolds is Holding Up
Subscribe to Humboldt Holding Up on iTunes!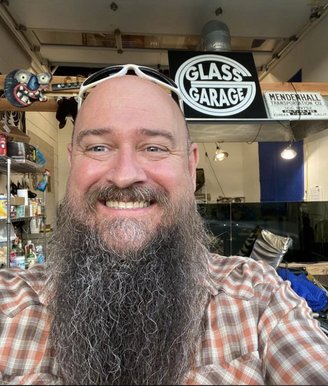 "Everyday I try to make something, I try to sell something, and I try to take a nice walk," says Humboldt glass artist Topher Reynolds about his personal hustle approach. "That's my goal everyday: to live a good life."
The good life certainly seems within Topher's daily grasp. As a leading force of a growing local glass blowing community and the founder of the Humboldt Marble Weekend — "one of the largest marble events on the planet," according to him — Topher has found a way to avoid "a real job" while realizing that Humboldt artist dream, a global pandemic notwithstanding.
On this week's edition of Humboldt Holding Up, LoCO's good-enough podcast, hear Topher share about how he gravitated toward making marbles, the world of marble hunting, his mission to recruit glass artists to move to Humboldt, which U.S. city has the largest glass sex toy appetite and more. To listen, click the audio player above, or head on over to iTunes and also consider scrolling past episodes of Humboldt Holding Up below.
PREVIOUSLY ON HUMBOLDT HOLDING UP:
Below: Video from this year's Humboldt Marble Weekend.