The woman who set up a December 2016 carjacking that ended with the violent death of 20-year-old Tyson Eduardo Claros was sentenced this morning to seven years in state prison.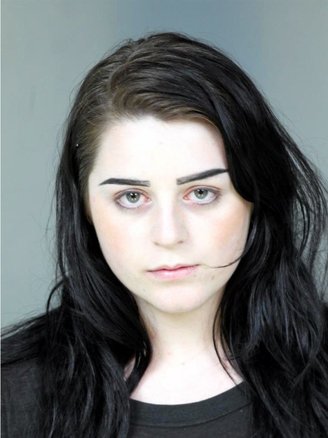 Judge Christopher Wilson sentenced Catherine Suzanne Lynn Fode to six years for voluntary manslaughter and one year for participating in a crime involving firearms. Including "good time" credit, Fode, 22, was given credit for a total of 1,607 days, or more than four years. She was the last of the so-called "Manila Five" to be sentenced.
Before he imposed the penalty, Wilson heard Deputy District Attorney Carolyn Schaffer argue for the maximum of 11 years, and defense attorney Neal Sanders ask for a grant of probation. The judge also heard emotional testimony from Claros's family and Fode's older sister. Fode read her own statement, apologizing for the pain she had caused and vowing to raise her young daughter right and be a better person going forward.
"I take complete responsibility for my actions," she said …. "the girl who came in (to jail) four years ago is not the woman I am now."
Fode said that at the time she was "a frustrated young mother" who allowed her emotions to take control.
Impatient with law enforcement's response after reporting that Claros had molested her 3-year-old daughter, Fode recruited four others to take revenge on Claros. They were Brandon Mitchell, the father of her daughter, Hector Godoy-Standley, Fode's boyfriend at the time, her good friend Tamara Thomson and Thomson's boyfriend Cesar Valenzuela.
Fode would later tell law enforcement she thought Claros would be beaten up. Instead Mitchell shot him five times. All five defendants fled, leaving Claros bleeding to death on Highway 255 near Manila.
During the hearing this morning, Fode was described more than once as being the most culpable of the five defendants.
"She was the catalyst of the events," said Claros's stepfather Michael Dennison, speaking over Zoom. "My son would be alive if it wasn't for Catie … she had maximum involvement. She might as well have pulled the trigger."
Prosecutor Schaffer read a statement from Claros's younger sister, who told Fode "you are the entire reason" for her brother's death. She demanded that Fode tell the truth, which is that Claros never hurt her daughter.
"Whatever sentence you get can't compare to the life sentence you've given us," the sister said.
Cami Claros, Tyson's stepmother, demanded that Fode admit Claros was innocent of child molestation.
"Please, just clear Tyson's name and let him rest in peace," Cami Claros said.
Apparently referring to Fode's own childhood, Claros said Tyson grew up in a loving family. He was never in a group home, never in foster care.
"I'm sorry that the system failed you, Catie," she said. "Our family is paying the price."
Cami also said she knew her stepson hadn't harmed the child, because she talked to him about the allegation.
Claros's father, Eddie Claros, told Fode "You took my son. You took our son away from us. My only son."
He said he pitied Fode's child, "who now doesn't have her mother or father because of what you did."
Fode's daughter is now in the care of her older sister, Kristen, who also spoke over Zoom. She cried throughout most of her statement, telling Claros's family members "I am so sorry. I know you guys probably don't care."
Kristen said Fode's little girl "is hurting so badly right now. She misses her mom. She doesn't understand." Contrary to what Claros's family believes, "I know that Catie does have remorse."
Schaffer, arguing for the maximum sentence, said the declared motive of child molestation "may be amiss."
Schaffer said phone records revealed Fode and Claros had other disputes, including an argument over stored property and the fact that Fode gave Claros her dog and never took the animal back, forcing Claros to find it another home. Also, the prosecutor said, the little girl reported no molestation during interviews with experts on child abuse.
Eureka police did try to contact Claros about the reported molestation, Schaffer said, but couldn't reach him because he had a new phone number. EPD also left messages for Fode and Godoy-Standley and the two never returned the calls.
Also, Fode apparently told authorities she had originally planned to go after another person who shot up Godoy-Standley's car. When they couldn't track down that person they settled on Claros.
Fode had her friend Thomson call Claros and ask for a ride, Schaffer said. During the ride, Thomson pulled a gun and ordered the driver to pull over.
"She knew Mr. Mitchell had guns and had given a gun to Ms. Thomson," Schaffer said.
Fode is the person most responsible for the crime, Schaffer argued. Although Mitchell was the shooter, "she was the one who got him riled up (about the alleged molestation.)"
Sanders, asking for probation, pointed out that Fode took responsibility early in the case by pleading guilty to voluntary manslaughter and agreeing to testify during the other defendants' trials. As it turned out all of them pleaded guilty before trial.
Sanders also revealed something that has never been said before in open court: "It wasn't my client who was making the claims (of molestation)," Sanders said. "Those claims were made by the daughter herself."
What is a parent to do, Sanders said, "when a 3-year-old child comes to you and says 'This person did this.' "
Fode took the little girl to an emergency room. She was examined by a doctor, who suggested Fode call law enforcement. An officer came to the hospital. The child told the same story to the doctor and the officer that she'd told her mother. Yet not long after, interviewed by experts on child sexual assault, she reported no molestation.
"She'd moved on," Sanders said. "Unfortunately my client did not."
Claros's family members have said they are disappointed that the perpetrators received plea deals, and they feel the sentences have been too light.
But as Sanders pointed out, the prosecution had one witness. That was the friend of Claros who was driving the car when it was hijacked. And during the preliminary hearing for the five, the witness identified Valenzuela as the shooter.
"They were going to have a difficult time at trial," Sanders said of the prosecution.
Also, since the five were arrested California has changed the law to make it much more difficult to convict a person of murder when they didn't commit the actual killing.
Wilson, who previously sentenced Godoy-Standley, Mitchell, Thomson and Valenzuela, noted that this is the fifth sentence that "for lack of a better word, I've had to endure."
Wilson called the loss of a child "completely unspeakable" but said he has to impose the sentence based on the law and not emotion. Regarding the allegation of child molestation, "none of that is before the court."
"These five individuals engaged in vigilante justice," he said. He noted that if Fode had to fulfill her agreement to testify against her friends at trial, "I would think there would certainly be a vigorous request for probation." But that did not turn out to be the case.
One of the criteria considered in granting or denying probation is whether the victim was unusually vulnerable.
"That's illustrated by the fact that five people dragged him out of the car and essentially executed him," Wilson said.
Earlier Mitchell was sentenced to 27 years in state prison. The other three received sentences ranging from four to 14 years. Only Mitchell has been transported to prison, with all the others still in Humboldt County Correctional Facility.