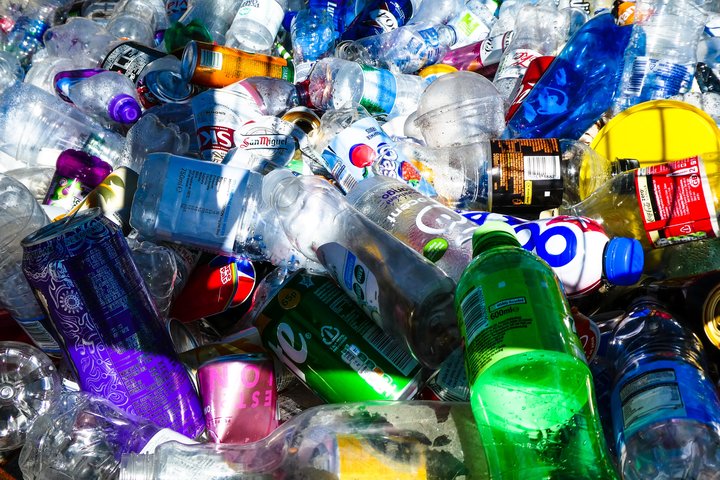 ###
California's recycling redemption program is thoroughly broken, and CalRecycle, the state agency in charge of it, has simply failed to adapt to changing market conditions in recent years. That was the message delivered to the Board of Supervisors on Tuesday by Jill Duffy, executive director of the Humboldt Waste Management Authority (HWMA).
At Duffy's urging, the board agreed to send a letter to elected state officials expressing the need for comprehensive reform of California's recycling redemption program. Meanwhile, HWMA plans to collaborate with McKinleyville-based Humboldt Sanitation and Fortuna's Recology Eel River to develop a pilot project in hopes of building a more sustainable regional model.
During the pandemic, many local residents have been stockpiling their aluminum cans, glass bottles and other recycling material in the hopes that, eventually, local redemption centers will reopen, allowing them to trade in these used containers for cash. But after Duffy's presentation, the county supervisors said people shouldn't hold their breath.
"At the end of the day, we need to tell the people of Humboldt that we are not gonna have CRV [California Redemption Value] buy-back in Humboldt County for at least 180 days," First District Supervisor Rex Bohn said. "Which could be good. Maybe people will change their buying habits so we don't have all these cans and plastic bottles."
Duffy said it will theoretically take 180 days for the regional pilot program to be approved. That program could incorporate so-called "reverse vending machines," which allow people to insert their cans and bottles one at a time and then issue receipts based on the weight of the materials. The receipts can then be redeemed for cash inside the businesses where the machines are located. (This system is popular in Oregon.)
How did California's system fall apart? Duffy outlined the contributing factors. The intent of the redemption program was to incentivize recycling, she said. Beverage manufacturers pay the government an extra five or 10 cents per container, then pass that charge along to customers who, theoretically, can turn those containers back in at participating stores and recycling centers for a refund. Revenues supported CalRecycle's programs.
Redemption centers like the one at HWMA, on Eureka's West Hawthorne Street, have always depended on the sale of commodity materials such as aluminum, glass and cardboard to recoup the costs of their operations. For years, this model was lucrative enough that recycling centers proliferated, and the state allowed more than three quarters of stores to opt out of providing buy-back services.
Duffy reminded people during her presentation that in the 1980s, most beverage containers were made out of aluminum and glass, which were valuable on the commodity scrap market. "People didn't buy water except Perrier," which came in glass bottles, she said. Recyclers were able to sell that material to brokers at a profit.
But over the past five years, as cheap and mostly worthless plastic waste continued to proliferate, commodity scrap values plummeted, largely due to new restrictions in China on imports of certain recyclables, including mixed paper and most plastics.
Combine that with rising operational costs and reduced funding from the state and the whole system became economically unsustainable. Without the ability to redeem beverage containers for cash, the deposit fee charged to consumers effectively becomes a tax on those who can least afford it. Throughout all these developments, Duffy said, "CalRecycle has remained unresponsive."
The Eureka Recycling Center suspended its CRV buyback program after the state and local shelter-in-place orders went into effect, and Duffy said staff was concerned about the facility's ability to handle pent-up local demand upon reopening. They made inquiries to CalRecycle, asking if they could host pop-up operations, accept customers on an appointment basis or work with an off-site vendor to minimize traffic volumes.
The state agency denied these requests and effectively gave HWMA an ultimatum: Reopen or face fines. And so, on Sept. 1, HWMA resumed its CRV buy-back program, only to shut down again two days later due to overwhelming demand, which caused lines of vehicles to back up all the way out to Broadway, impacting Eureka traffic and causing safety concerns.
"Most people waited in cars a minimum of two to three hours," Duffy said. "Some for five-plus hours."
In 2010, Humboldt County had more than 10 CRV redemption centers, she said. By the start of 2020 only five remained. Statewide, more than 50 percent of recycling centers have closed over the past five years, according to Duffy, leaving consumers with fewer and fewer options. And HWMA simply doesn't have the capacity to handle the entire county's recycling, she said.
As it is, HWMA has been taking big losses on its CRV materials. While a customer could redeem a pound of aluminum for $1.65 at the Eureka Recycling Center, HWMA was only able to sell aluminum at 40 cents per pound, Duffy said. HWMA paid customers $1.28 for a pound of plastic while the scrap value was just eight cents per pound. The losses are recouped in part through solid waste drop-off fees.
Curbside recycling pickup, which is mandatory in Eureka and Arcata and available in other areas voluntarily, continues because the processing costs in excess of redemption fees are borne by customers. Cost/revenue adjustments are made annually, according to Duffy.
After September's failed reopening, HWMA submitted a notice of decertification for its CRV redemption program. The organization — which operates based on a Joint Powers Agreement between the County of Humboldt and the cities of Arcata, Blue Lake, Eureka, Ferndale and Rio Dell — has now turned its attention to developing the pilot program.
Duffy summarized the situation by calling CalRecycle's model "an unsustainable program that is just inherently unfair to consumers."
During the conversation that followed Duffy's presentation, Recology Humboldt County General Manager Linda Wise said, "The thing that concerns me the most is that the CRV system's failure has left people with the impression that recycling just isn't worth it."
Second District Supervisor Estelle Fennell noted that while people can't redeem their bottles, cans and plastic for cash, they can still take those materials in to be recycled.
Fifth District Supervisor Steve Madrone said he's ready to take dramatic action to put public pressure on CalRecycle.
"I'm imagining a scenario where … we all take — not our glass, that's breakable — but we take our plastic and aluminum and we drop them all of on the front door of CalRecycle and the governor's office and our senators' office: 'Here you go!'" Madrone said. "I'm ready to do that."
Instead, Madrone made a motion to authorize HWMA to move forward with its pilot program and to authorize the board to send a letter to the offices of Governor Gavin Newsom, State Senator Mike McGuire, Assemblymember Jim Wood and various governmental organizations, including the California State Association of Counties (CSAC) and the Rural County Representatives of California (RCRC).
Third District Supervisor Mike Wilson seconded the motion, and he echoed Bohn's call for consumers to change their buying habits to move away from single-use containers, "which in essence are luxury and convenience items," he said.
The motion passed unanimously.